Travel Edition 2018: Welcoming a solo traveler
Ireland has had its Troubles, but this descendent of the island found friendly faces everywhere she went. And though she was on a package tour, she went wherever and whenever she wanted to go.
As an American of Irish descent, I had traveled to more than 30 countries, but never to the land of my ancestors. So, when I learned about a seven-night package tour that included Dublin and Killarney, and the chance to walk at the front of an Irish St. Patrick's Day parade, alongside the bagpipes, how could I pass it by?
The Ashling Hotel in Dublin served as my first home base. The morning after arriving, I visited Belfast and arranged for a black-cab tour of "The Troubles"—the three-decade deadly conflict (1969–1997) that horrified the world. We drove by painted murals in the Catholic part of town, and stopped by an Irish Republican Army (IRA) museum run by local volunteers, displaying weapons used in the conflict between those Catholic "nationalists" who wanted autonomy from Protestant England, and "Unionists" who wanted the United Kingdom to remain intact. While Belfast is now at relative peace, if not just a little tense, the painted murals and the weapons serve as a reminder of the violence that divisions of various kinds can inflame.
After the tour, I spent four captivating hours in the Titanic Belfast Museum, which details the ship's local construction, and a timeline of its doomed maiden voyage.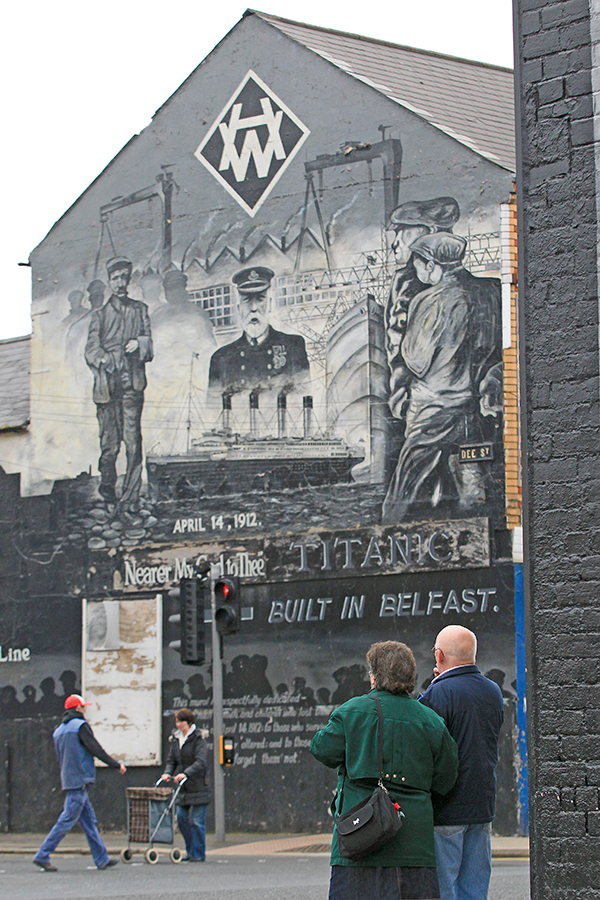 People walk pass a mural related to the Titanic in Belfast, Northern Ireland. With its economy still lagging behind the rest of the United Kingdom following the misery of the Troubles, Northern Ireland is once again looking to Titanic to drive its prosperity forward—just as it did 100 years ago. © Peter Muhly/AFP/Getty Images
When my friend Lisa arrived in Dublin, I met her for a tour of Kilmainham Gaol, an infamous prison where Great Britain jailed Irish independence fighters, and executed leaders of the Easter Uprising of 1916.
At Lisa's hotel, the Brooks, we joined in a tasting of five Irish whiskeys (whiskey is Irish, while whisky—no e—is Scotch). It was at this point that I decided I should focus on discovering Irish whiskeys instead of visiting the Guinness Storehouse (the most popular attraction in Ireland). This is not to say I did not enjoy a pint (or two) of Guinness during my trip. I certainly did. But, if you enjoy whiskey, it is worth a trip to Ireland if only to sample the many varieties. I so enjoyed my tasting that when I arrived in Killarney, I asked Brendan Vacations to arrange a whiskey tasting at the hotel there, too. In Ireland, sampling whiskey or drinking a pint at a pub was as much a part of my enjoyment as all the wonderful things I saw.
The next day, Lisa and I visited Newgrange, a UNESCO World Heritage site that is older than both the Pyramids of Giza in Egypt and Stonehenge in England, and that aligns with the rising sun of the winter solstice.
Then, when it was time to leave for Killarney, once again traveling solo, a Brendan representative provided my train tickets. It was nice having someone make sure I made my connections. At the same time, I enjoyed the unstructured itinerary of this package—doing what I wanted, when I wanted.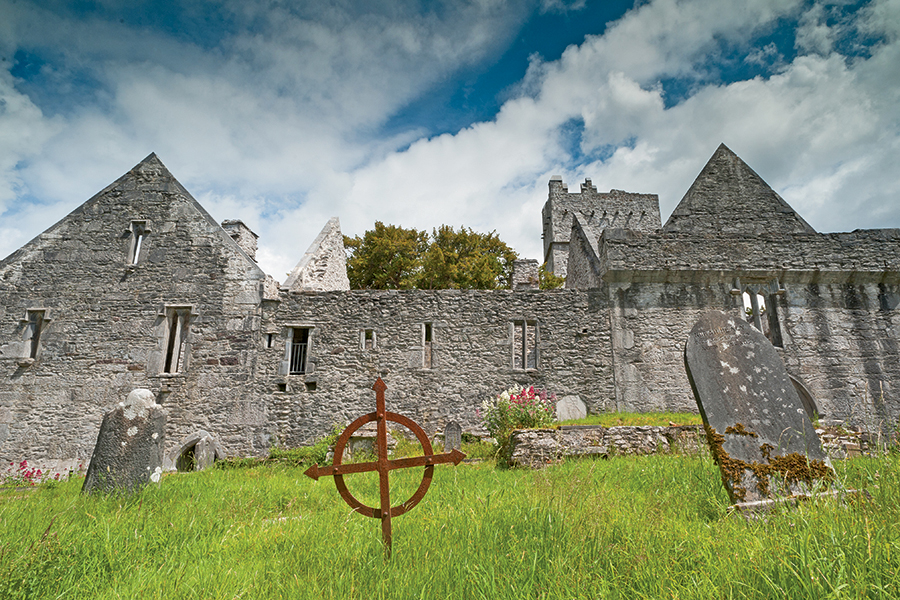 Muckross Abbey, founded in 1448 as a Franciscan friary for the Observantine Franciscans, is roofless but otherwise well preserved. The ancient yew tree in the courtyard may be 600 years old. Cromwellian forces plundered the abbey and drove out the friars in the 1650s. © Gabe9000c/Dreamstime
My hotel for the next few nights, The Malton Hotel, is elegant. One highlight, though, came when I left town, on the Ring of Kerry bus tour. The driver somehow safely navigated the winding road while keeping the passengers in stitches. We passed by breathtaking and sometimes haunting scenery. My only quibble: the sheep dotting the countryside did not stand still for my pictures.
On St. Patrick's Day, a national holiday, I rented a bike and rode into Killarney National Park, then returned for the St. Patrick's Day parade, where I marched in front of a bagpipe band. There's something about bagpipes that speaks to my soul.
Later that night, I bar-hopped, making friends and enjoying live music, dancing, and revelry. Everyone I met was friendly and helpful. I have never felt more comfortable and welcome in a country, and it was appreciated as I traveled alone. For me, Ireland lived up to its tagline, "Land of a Thousand Welcomes."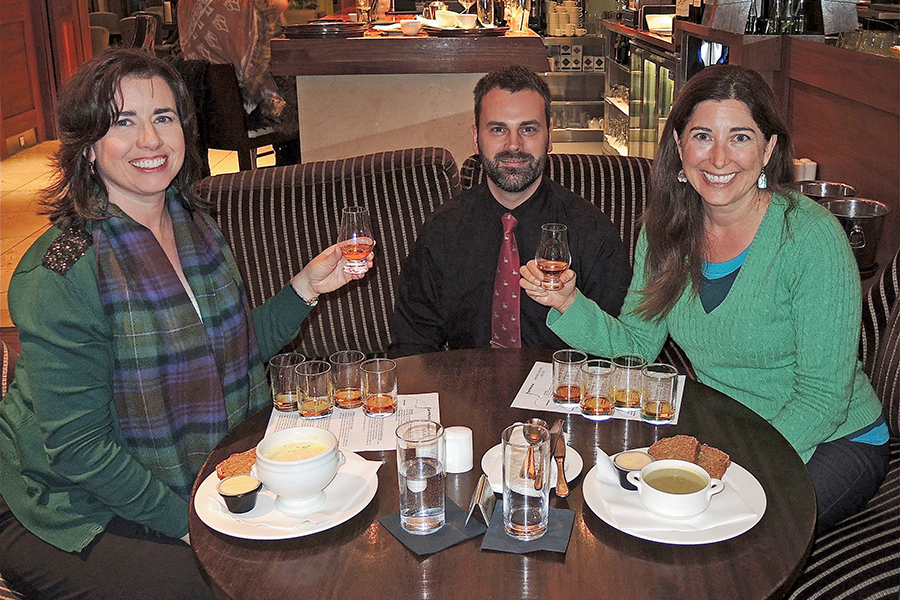 The author, Kiera Reilly (left), and her friend Lisa Niver (right), sample a flight of Irish whiskeys with bartender Jacek Rogowski in the Jasmine Bar in the Brooks Hotel in Dublin. © Keira Reilly
Kiera's ancestry is Irish, and says she knew a little, or maybe less than a little bit, about Ireland's burgeoning whiskey culture before her recent Brendan Vacations tour.
AAA Resources
Ask a AAA Colorado Travel Agent to help you evaluate the many Brendan Vacations package tours for Ireland and Scotland. Go to AAA.com/travel, or call 877-244-9790, or visit with a travel agent at one of 11 AAA Colorado retail locations.