Travel Edition 2018: From what? to WOW!
The idea of going polar can seem far-fetched, but an otherworldly, unparalleled experience awaits those who simply book a tour and step onto a ship.
Out in the earth's extreme latitudes, the land is wild, the birds majestic, the scenery otherworldly, and the people few. Antarctica receives fewer than 50,000 visitors annually—less than the game-day capacity of Coors Field. With most expedition ships carrying fewer than 200 passengers, guests engage constantly with the expedition team, said one team member, One Ocean Expeditions guide Denise Landau.
Landau lives in Carbondale, and when not guiding polar journeys, she serves as an Aspen ski instructor. After graduating with a degree in wildlife biology, Landau went to work in Glacier Bay National Park. After nine years up north, she returned to the lower 48, ultimately becoming director of operations for a company that sailed expedition ships to Antarctica. She ventured down and got hooked.
The continent she loves remains pristine and natural, thanks to stringent rules established by the International Association of Antarctic Tour Operators (IAATO).
"I ran IAATO for 10 years," said Landau, who now has a glacier named in her honor.
Most voyages south begin in Ushuaia, Argentina, and arrive at various sites. We visit beaches that serve as rookeries for thousands and thousands of penguins. Normally living at sea, the birds waddle ashore during the Antarctic summer to build nests and breed. Three species—gentoo, chinstrap and Adélie—share their beaches with massive elephant seals or smaller but faster-moving fur seals.
One common misperception about sailing to Antarctica is that it will be bitterly cold. Moderated by the sea, temperatures along the coast generally hover around freezing, which is warmer than a typical ski day at Vail the same time of year. I seldom need more than a down sweater to stay warm on deck.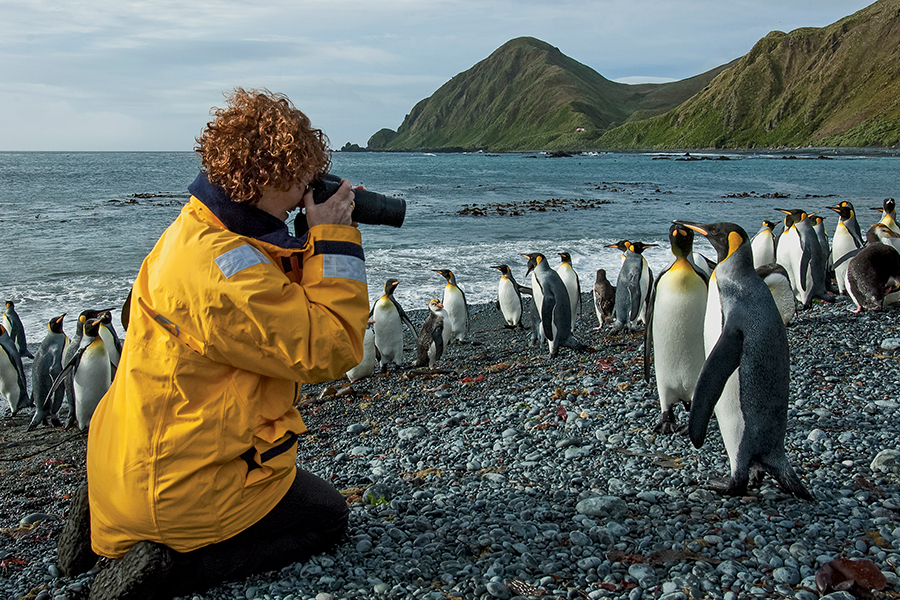 A cruise passenger photographs king penguins on the beach of Macquarie Island. World's largest rookery of these curious birds lies on South Georgia Island, the sub-Antarctic island where Denise Landau spearheaded a successful effort to eradicate nonindigenous rats. © Dan Leeth
Another common misconception is that expedition voyages are only for the young and fit. Landau is an AARP-ager, as have been many of my fellow passengers on trips south, and most tour companies will try to make accommodations for those dealing with mobility impairments.
"We've taken people with no legs and people in wheelchairs ashore," said Dick Filby, Landau's husband and fellow One Ocean Expeditions guide. "There are no barriers here. The only barrier is not going."
Like Landau, Filby is a long-time adventurer who, in addition to guiding in the polar regions, leads camping trips to India in search of elusive snow leopards. He was born in England, where the two met at a Zodiac-handling course.
With the seasons reversed in the southern hemisphere, voyages to Antarctica take place during the northern fall and winter. October travelers will encounter sea ice, late season snowfalls and fewer penguins. The birds begin waddling ashore in November to begin their courtship, nest building and mating rituals. This is Landau's favorite time to visit.
"It's really pristine and smells about a bazillion times better than it will later," she said. "The penguins are a lot more active as they interact with each other."
The birds may be sitting on their eggs in December, with recently hatched chicks being fed in January. By February, the chicks will be nearly grown and ready to strike out on their own. Attention then shifts to the sea, where increased food stocks in Antarctic waters means far more whale sightings.
"In some of the bays," Filby said, "there will be so many whales that you don't know which way to look next."
The Arctic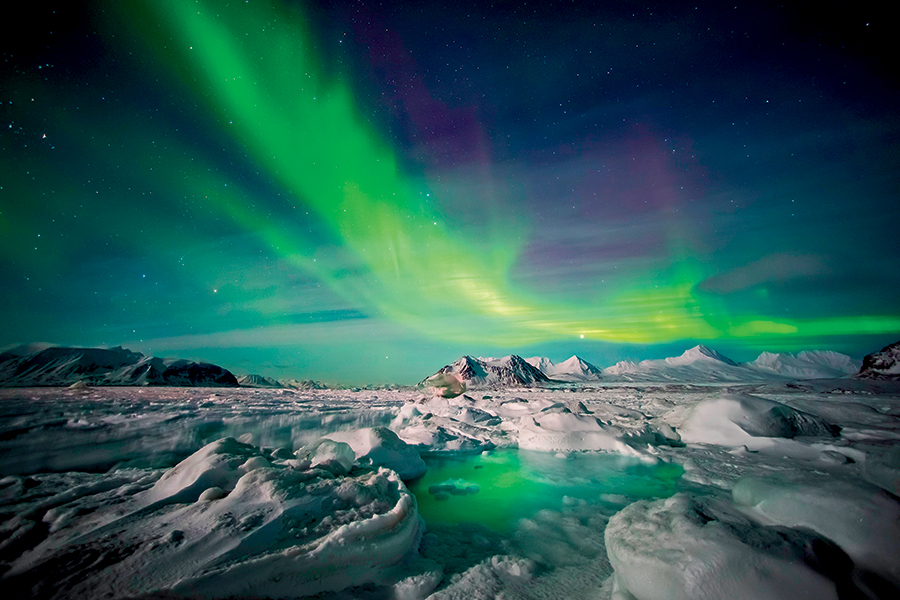 Northern Lights above the Arctic glacier and mountains near Svalbard, a Norwegian archipelago between mainland Norway and the North Pole. © Erectus/Dreamstime
Life is different at the top of the world. Unlike Antarctica, which offers a glacier-masked landscape devoid of indigenous inhabitants, the Arctic has long been populated by Sami, Inuit and other native peoples. Land-based mammals roam the tundra and plant life, which exists only at the fringes of Antarctica, abounds up north. Those craving polar circle bragging rights will find it's far easier to cross the Arctic by sea than it is to reach its southern counterpart.
"I'm really passionate about both polar regions," Landau said. "Both offer fantastic experiences that are completely different from Colorado or anywhere else in the world."
While one can sail into the Arctic from Alaska through the Bering Sea, as I did, most polar voyages arrive through the North Atlantic. One popular destination is Spitzbergen and the Svalbard archipelago north of Norway. The islands sit a mere 650 miles from the North Pole, allowing early season visitors to experience Arctic pack ice.
The mountainous islands feature snow-clad slopes, inland ice caps, tidewater glaciers and enough iceberg sightings to fill a camera's memory card. When summer hits, stunning wildflowers quilt the landscape in floral color. Commonly spotted wildlife includes reindeer, polar bears, Arctic fox, seals, and walruses.
Closer to home lie Greenland and the Canadian Arctic, where naked cliffs and glacier-carved mountains rise from the sea. Sheer-walled fjords cut coastlines, and the water often teams with ice and icebergs. While penguins serve as the icon of the south, polar bears are the symbol of the Arctic. It's not uncommon to see the big white bruins perched on ice floes far out at sea.
"I was off the east coast of Baffin Island in August," Filby said. "We were 120 miles out to sea watching a polar bear mom and her two cubs feeding on the ice. It gave me a fantastic feeling to be watching them living life as they have done for millennia."
Experienced captains who have been navigating the Arctic for many years know how to operate their ships around wildlife. If something interesting appears in the distance, they can change course and quietly approach, or they may anchor and allow the guides to launch Zodiacs for close-up viewing.
"It's almost like sailing in your own private yacht," Landau said.
With sea temperatures mitigated by the Gulf Stream, the sailing season for Spitzbergen and Svalbard opens in June, a time when passengers can experience the sea ice. Those arriving in July-August will catch greener hillsides and more wildflowers. Seasons in the Canadian Arctic generally begin in early August and taper off by late-September.
"You can sit on the grass with reindeer feeding 15 feet away," Landau said. "Walruses will swim right up to the Zodiacs."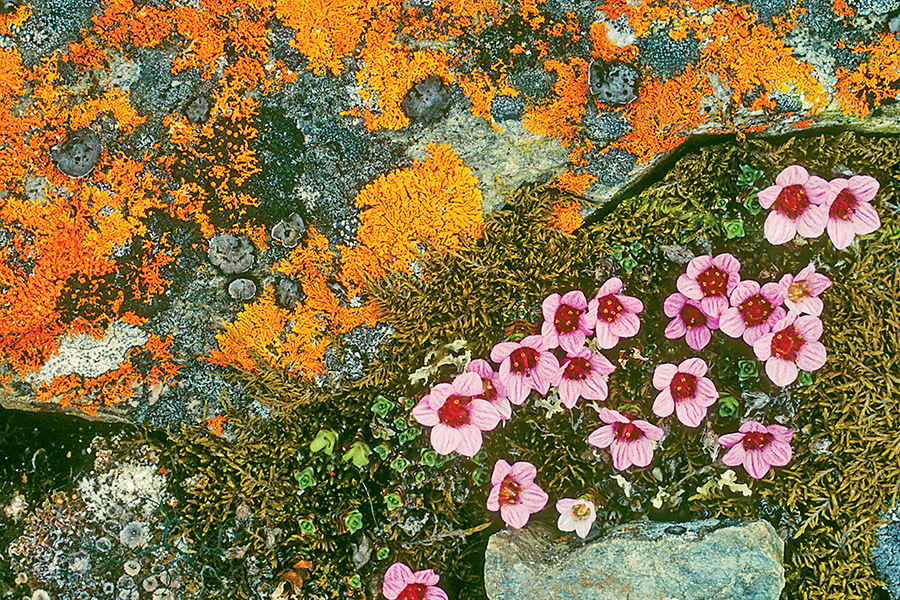 Flowers grow in the Arctic tundra. © Anthony Hathaway/Dreamstime
"There are plenty of fantastic places on this planet, but none of them are like Antarctica or the Arctic," Filby said. "Travel to the Arctic and Antarctica is as easy as paying the money and getting on a ship. It will be one of the most extraordinary experiences of your life. I've been going back every year since 1989 and haven't gotten bored with it yet."
Dan Leeth has visited Antarctica three times—twice on the peninsula and once into the Ross Sea where explorers Amundson, Shackleton and Scott began their quests for the South Pole. He's been north of the Arctic Circle four times, and cruised into the Arctic Ocean off the coast of Alaska. He's been a member of the American Polar Society for nearly two decades.
AAA Resources
To learn more about these polar adventures, come visit One Ocean Expeditions guide Denise Landau at the 2018 Vacations Showcase presented by AAA Travel on Feb. 2–3, 2018 at Sports Authority Field at Mile High.