Cover Feature: Winter Fun 2017–2018
The best of Colorado's sleigh rides
3530 County Road 83, Tabernash, 970-726-5632
If you're the outdoorsy type with impeccable taste, head to Devil's Thumb Ranch, one of the most luxurious ranches in Colorado—so exclusive that you may feel like it's just you and the ranch hands on 6,000 acres at the foot of the Continental Divide.
My cousins joined me for the Feed Sleigh Ride, where you serve breakfast or dinner to the horses. We chose the dinner ride on a frigid day, wind chill running about 15 below zero. We warmed ourselves by the campfire, fueled up with s'mores, and watched while draft horses Midnight and Bo got hitched up to the sleigh.
Once we loaded up on the flat bed, hay bales in tow, we headed for the pasture. When the horses saw us, they knew it was time to eat. As ranch hands for an afternoon, we dropped hay about every 15 to 20 feet as the horses, Henry the miniature donkey, two goats, and two miniature horses, fell in line.
After the last hay bale tumbled off the truck, we picked up speed and headed down a trail lined by snow-covered pines and the Devil's Thumb rock formation. The faster we went, the more the sleigh bells jingled, accompanied by ranch dogs barking and the crunch of the snow.
At the end of the ride, one of my cousins got to lead Midnight and Bo back out to the pasture, under close supervision, of course. S'mores around a roaring campfire, hot chocolate, and hot cider awaited us back at the barn.
In addition to the feed rides, one-hour and evening sleigh rides are also offered. If you want to take this adventure up to the next level, go for a spa treatment, enjoy après ski in Heck's Tavern, or better yet, spend the weekend in one of their luxurious guestrooms in the Lodge. or in a cabin in the woods.
37350 County Road 179, Steamboat Springs, 970-879-3711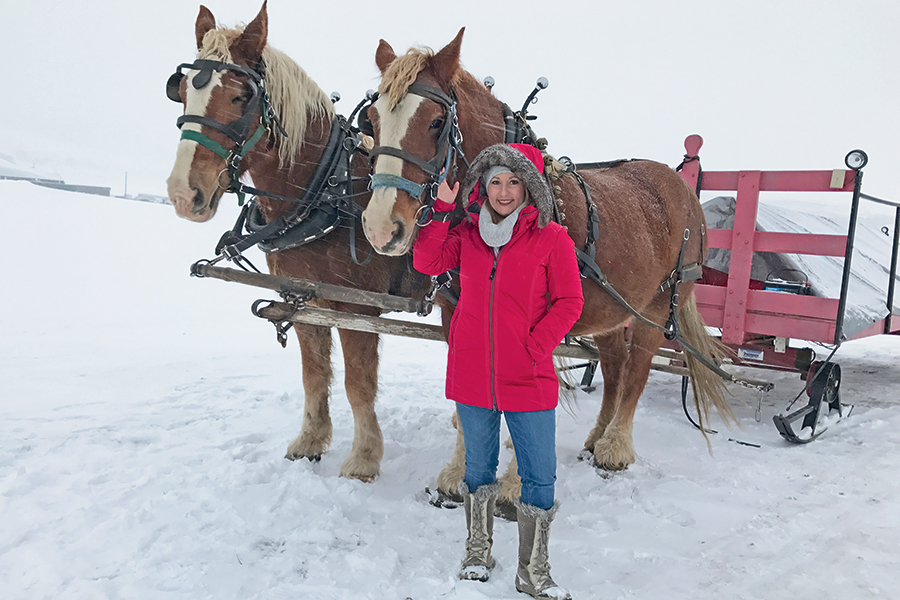 Author Jennifer Broome getting ready to hear sleigh bells ring on dinner ride at Saddleback Ranch. © Loryn Kasten
Just outside of the Olympic skiing mecca of Steamboat Springs is an 8,000-acre, fourth-generation family-owned ranch, with six sleighs carrying up to 16 people each on a ride to dinner at dusk. Bells jingled from Belgium draft horses as we rode to Double Dollar Lodge for home cooking—steak, salad, baked potato, and rolls—and old-fashioned entertainment, such as a display of calf-roping skills. Guests get a turn to cowboy or cowgirl up and rope Norman, the static calf. For the record, I roped Norman on my first try!
Then the lights dimmed and the music played as the dance floor filled with moms dancing with sons, dads two-stepping with daughters, and lovers swaying arm-in-arm. I thought, What a wonderful memory in the making—something families or friends could do year after year.
Be sure to experience Saddleback Ranch's Yee Haw Tubing Hill—the only tubing hill in Steamboat. Kids love staying in their ski clothes, and they'll stay warm on the ride.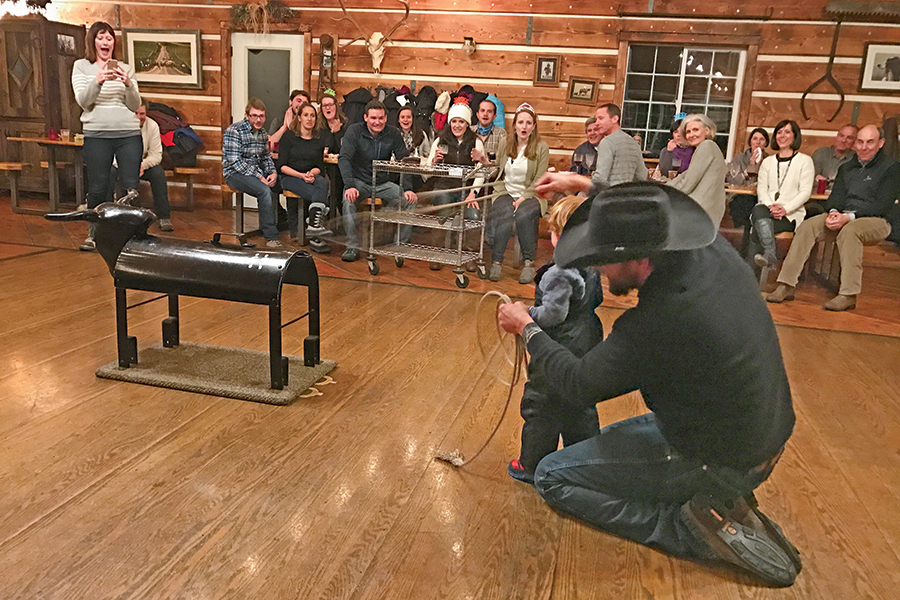 Cowboy RJ teaches a young buck how to lasso "Norman" as part of dinner entertainment at Saddleback Ranch. © Jennifer Broome
12500 Castle Creek Road, Ashcroft, 970-925-1044
The most unique sleigh ride in Colorado takes you from a ghost town to a gourmet meal. If you choose a night ride, as I did, you leave from the mining ghost town of Ashcroft and go off on an ultra-romantic sleigh ride under the stars.
The night I went, it was cold—really cold—with temperatures near zero and wind chill far below that. My friends, the Wilsons, and I giggled as we huddled close together, almost sitting on top of each other.
Pine Creek Cookhouse is only accessible in winter by horse-drawn sleigh, snowshoe, or skis. With only a small light on our sleigh, the night sky revealed its glories—shooting stars, red giants, the Orion nebula glowing like a fluorescent light, and the Andromeda galaxy, the sister galaxy to the Milky Way. Because the water vapor in the air freezes into ice crystals, the air is more transparent and everything twinkling in the night sky appears crisper. The stars almost seem so close you can reach out and touch them.
I realized I was sharing the same view that the hardy folks of Ashcroft had in the 1880s.
From the celestial feast of the night sky, we enjoyed a gourmet feast in a cozy log cabin that is home to Pine Creek Cookhouse.
Chef Chris Keating describes the menu as "American alpine cuisine, mountain gourmet, if you will." His wildly popular appetizer Buffalo Momos—Nepalese dumplings with spicy, roasted tomato sauce—honor the Nepalese sherpas who have lived in the valley for years and work in his kitchen. Keating's favorite is the smoked trout melt. I agree—it's a must. And so is the Star Peak Baked Cheese appetizer, an ooey gooey sensation of brie and cambozola cheese with fruit jam and French bread crostini, if it's on the menu.
Among the entrees, my favorite is the Sautéed Ruby Red Rainbow Trout—oven roasted with cauliflower puree, kale, roasted shallot, and a lemon caper butter sauce work off the calories skiing.
Save room for dessert like the sinfully good Warm Apple Crisp or Pretzel Bread Pudding. Do what we did and order a couple for the table to share. I'm not going to lie; you'll probably be in a delightful food coma as you head back to the sleigh for the mile and a half trek back down the road to the ghost town under a starlit sky.
1101 County Road 53, Granby, 970-887-2152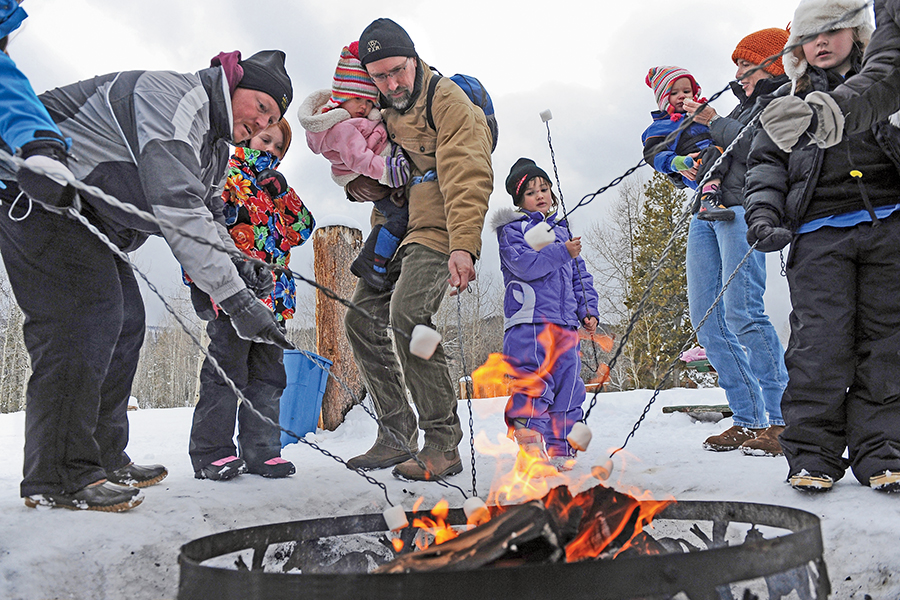 Families from Texas and Colorado enjoy one of the high points of the Snow Mountain Ranch sleigh ride: roasting marshmallows on an open fire. © Getty Images/Helen H. Richardson
Draft horses take you on one of four 45-minute Hot Cocoa Sleigh Rides daily through a winter wonderland near Winter Park. Smaller sleighs fit 12 people; larger sleighs accommodate 16. Bells jingle and horse hooves clop along the scenic trail to the Rowley Homestead. Once there, we warmed up by a crackling fire, toasting marshmallows, and sipping hot chocolate. If you're lucky, you might see a moose, fox, or even a snowshoe hare near the homestead. If you don't see any wildlife, you're bound to see signs they've been there. You might even see some bear claw marks on a tree; we did.
On the 45-minute dinner ride, you gaze up at a star-filled sky (if it's a clear winter's night) and upon your arrival, chow down on a Colorado 10-ounce aged angus top sirloin, or roasted chicken breast and wing, or trout fillet with lemon and seasonings. Ranch grub also includes cowboy beans, garlic bread, and baked potato. Fruit cobbler with ice cream finishes the meal.
Make snow angels, start a snowball fight, and take in the history of the homestead. I'll admit, my cousins and I did all three! We found it fascinating thinking about what winter must have been like there in the early 1900s. Fred Rowley's homestead was established in 1919. You might sit for a spell on the porch of a logger cabin. There's an old outhouse, horse hay barn, goat barn, milking barn, and old farming equipment. My favorite was peeking through the windows of the Rowley home and seeing a red chair, old stove, and other items still there.
Stay overnight in a cabin, or a lodge room, and receive a discount on sleigh rides. If you want to rough it a little more, rent an unheated yurt. My cousins and I have done two winter weekend getaways here and stayed in both a cabin and lodge rooms. You may want to do a couple of visits too so you can enjoy ice skating or dogsledding outdoors, and archery or swimming indoors.
Snow Mountain Ranch is a world class Nordic Center. Either by ski, snowshoe, or fat tire bike, spend some time out on the trails, especially on a sleigh ride to a historic homestead.