Road Review: Subcompact crossover showdown
Honda HR-V v Subaru Crosstrek
It seems every car maker from Mercedes to General Motors wants in on the small crossover market, and it's no wonder, because the cars are so appealing, offering the practicality of a sport utility vehicle, yet built on a unibody platform to create a car-like experience.
Among the smallest cars in this category—the subcompact crossovers—the competition is particularly fierce between Honda and Subaru. Honda debuted its HR-V model for model year 2016 and Subaru introduced us to the Crosstrek in 2013. Both cars sell for less than $30,000 fully loaded, including all-wheel drive (AWD), yet afford drivers a lot of style, desirable features, and utility. I recently tested the top-level trims in both the HR-V and the Crosstrek to see which would stand out.
Honda HR-V
A 1.8-liter, 4-cylinder engine powers the 2017 Honda HR-V AWD EX-L Navi that I drove. The engine is matched to a continuously variable transmission that performed smoothly once I got to cruising speed, but labored noticeably during any sort of acceleration. Fuel economy is reasonable: 27 miles per gallon (mpg) in the city, 31 mpg on the highway, and 29 mpg combined. A circular green button to the left of the steering wheel puts the car into Econ mode once pressed and creates slightly greater efficiencies in transmission and throttle responses, improving the gas mileage.
Plenty of things work for the HR-V and at the risk of sounding too technical, one is looks: the 2017 HR-V is cute (a highly technical term indeed). A bright-eyed front fascia, curved roofline, and rear-door handles integrated into the window line give it a spunky and modern look. Eight exterior colors, such as Misty Green and Mulberry, add to the HR-V's panache.
The HR-V also has all the trappings a 21st century car should have, with two USB ports and two 12-volt power outlets, but the ports are all hidden underneath the center stack up front and awkward to access.
Noteworthy innovations include Honda's LaneWatch system. Whenever you activate the right-hand turn signal, a camera image appears on the seven-inch screen, showing you a broad view of the road beside and behind you as you turn. This feature can be incredibly helpful, particularly if you live and drive in a town with lots of cyclists and runners on the road.
The second-row Magic Seat is also noteworthy. The rear seat cushion flips up to create bountiful storage space between the front and back rows—ideal room for tall and narrow things, such as bicycles or poster boards. If you'd rather load up cargo through the rear, 23.2 cubic feet of storage, or a whopping 55.9-cubic feet with the second row folded down, allows for plenty of space to haul multiple bags of groceries.
Safety ratings are somewhat mixed for the HR-V, with five stars overall from the National Highway Traffic Safety Administration (NHTSA), but some Average ratings from the Insurance Institute for Highway Safety (IIHS). A backup camera comes standard, but other active safety features—blind spot and lane departure warning—are absent, which is too bad.
The 2017 Honda HR-V AWD EX-L Navi that I drove starts at $26,240 and, as tested, the price was $27,180. The 2018 model was not yet available at press time, but there will be no major changes.
Subaru Crosstrek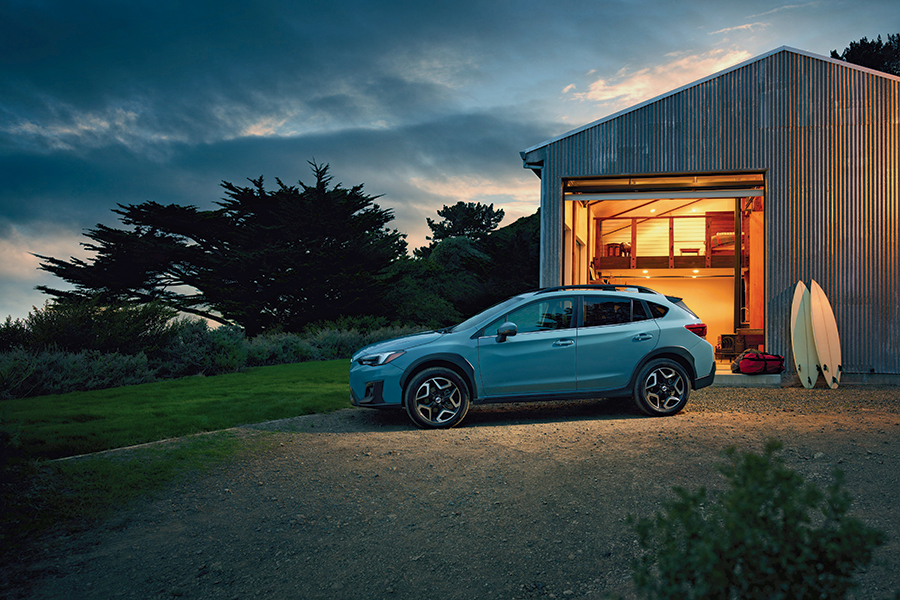 2018 Subaru Crosstrek 2.0i Limited. Courtesy of Subaru of America, Inc.
Unlike the HR-V, there is no Subaru Crosstrek that can be had without AWD. In other words, Subaru's symmetrical AWD powertrain is just part of the deal, and that's welcome news for those of us in the Rocky Mountain region. Since there was a redesign for the 2018 model year, I tested the 2018 Subaru Crosstrek 2.0i Limited that starts at $25,195 and as tested was $29,849.
The Crosstrek Limited's 2.0-liter four-cylinder engine is matched to a continuously variable transmission, much like the HR-V, but things come off as a bit more refined in the Crosstrek. Acceleration was swift from the start, and gear shifts were smooth. Steering was responsive, and the car's handling of corners and rougher road was comfortably enjoyable. Fuel economy is nearly identical to the HR-V's at 27 mpg in the city, 33 mpg on the highway, and 29 mpg combined.
As far as looks go, the Crosstrek is offered in eight mostly vibrant colors, including Sunshine Orange, which should make Bronco fans giddy. Bold contrast stitching highlights the comfortable leather seats, steering wheel, and dash, while all of the surfaces are unexpectedly soft to the touch and downright fetching.
Many of the same features that populate the HR-V are found in the Crosstrek, including heated seats, a seven-inch infotainment screen, power mirrors, and USB and auxiliary ports. Apple Car Play gives iPhone users an easy way to stay connected.
And though the Crosstrek is absent a Magic Seat, cargo space is still plentiful: 20.8-cubic feet of rear cargo space with the second row in use, or 55.3-cubic feet with that 60/40 split rear seat lowered. In a nod to the many outdoor enthusiasts who are also Subaru enthusiasts, the 2018 Crosstrek has a rear liftgate that open four inches wider for easier loading of gear.
Some of the most useful space, however, comes in the form of the Crosstrek's 8.7-inches of ground clearance, two inches higher than the HR-V's 6.7-inches. Two inches makes a big difference for anyone who goes off the beaten path.
The Crosstrek receives the same five-star rating from NHTSA that the HR-V does and adds to it enough top marks from IIHS to earn a Top Safety Pick title (fun fact: all Subaru models have earned Top Safety Pick status). Myriad active safety features are also available. One is especially relevant to today's driving conditions, an alert that sounds if you're in traffic and the car in front of you moves ahead, but you don't—probably the nudge we all need to stop checking our phones in traffic or at stoplights!
The winner is …
The HR-V offers a lot at a good price, but higher ground clearance and the inclusion of so many active safety features easily propel the Crosstrek into the winner's circle. Yes, it's more expensive, but only slightly so, and dollar-for-dollar you get more for your money.
AAA connection
AAA Colorado AutoSource arranged for the test vehicles used in this review, and it can arrange test drives for you, at the location of your choice. Call 877-244-9790, or visit AAA.com, and experience concierge service like nowhere else.