My Colorado Photos
Editors' note: The Editors chose winning photos from dozens received online at AAA.com/photocontest and via email at photocontest@colorado.aaa.com.
Deer in the headlights ▲
Ryan Collison of Lakewood submitted this photo online of a mule deer while snowshoeing with his friends to Gem Lake, north of Estes Park. "The roads in Rocky Mountain National Park were closed due to snow, so we found another place that had good trails and great views," Collison told EnCompass. "On our way back down, we saw this buck—no more than 20 feet away—who wasn't intimidated by our presence. It was an awesome moment for all of us!" His camera: Nikon D40x. Member since: 2016
Catching first light ▼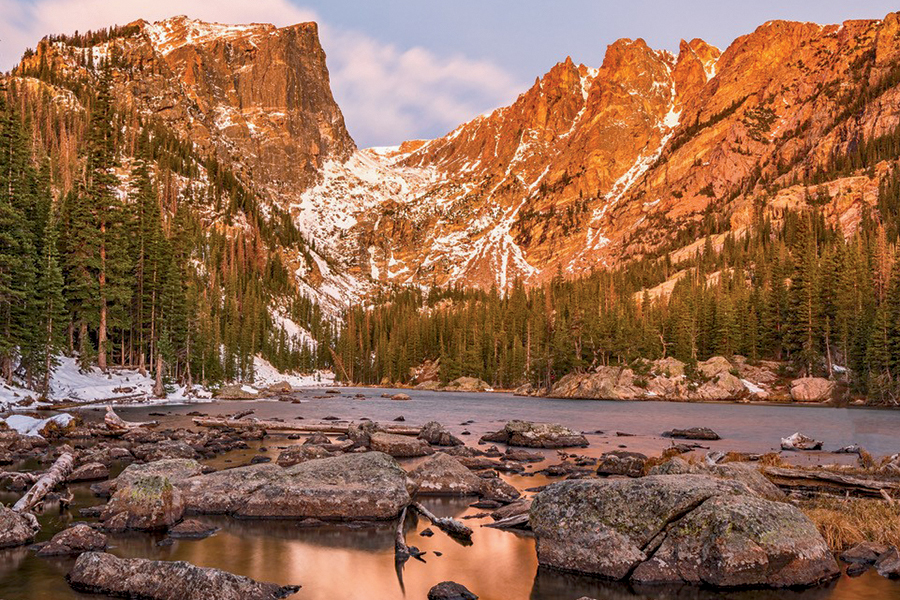 Michael Ryno of Highlands Ranch submitted this photo by email of Dream Lake in Rocky Mountain National Park. "This was my fourth visit, and each time the scenery changes," Ryno told EnCompass. "I left home early enough to watch the first light on Hallett Peak. As the sun rose, I noticed the interesting textures and patterns on the surface of the lake. The ice was incredibly smooth in areas, and the amazing clarity allowed me to see the rocks at the bottom of the lake." His camera: Nikon D850. Member since: 1969
Gold Rush Photo Contest
In addition to our usual My Colorado Photo Contest, EnCompass is accepting your best autumn color images for the Gold Rush Photo Contest, with a chance to WIN up to $500 and appear in the September/October 2019 edition. Deadline for entry in the Gold Rush contest is Midnight MST, April 8, 2019. Visit AAA.com/encompass for complete contest rules.