Travel Edition 2019: Croatia
Warm, welcoming adventure
It's inconvenient to fall in love with a country that hasn't been born yet. I was a young travel agent, and a German colleague told me excitedly about a place that was going to be the next French Riviera. She said the coast of Yugoslavia, across the Adriatic Sea from Italy, had beautiful beaches, crystal-clear water, abundant sunshine and no crowds. I resolved to get there someday. Then came the Yugoslav Wars, which broke up the different regions, cultures and ethnic groups that had been under one flag since the end of World War I. In the 1990s, about the only travelers were soldiers and refugees. Those days seem distant now. My dream of the "next Rivera" in Yugoslavia came true with the creation of Croatia.
Here's what I've learned about getting the most from your trip to one of the most vibrant destinations in Europe.
Don't rush to the coast
The waters of the Adriatic may be where the action is for the masses, but I think Croatia's capital city of Zagreb is worth your time. Walk Zagreb's Upper and Lower Town neighborhoods, where grand old buildings surround public squares filled with merchant vendors. Just about everyone seems to speak English, and they're more than happy to point you in the direction of a good restaurant, museum, or historic site.
If you're in the Upper Town, visit the 13th century Lotrscak Tower a little before noon. At precisely noon, in a daily tradition that dates to 1977, a cannon in the tower's highest room announces with an ear-splitting blast that it's time for local churches to ring their noonday bells.
Fall for waterfalls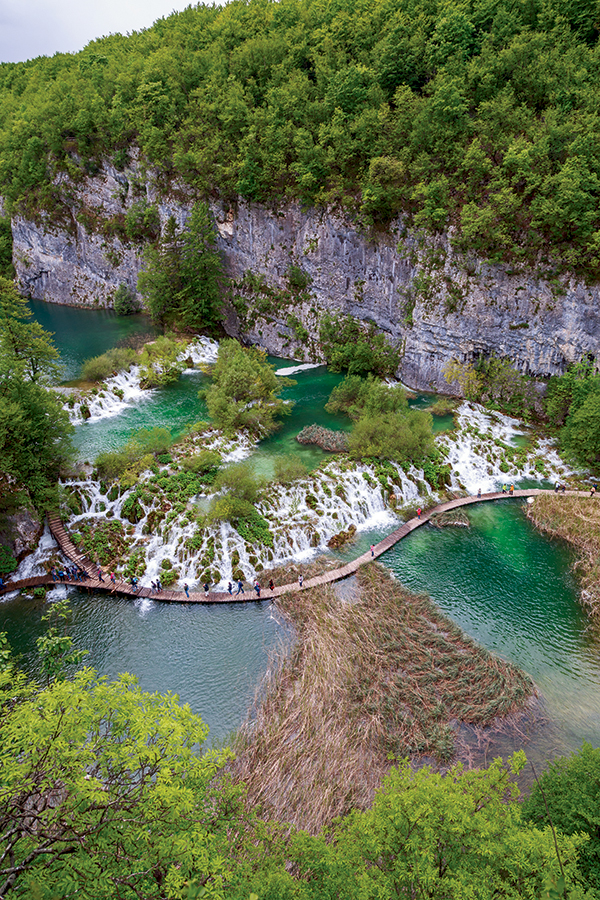 Visitors cross the boardwalk in Croatia's Plitvice Lakes National Park. © Dreamstime.com
It was a cold November day when I visited a fairy tale scene—the Plitvice Lakes National Park, comprised of 16 lakes, the higher ones spilling into the lower ones, creating waterfalls and cascades everywhere. This is one of the most popular attractions in Croatia, and it gets crowded in summer. During my autumn visit, there were far fewer people. Maybe the snow and cold kept some of them away. Works for me.
Split to Split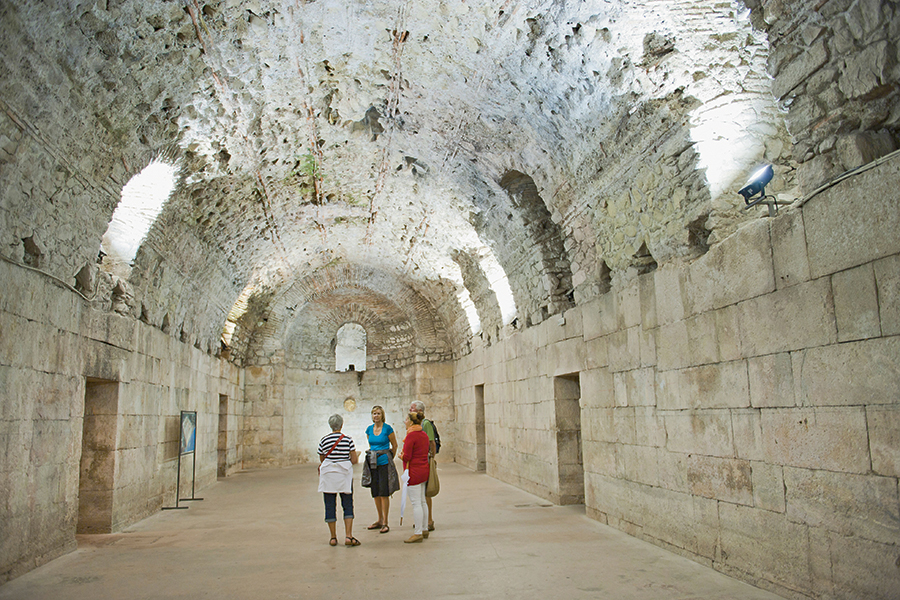 Tourists exploring the underground halls at Diocletians' Palace, a UNESCO World Heritage Site, in Split, Croatia. © Alamy/Robert Harding
Not that long ago, Croatia's second largest city was a working seaport, a place you passed through to reach the thousands of beautiful islands scattered like jewels across the Adriatic. That's why Split surprised me. It didn't have an industrial look. It's clean, and impressive—its old town section the home of a Roman emperor's palace. The emperor, Diocletian, left office through retirement rather than assassination, a rare feat, not unlike his former home. Many of his palace's 1,700-year-old walls and columns endure for your viewing pleasure.
The Pearl of the Adriatic
As a travel agent who's been nearly all over the world, I can think of no more spectacular meeting of sea and city than Dubrovnik, justifiably called The Pearl of the Adriatic. The sight of bright red tiles of reconstructed roofs set against the vivid blue of the Adriatic made my dreams worth the wait.
Make it your own
When I persuade a AAA member to book a trip to Croatia, I encourage them to not just sightsee, but to meet its warm, welcoming people. I'll never forget a visit to an oyster farm; the fishermen served samples fresh out of the net. An inland farmer shared the bounty of his fields and the joyous news that his wife had just given birth. Perhaps you prefer nature walks along country trails, cruises to hidden coves, cooking classes for Croatian cuisine, excursions into a rich history—they're all here, too. Let's talk.
AAA Resource
AAA Colorado is hosting the 2019 President's Cruise to Croatia. This 7-night Azamara cruise features a specialty dinner with AAA Colorado President and CEO Linda Cavanagh, a private wine tasting, a choice of more than 30 shore excursions, including UNESCO World Heritage Site of Diocletian's Palace, and more. For more details, contact your local AAA Colorado Travel Agent at any of our retail locations.