Travel Edition 2019: Ireland
You know a place is special when your first sight of it has you wiping teardrops from your face. That's how it was for me at the Giant's Causeway. Not far from Belfast, the coast of Country Antrim in Northern Ireland is transformed from seascape into what looks like a path of colossal stepping stones leading from the cliffs into the sea. It's easy to imagine a giant installing the hexagon-shaped columns that seem to interlock too perfectly to be what geologists say is the result of an ancient volcanic eruption. However it was created, the magnificence of Giant's Causeway moved me to tears. Magic does that to me.
It's remarkable to witness the change between my first trip to Ireland and what I've seen more recently. On my first visit, armed soldiers patrolled the streets of Belfast and Londonderry. Today, you can go between the Republic of Ireland in the south, and what is part of the United Kingdom in the north without showing a passport. Still, different countries require a bit more thought in planning a trip. In Northern Ireland, your wallet should contain British pounds. In the south, you'll need Euros. If you rent a car, tell your rental company that you intend to drive from one country to the other to ensure you have insurance coverage in both. Then keep a close eye on the speedometer. Speed limits in the Republic of Ireland are posted in kilometers, while Northern Ireland uses miles per hour. Confusing them could earn you a speeding ticket.
Lively pubs, tiny museums
Ireland is such a scenically beautiful and culturally rich place that it's hard to come up with just one or two experiences that will find their way into your heart. Even if you're a teetotaler, an Irish pub will intoxicate you with the lively atmosphere that always seems to include wonderfully gifted and inexhaustible musicians, playing and singing the night away and urging everyone to join in. One of my favorite places in Dublin is just off Grafton Street's main shopping area. Located in an 18th century Georgian townhouse, the Little Museum of Dublin exudes quirky. The museum may be little in name and space, but it's large in entertainment and information. You're shown around by a guide who seems to be part historian, part comedian. This condensed look at Dublin's history is great for anyone, but it's a special treat for fans of a Dublin band that conquered the world. The U2 exhibit at the Little Museum is crammed with more memorabilia and oddities than you'd think possible in such a small room.
Tribute to Titanic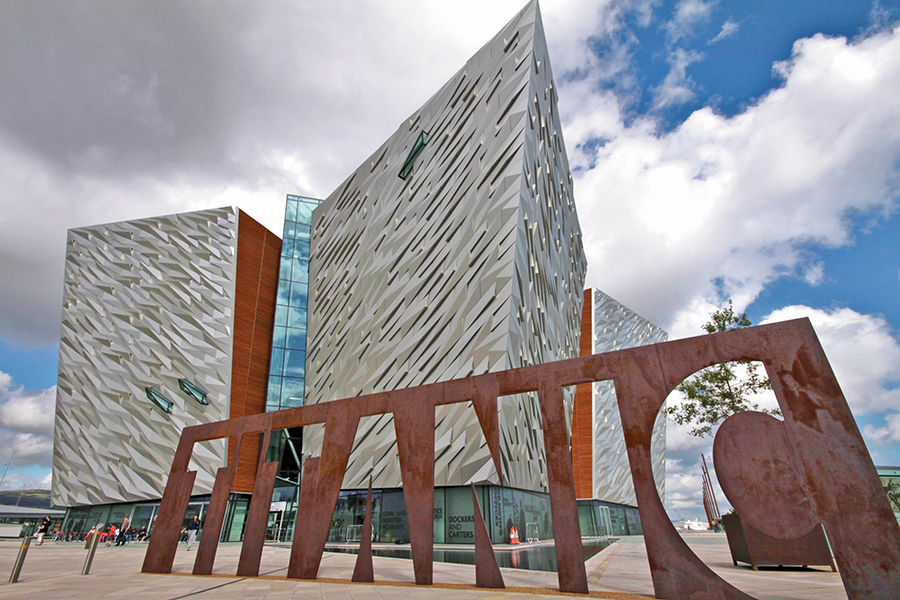 The Titanic Belfast Museum in the city's Titanic Quarter sits on the site of the former shipyard where the RMS Titanic was built. © Dreamstime.com/graphicjet
Titanic, I was at a loss for words.
History is almost never out of sight throughout Ireland. In Londonderry, I saw walls of buildings decorated with murals devoted to "The Troubles," which began here in the late 1960s with violence rooted in ethnic, religious and political divisions. A 1998 agreement brought peace to the city, but the murals vividly display a history that is as painful as it is recent.
John Wayne in Ireland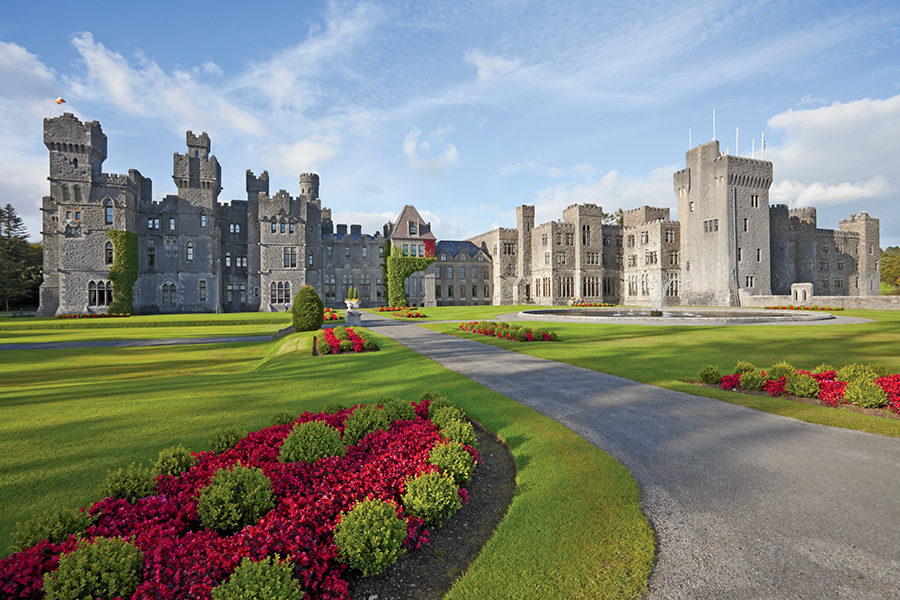 Once owned by the Guinness family, Ashford Castle is now a luxury hotel straddling Mayo and Galway Counties in Ireland. © Dreamstime.com/Rihardzz
I tell my clients considering a trip to Ireland to read books and even watch movies about Ireland, and I recommend the ones I've found useful. Besides offering historical context, it's a way to bring to life the places you plan to see, and you might be surprised at how many places will seem familiar to you because you've seen them portrayed on television or in movies, always with what I believe is one of the most delightful accents on earth.
I like to be pampered when I travel, and pampering took on another level when I checked into Ashford Castle. Once owned by the Guinness family, the castle is now a luxury hotel straddling Mayo and Galway Counties. Just the drive through the stunning grounds was unforgettable. You've caught a glimpse of the grounds yourself if you've ever seen what may be America's favorite movie about Ireland: The Quiet Man, starring John Wayne. A stirring bagpipe melody heralded my arrival at the castle's entrance. I felt like royalty.
Thoroughbreds and whiskey
So many of the rewards of travel result from discoveries you never expected to find. Ireland is renowned for its love of horses, so a visit to Irish National Stud in County Kildare was a good way to appreciate the beauty of thoroughbred horses and their place in Irish culture at a breeding farm that still produces champions. But in addition to the magnificent horses and the fascinating history, I found myself surrounded by the serenity of a place I might have expected to find halfway around the world. The Japanese Gardens at Irish National Stud were created in the early 1900s with a goal of providing beauty to the eye and comfort to the spirit. A red wooden bridge across a pond filled with lily pads brought one part of the world together with another.
Another reward of travel comes from putting yourself in situations you might never choose at home. I don't drink whiskey and I don't drink coffee, but having an Irish coffee in Ireland just seemed to be the right thing to do. So, I ordered one. Then I ordered another. North or south, Ireland always leaves you thirsty for more.
AAA Connection
Experience Jody's Northern Ireland trip with fellow AAA Colorado members on June 11–22, 2019. Contact your local AAA Colorado Travel Agent at any of our retail locations for details.