TRAVEL EDITION 2020: Alaska
More than one way to see the Last Frontier
"Peggie, get out here!" My roommate's tone was urgent. It better be something special to get me out of a warm cruise ship stateroom into the chilly Alaskan night. Stepping onto the balcony, any thought of being cold vanished in the warm glow of a shimmering curtain of light dancing overhead.
We'd been told that we might see the northern lights as our ship, the MS Oosterdam, cruised between Glacier Bay and Sitka. Most of our fellow passengers were enjoying a show in one of the ship's great entertainment venues, so we had the spectacular light show outside mainly to ourselves. After about 40 minutes, the greens and pinks of the aurora faded from the sky. They'll never fade from my memory.
A trip to Alaska is one of the top destinations on many people's bucket lists, and one of the things that makes seeing it so special is there's more than one way to do it. Alaska is spectacular any time of year, but on our Holland America cruise in September there were discoveries that made this late-season trip especially rewarding.
Plus, since we were sailing at the tail end of Alaska's cruising season, it meant we were more likely to find bargains. Shops in port have inventory they need to sell before closing for the winter, so just about everything is marked down.
Of course, winter never seems far away in a land where glaciers meet the sea. As we sailed through Glacier Bay, I watched, awestruck, as towering cliffs of ice shed enormous chunks of themselves into the sea (called calving) in crashing displays that filled the bay with fresh icebergs. The captain put the big ship into a 360-degree pirouette to give everyone aboard a full-circle view of an ever-changing wonder.
Bigger is better
Seeing Alaska on a large cruise ship, such as the Oosterdam, you have it all—shopping, live entertainment, multiple dining options, excellent service from a great staff, and wonderful shore excursions at every port of call. There is something different to do each day. I loved it!
Checking out the daily newsletter delivered to the mail slot outside my stateroom, I see an afternoon wine tasting that looks interesting, and the live entertainment choices in the evening make me feel a little like I'm in Las Vegas, even as the rugged Alaska coastline drifts past my window. Some of the off-ship excursions available include salmon fishing and dog sledding. Wait, dog sledding? There's no snow on the ground in Juneau! No matter, a half dozen of us clamber aboard a wheeled sled behind a team of a dozen dogs, and off we go through the forest.
Around some of the corners, I'm hanging on with all I've got! Even with no snow, I get a feel for Alaska's official state sport, get to meet professionals who compete in winter races across Alaska, and if you're a dog lover, the puppies at the dog camp will have you asking if you can stay just a little longer.
Less is more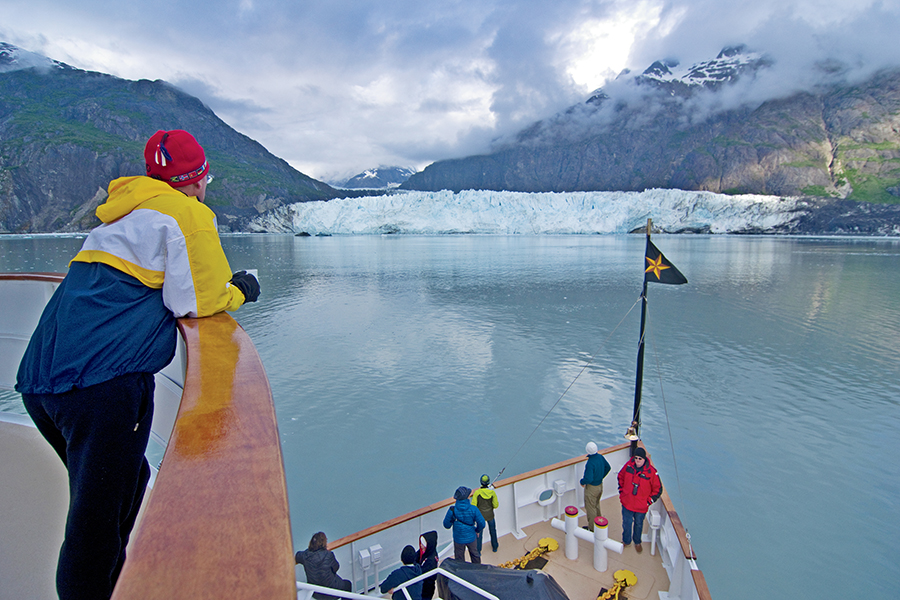 Visitors to Glacier Bay National Park are treated to the magnificent sight of ice calving from the glacier into the water. © Julie Quarry
For a different kind of experience, smaller ship cruises, like those with UnCruise Adventures, offer a more intimate encounter with Alaska. With a maximum capacity of fewer than 90 passengers, UnCruise Adventures' ships can explore nooks and crannies too tight or too shallow for large cruise ships. Cabins range all the way up to suites with sitting rooms, and there is a minimum of two crew members onboard per passenger. Ships offer a roomy lounge, a dining room, and a sun deck. What it doesn't have are the onboard gift shops, casinos, coffee bars, or Broadway revues. Forget about Wi-Fi, UnCruise is about disconnecting from anything that distracts from the grandeur that surrounds you.
What I really like about this small-ship experience is the schedule is more flexible than aboard a large ship. If somebody spots whales, well, that's why we're here, so let's stop and watch these majestic creatures for a bit. Since there's not much to do on the ship, all the fun and activity is enjoyed off the ship—either on land or in the water. The ships are loaded with kayaks and inflatable skiffs that launch into the heart of Southeast Alaska's coastal wilderness, transforming you from tourist to explorer. Morning excursions return to the ship for lunch, while afternoon excursions end in the ship's lounge for cocktails and conversation with our newly acquired friends. The atmosphere is so relaxed and so comfortable you don't even get a key to lock your cabin.
Best of both worlds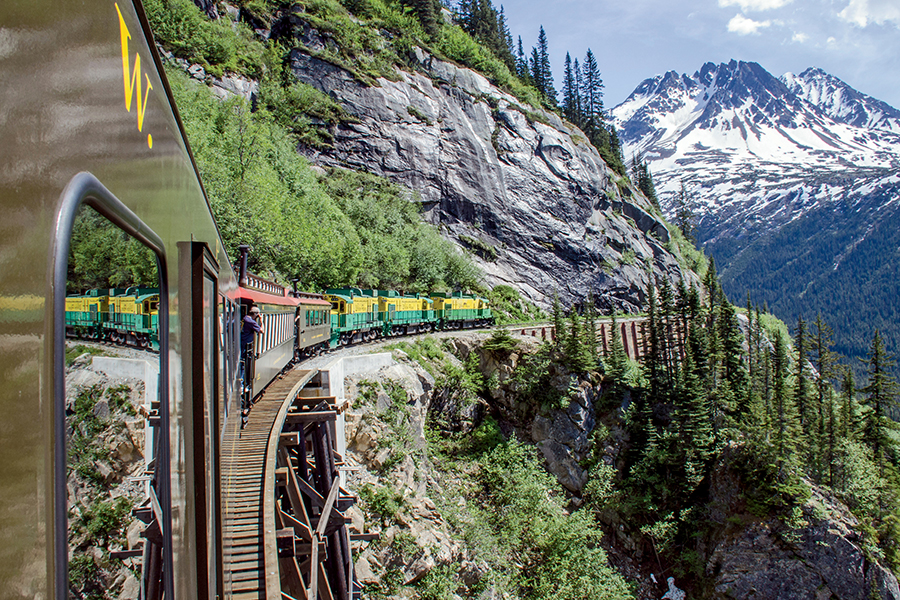 Traveling by rail is one way to see the Alaskan wilderness. Courtesy of Holland America Line
These first two options only give you a small glimpse of our country's largest state—its coast. But in my opinion, a visit to Alaska is not complete without seeing its interior as well. Most cruises to Alaska, whether you prefer large ships or small ones, offer land packages that can be added to your trip. You can choose an escorted land tour to learn the history of the region, do some exploration on your own in several of the state's larger cities, or even catch a train aboard the Alaska Railroad to explore the wilderness of Denali National Park.
I remember docking in Sitka, and decided to casually and independently explore the town. It's a very walkable city, and I passed Russian-themed architecture evoking the city's days as the capital of Russian America, popped into shops and art galleries, and made my way to a forest within a forest. At Sitka National Historical Park, totem poles rise alongside rainforest trees. Intricately carved by hand, the totems help tell the stories of the people who made them. Most of them are replicas of the originals because the climate here isn't conducive to the preservation of cut and untreated wood. Replicas or not, they are a striking sight along a self-guided trail that's free to the public, and the haunting feeling they evoke in the silent rainforest is hard to describe. Sitka became my favorite city, and I marveled at its setting between the mountains and the sea.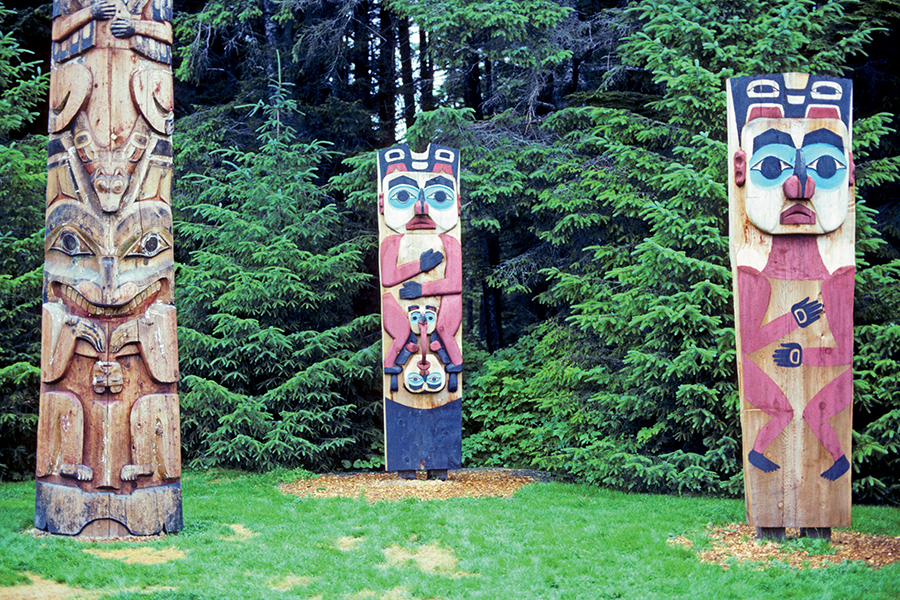 Totem poles in Sitka Historical Park in Sitka, Alaska. © Steven Prorak/Dreamstime.com
Whether you're visiting by land or by sea, it's hard to go wrong in Alaska. On a journey like this, the highlights crowd together. The northern lights outside my stateroom, the rumble of tidewater glaciers calving into the sea, the cod fish I caught on a salmon fishing excursion (truly, the ugliest fish I've ever seen), the extra pampering touches from the staff aboard the Oosterdam, I knew leaving was going to be tough, and that I definitely wanted to come back someday. This is how a vacation should make you feel.