TRAVEL EDITION 2020: Charleston and Savannah
I was a little nervous. Of course, I could ride a bicycle, but seven days of riding with daily distances as long as 27 miles? And not in the low humidity of Colorado, but in the sultry, steamy Low Country along the coasts of South Carolina and Georgia. I got in a few training rides, but the weather around Denver was less than cooperative, so I just had to hope I was prepared enough for the rides ahead.
Fortunately, riding with Vermont Bicycle Tours (VBT) between Charleston and Savannah was a breeze. There were 20 of us, ranging in age from 50 to 70. If I wanted, I could have ridden an e-bicycle with a pedal-assist motor. I could take a break any time in the air-conditioned comfort of the support van. As for my fitness level, it's amazing what a difference a mile of altitude makes. There's nothing like the oxygen-rich atmosphere at sea level to make someone from Colorado feel like a super-athlete.
Sit back and relax
Before booking with VBT, I had never been to this part of the country, but seeing it from the seat of a bicycle seems to match the relaxed pace the South is famous for, even with life's hectic demands that now seem so universal. In Charleston, a 4-mile warmup ride to begin the tour took us into neighborhoods where a motor coach, or even a minivan, seem out of place. Rainbow Row's cluster of pastel-colored, 17th-century homes set a stately tone for a ride into history. As we cruised along The Battery, we could see Fort Sumter at the entrance to the harbor, looking as it did in 1861, when it took the first volleys fired in the Civil War.
A bicycle tour can sound like something that has you in the saddle all day, but with VBT we had easy rides mixed in with walking tours, free time for exploring, leisurely lunch stops, and the luxury of setting our own riding pace.
Our group of 20 typically broke up into smaller groups by riding capabilities and preferences. Team leaders not only kept us well informed about the areas where we were riding, one always brought up the rear to take care of any problems that came up. We didn't have many equipment issues, but I do remember when one of our riders had a flat tire, it was quickly fixed on the spot by the crew in the support van, which was always nearby to refill water bottles, hand out energy boosting snacks, or provide a lift to anyone who might need a break.
With a group this small, we got to know each other pretty well. Even though we all had different fitness levels and riding capabilities, if we found ourselves way in front of a new friend, we would just circle back, reconnect, and re-experience a discovery with someone seeing it for the first time.
Taste of the South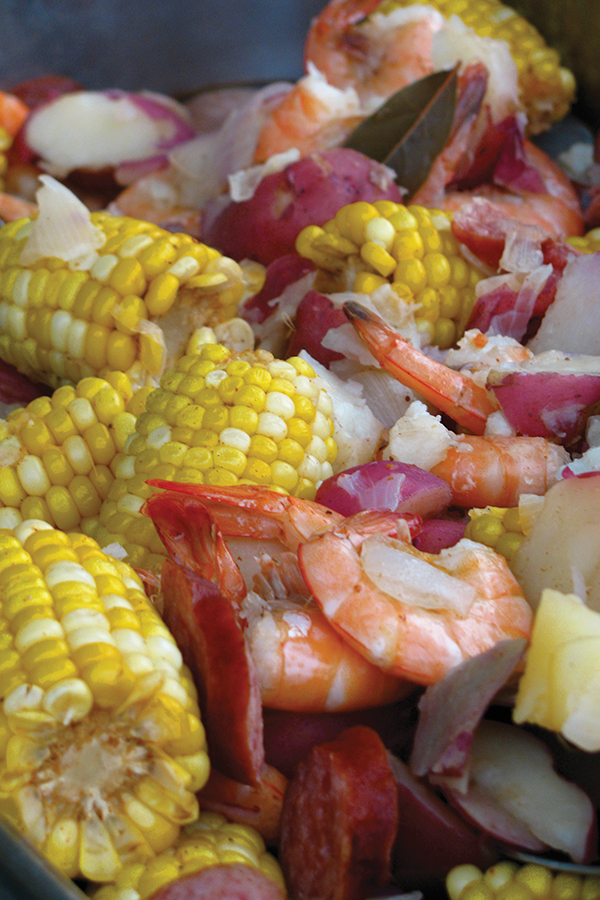 A Low Country Boil is a real Southern culinary experience. Courtesy of Explore Charleson
One of my favorite discoveries was Beaufort, a South Carolina town that exudes a Mayberry RFD feel. It's easy to see why it's been named "The South's Best Small Town" in publications that track such things. The downtown area along Bay Street is a sort of miniature Charleston, filled with historic charm. Along what used to be a railroad bed, the Spanish Moss Trail lives up to its name as it winds through neighborhoods covered by lacy curtains flowing from live oak and cypress trees. In the nearby salt marshes, I traded bicycle for kayak, paddling through a habitat where the silence was broken by the cry of seabirds and the soft whoosh of the kayak slicing through waters, where resident dolphins can become welcome traveling companions.
At our inn that night, getting a taste of the South took on a literal meaning with a traditional Low Country Boil. Take some sausage, shrimp, crabs, crayfish, potatoes, corn, and seasoning, throw it all into an outdoor cooker, and you've got more than a meal, you've got a party! Top it off with Colonial-era folk dancing, and a 90-minute shuttle ride to Savanna before tomorrow's big cycling trip sounds like a pretty good plan.
The big trek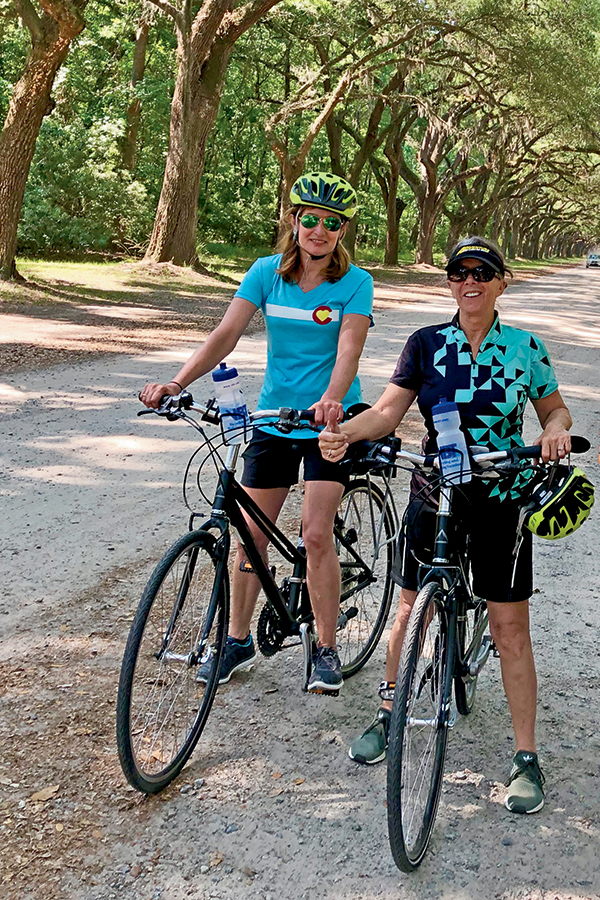 The author (left) on a bicycle tour from Charleston, S.C., to Savannah, Ga.
This is the day for that 27-mile stretch on a bike that had me raising my eyebrows back home in Colorado. We start the morning pedaling out of another beautiful Low Country downtown toward Wormsloe Plantation. This State Historic Site is said to be one of the most photographed locations in the entire South. We ride under a 1.5-mile long arch of live oak limbs that span the avenue leading to the plantation's front gate. The original house of the estate is gone, but the site is fascinating for its ruins, as well as a history that began with a ban on slavery. At nearby Bonaventure Cemetery, hanging moss provides a serene canopy for elegant and ornate monuments that will seem familiar to anyone who has read the book, Midnight in the Garden of Good and Evil, or seen the movie made from it.
The ride back to Savannah winds through neighborhoods with different architectural styles that are part of the many charms which make Savannah a city I want to revisit. Its picturesque streets and squares invite exploration on foot, and that's when I realize I've just finished riding 27 miles. I'm not tired. In fact, I feel like I could ride a lot more.
Back home in Colorado, my bike rides are typically in the 30–60-minute range along familiar bike paths, but the thought of something more ambitious, yet still manageable for virtually anyone, is intriguing. Vermont Bicycle Tours offer bike excursions all over the world—in Asia, Africa, Europe, North and South America, and New Zealand. Who knows what memories await you on a road best traveled on two wheels?