TRAVEL EDITION 2020: Italian countryside
I'm standing in a kitchen in the tiny Italian town of Carunchio. The Abruzzo region is where my grandfather was born, but it's a part of Italy I've never seen before now. Being this close to my heritage could make it easy to drift into a daydream. It's probably not a good idea with a chopping knife in my hand.
Just being here is dream enough. The Palazzo Tour D'Eau is a grand family manor perched at the very top of a hill with breathtaking views of the surrounding country. The Palazzo was built in 1730, and now takes in guests who want to dig into the fabric of the region's culture by immersing themselves in its cuisine. That means eating, of course, but also learning about the food here, and then preparing it. For the next week on this Edible Destinations by Epitourean "A Taste of Abruzzo and the Italian Adriatic" tour, I've got mornings in the kitchen, and afternoons in the olive orchard, at the cheese factory, or along the fisheries of the Adriatic.
Ingredients of life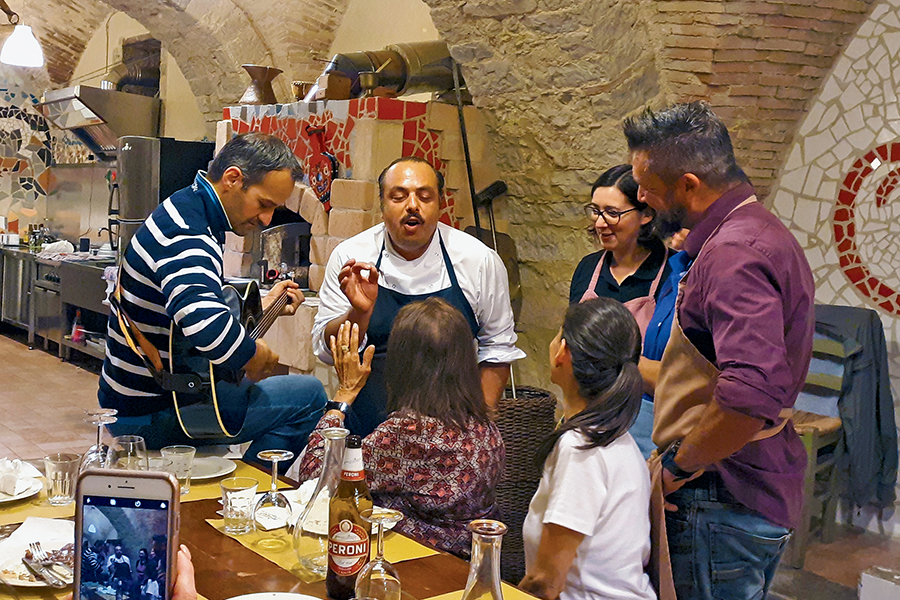 Chef Dino Paganelli sings to the cooking students of Abruzzo Cibus. © AAA Colorado/Betsy Farin
Gazing out from the exquisite hilltop setting of Carunchio, everywhere I look I see the ingredients of life, the makings for meals that bring families together and help define who they are. When you think about it, it's quite a responsibility to turn those ingredients into a fitting meal. If any of my fellow cooking students in the Palazzo kitchen are nervous, maybe Chef Dino's singing puts them at ease.
Dino Paganelli is one of the reasons that a cooking class experience with Abruzzo Cibus is such a joy. When we pass by the kitchen, we hear him singing in Italian, and that musical sense of joy continues when class is in session. With degrees in history and philosophy, Dino is a true Renaissance man. As a teacher, your success is his success, and getting my first "Brava!" from Dino almost has me singing with excitement.
Abruzzo Cibus is called a cooking school, and it's certainly that, but it's so much more. Time spent in the kitchen is seamlessly woven into experiences that bring meaning to everything done in class. There's the trip to the olive orchard to see how this Italian cooking essential is grown and harvested, followed by a visit to an olive press utilizing some ancient machines. I was ready to dip some bread at the olive oil tasting, but learned the proper way to taste olive oil is to sip it.
Feeling at home
Settling into one place for a week makes me feel less like a traveler who is just passing through, and more like a relative who is back home for a long overdue visit. I really did start to feel at home in Carunchio. There is plenty of free time to make discoveries and learn about the village from the locals. I even meet a few Americans and Canadians who couldn't resist the idea of living in this spectacular setting, embracing the Abruzzo way of life.
At the Palazzo, that way of life means no TV. Who needs it when the evenings are filled with fabulous food, wonderful wine, and lively conversation? The 12 guest rooms are more comfortable than sumptuous, and that's part of the charm. I like the "no fuss" atmosphere that owner, Massimo Criscio, brings to the palazzo. He is a fun and gracious presence whose tone is carried perfectly by our host Cristina, who calmly sees to every detail in a way that lives up to the motto: When extraordinary isn't quite good enough.
Cooking up fun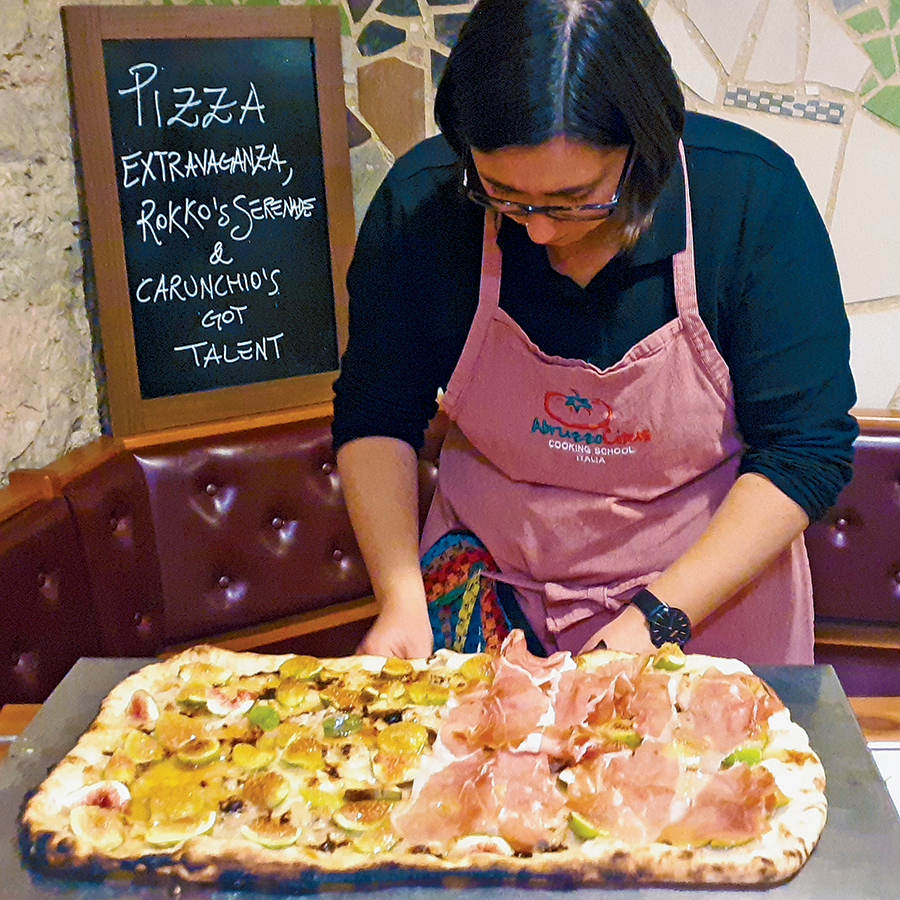 A cooking school assistant helps put the finishing touches on the author's pizza creation. © AAA Colorado/Betsy Farin
In the kitchen, the classes are a hands-on experience, and everything starts from scratch. Basic ingredients, like luscious fruits and vegetables from local growers, are laid out at individual workspaces. English is the chosen language for instruction, though it did make me smile to hear Chef Dino conversing in Italian with the smart speaker. Who knew Alexa was Italian? As we chop produce, roll pasta dough, or discover the right combinations for fantastic sauces, the kitchen is a place for laughter and learning, for watching and trying, and Chef Dino is always there to offer encouragement with a smile. The dishes we're preparing are simple enough to try at home, and we even get a recipe book to take home with us, complete with American measuring standards. Whether it is gnocchi, stuffed pasta, or tiramisu for dessert, what we make that day in the kitchen we eat that day for lunch or dinner, accompanied by wines from the Palazzo's cellars. School has never been so delicious!
Knowing this region of Italy is part of my heritage makes the field trips especially meaningful, yet not every moment is devoted to food. In the town of Agnone, we visit a foundry that's been making church bells for more than 1,000 years for clients as illustrious as the Vatican. The process is as fascinating as it is meticulous, carried on by descendants of the founding family of what is billed as the oldest continually family-owned and run manufacturing business in the world. Still, we never stray too far from culinary education. Agnone is famous for cheese, and a stop at a family-run factory that produces mozzarella, burrata, and a gourmet variety of provolone is a perfect set up for the grand finale at the Palazzo.
Back in the Palazzo kitchen, my fellow cooking students and I stretch the dough for tonight's pizza party. Next, we apply the fresh locally produced toppings, then into the wood-fired oven go the pizzas. When they come out, our thin crust creations have a crunchy texture bursting with the flavors of Abruzzo.
For 20 aspiring chefs who came here to get a literal taste of Italy, the evening is less about the food than about the friendships it has produced. Another motto I've heard used here is, "Come as a guest, leave as family." That phrase sinks in as Chef Dino makes the rounds at the pizza party. To the surprise of no one, he's singing. It's a perfect way to say, "Arrivederci Abruzzo."
RECIPE: TIRAMISU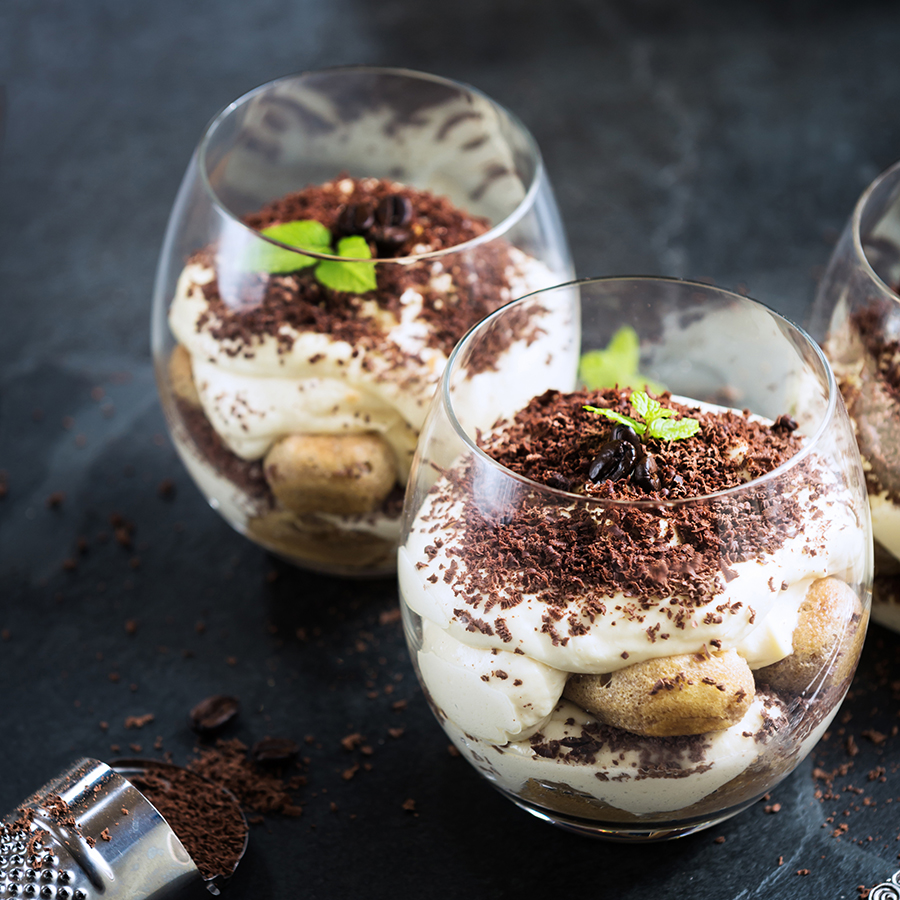 © Anna Denisova/Dreamstime.com
The name means "pick me up," and it does, indeed. There are many different versions of this popular dessert, but this is the true peasant version.
INGREDIENTS
5 large egg yolks
5 tablespoon sugar
1 pound mascarpone cheese
lots of espresso, warm in a bowl
lady fingers (savoiardi) – approx. 3 per individual serving
2 ounces dark cocoa
1 cup heavy cream, whipped to stiff peaks
1/2 cup of dark chocolate, shaved and chopped
¼ cup of Amaretto or Marsala
DIRECTIONS
Beat egg yolks and sugar together with an electric mixer until pale and thick. Slowly beat in liquor. Fold in mascarpone delicately and combine until the mixture is thick and smooth. Then, gently fold in whipped cream.
Dip 3 pieces of lady fingers in the espresso (in and out). Break in 2–3 pieces and place in the bottom of small dessert bowls. Then, spoon in a nice amount of mascarpone and sprinkle with chopped chocolate.
Repeat with 1–2 more layers (depending on the size of the glass) of the same. Chill 2 hours before serving.
Serves 4–6, depending on glass size.
—Recipe courtesy of Abruzzo Cibus Cooking School