TRAVEL EDITION 2020: New Zealand and Australia
Ah, the Kiwi life. Relaxing in a beachfront hot tub, serenaded by the hypnotic rhythm of the waves. Next to me, the trusty shovel I used to construct my own private spa.
Yep, I built it myself. Not that it was any great chore. All I did was dig into the soft sand, and in no time, hot water was seeping up to fill the hole I excavated. Up and down Hot Water Beach, other people luxuriated in the sand spas they created with shovels brought from home or rented nearby.
Named for underground thermal springs which filter water up through the sand, here, every sandcastle comes with a heated moat. That's the kind of Kiwi experience that makes you feel like a local when you visit New Zealand. I should know. For 12 years, I was one of the locals, and Hot Water Beach was near my home on the North Island's Coromandel Peninsula.
It's staggering to think how much there is to experience on two islands that have a combined area the size of Colorado, with about the same number of people. That's why it breaks my heart when visitors tack on New Zealand almost as an afterthought to their journey Down Under. Trying to cram New Zealand into three or four days is a disservice to New Zealand, but more importantly, it's a missed opportunity for unique experiences in a place where Coloradans will feel surprisingly at home.
One of the things I've noticed from living in both places is that Coloradans and New Zealanders (Kiwis) are kind of wired the same. We're adventurous, outgoing people who love the outdoors. Not that we're all daredevils, but almost every extreme sport you can think of seems to have been invented in New Zealand, and in Colorado we've embraced those activities and added our own unique twists to them.
A tale of two islands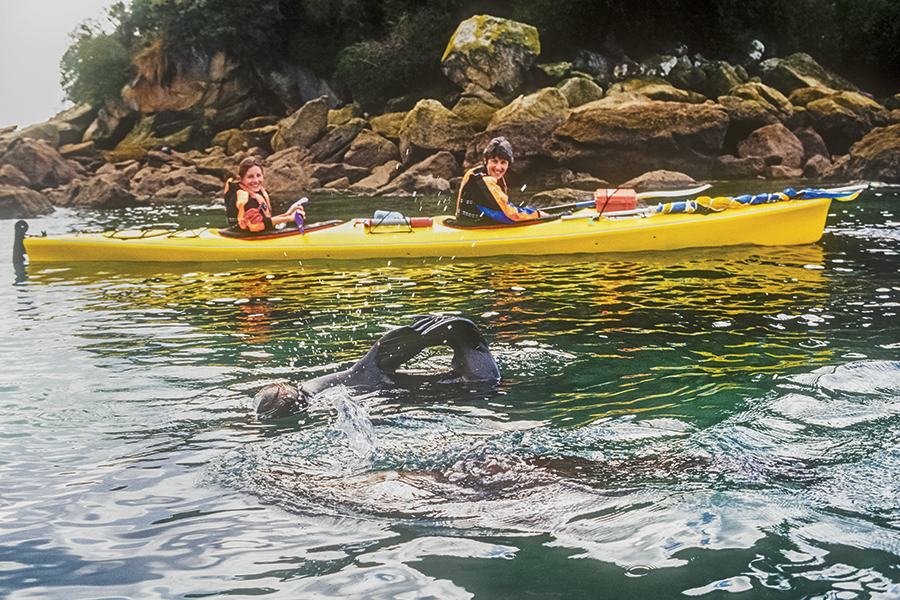 Kayakers see a playful seal in Abel Tasman National Park, South island, New Zealand. © Kerrick James
I find that most people head for New Zealand's South Island, and Christchurch—the island's largest city. That's understandable. The Southern Alps offer the kind of spectacular mountain environment that we love about Colorado. But, one of my favorite places that doesn't show up on many American itineraries, located at the northern tip of the South Island, surrounded by vineyards and orchards, is the town of Nelson. The city itself is becoming internationally famous as a thriving center for arts and crafts, as well as a staging point for what Kiwis call "tramps" into the Abel Tasman National Park.
In Kiwi lingo, a tramp is a hike, and back in the day, I did a four-day tramp in the Abel Tasman. I vividly recall weaving through lush forests, with an undergrowth of ferns, before emerging onto a gorgeous, unspoiled beach.
One of the favored ways of seeing the Abel Tasman is by kayak, beach-hopping between sleep huts you can book through the Department of Conservation. If you don't have that much time or energy, water taxis can shuttle you from the town of Marahau to the park's main beaches for shorter strolls along the Abel Tasman Coastal Track.
Back on the North Island where I lived, the Coromandel Peninsula is filled with wonderful little seaside towns where it's easy to pop into a pub for a bite to eat and some conversation with the locals, who are so warm and welcoming, you don't feel at all like a stranger. New Zealand pubs are not like those found in the U.S. They're more of a local hangout than an establishment for drinking alcohol—though, you can certainly order a pint to wash down the dust of the road. They're extremely popular with families and a great place to pick up local knowledge you won't find in a guidebook.
Island, continent, both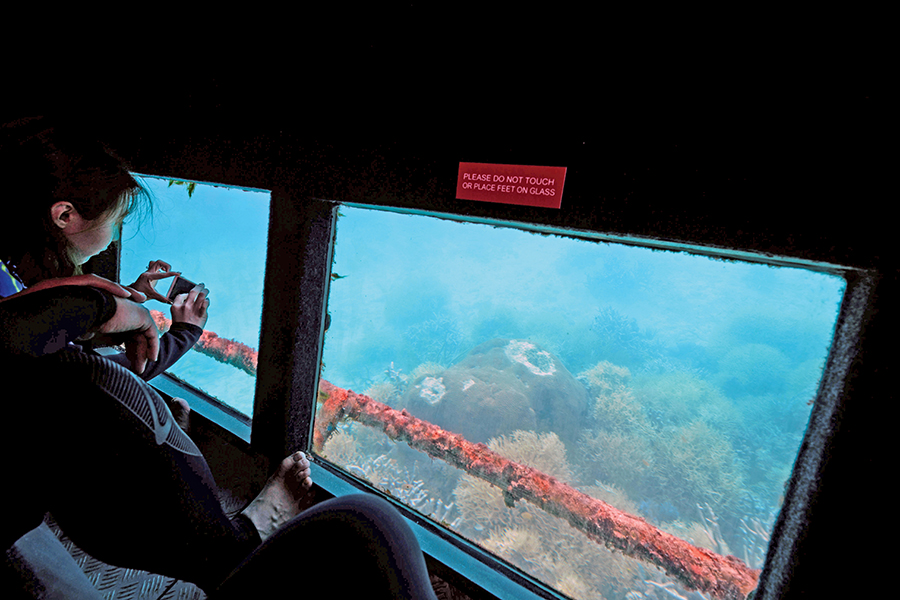 Taking underwater photographs on Whitsunday Islands in Queensland, Australia. © Genevieve Vallee/Alamy Stock Photo
Since getting to this part of the world requires more than an 18-hour flight from Colorado, and it's more than 1,300 miles between New Zealand's largest cities and Australia, thoughtful travel planning is necessary if you're also wanting to visit both countries.
Travelers wanting to see Australia, while they're in this part of the world, can do the standard Melbourne-Sydney-Brisbane-Cairns swing up Australia's east coast and have a wonderful time. I recommend stopping where a lot of Aussies go when they're on holiday—Airlie Beach.
This little town lies between Brisbane and Cairns, and is a great base for boat excursions to the fabulous Whitsunday Islands—an archipelago of 74 islands, most of which are uninhabited and covered with dense rainforest, hiking trails, and white sand beaches. The snorkeling and diving are incredible, and you can choose between day trips or more extended adventures. I'm not a fan of big ships and rough seas, so I enjoyed the calm waters on a chartered boat trip through the Whitsunday Islands. It remains to this day, one of my all-time favorite vacations.
Twelve years of living in New Zealand should at least qualify me for honorary Kiwi status. If that's not enough, my husband is from New Zealand, and both of my children were born there. So, even though Colorado is now our home, I have a special affection for a place I fell in love with even before I fell for my husband. Despite the distance, I can sense a kindred spirit. People from New Zealand and Australia love trying their sense of adventure in Colorado. I want them to feel as at home here, as I know they do when you head Down Under. Here's a phrase you'll want to use in both countries: "Good on ya, mate!"