Colorado First: Diamond dining
There's a reason why a finer restaurant will often ask, "Are we celebrating anything tonight?" In the dining room of an acclaimed eatery any given night, guests may be celebrating birthdays, anniversaries, engagements, promotions, happy reunions, and more. Just try getting a top table in any city during college graduation weekend, Valentine's Day, Mother's Day, or other marquee holidays and you'll see how our lives' great meals and great moments can be intertwined.
There is no one-size-fits-all choice for momentous events. Whether it's an occasion that calls for the theater of uniformed waitstaff, indulgent ingredients, and fine china; or a gathering of old friends in an oh-so-memorable wild West ambiance; or unique gastronomy at high altitude—the three Colorado eateries featured here span a huge swath of what it means to eat out, backed by the confidence you gain through the exacting reviews of AAA inspectors.
1 Lake Ave., inside The Broadmoor, Colorado Springs
719-577-5773, AAA Five Diamond rated
The greatest distinction a restaurant can earn is the coveted AAA Five Diamond rating, and The Penrose Room earns them year after year. It is housed in the first Five Diamond property I ever visited, on a post college cross-country road trip (a long time ago). I have returned more than half a dozen times; when I was lucky enough to bring my wife, we dined in The Penrose Room.
We got gussied up (it is one of the few restaurants that still enforces a dress code, requiring jackets for men), and headed over early to a welcome cocktail, before being seated at a table complete with candlelight and an impossibly crisp ironed tablecloth. The ever-changing five-course chef's tasting menu, with perfectly paired wines accompanying every dish, is prepared by David Patterson, just the sixth executive chef since The Broadmoor's opening a hundred years ago. Patterson came to The Broadmoor from legendary chef Alain Ducasse's Michelin 3-star flagships in Paris and Monaco. His Chef de Cuisine, Max Robbins, arrived here after a nearly four-year stint in Thomas Keller's ingredient-driven kitchen at the French Laundry in Napa.
Patterson's executive chef predecessor, now retired, owns a farm seven miles away that provides organic produce to the kitchen, while the resort cultivates its own hives for honey. Patterson just launched a new ultra-sustainable beef sourcing program with Colorado natural ranchers. The restaurant will go the distance to source dishes such as lobster (Maine) and Dover sole (English Channel).
We chose the "basic" three-course options, and I selected Moulard Duck Foie Gras Tartlette and Hay-Baked Squab with Sauce Perigourdine.
The Penrose Room is uber-romantic. If we were decent dancers, we would have joined other couples on the floor. Instead, we shared dessert—steamed meringue and passionfruit sorbet in a sea of cream and coconut sauce.
Vail Mountain, 970-754-4275
AAA Four Diamond rated
The first time I visited Vail, America's most popular ski resort, in 2000, I skied—I love skiing—but I remember my meal at Game Creek Club even more. The food and wine paired so perfectly that it deepened my appreciation of a trained sommelier.
For the past three years, Game Creek won Wine Spectators' Best of Award of Excellence, the second highest in the three-tiered system. My dish, a Colorado elk strip steak, came with Caymus cabernet sauvignon from Napa. To this day it remains one of my favorites, and I have made it a point to visit the Game Creek Club often on my many return skiing trips to Vail. There's a magic about the place that makes memories; on another trip, I randomly met a friend from Boston in the back of the restaurant's private chauffeured sno-cat, which holds less than a dozen guests.
Part of the magic is the setting—10,300 feet above sea level atop Vail, one of the more memorable commutes in the gastronomic world, followed by a short ride in the sno-cat during ski season or a shuttle van once the snow melts.
The sprawling restaurant is built in the style of European alpine chalet, with lots of exposed timbers and arched doorways, roaring fireplaces in cold weather, and expansive windows. Arrive early enough to enjoy a pre-dinner cocktail at the very cozy bar—a well-kept locals' secret.
The Game Creek Club's three- or four-course prix fixe dinner options (soup/salad or starter, entrée and dessert, or all four), with broad choices in every section, as well as a five-course chef's tasting menu, is "refined Rocky Mountain" with a very heavy emphasis on Colorado ingredients. The menu changes often, but some recurring signatures include trout chowder, a Coloradan twist on the seafood soup genre; rabbit with chorizo; bison and elk offerings; and local lamb. On my last visit, I loved the gingerbread crusted lamb chops, a distinctive recurring favorite. But they make sure to always offer a few seafood dishes and at least one vegetarian choice in each section, including entrées that might even tempt meat lovers, such as handmade asparagus gnocchi.
When Colorado's famed Palisade peaches are in season, expect to find them on the menu, but if I miss out, that's alright, because I know I will be back.
100 Osage St., Denver
303-534-9505, AAA Two Diamond rated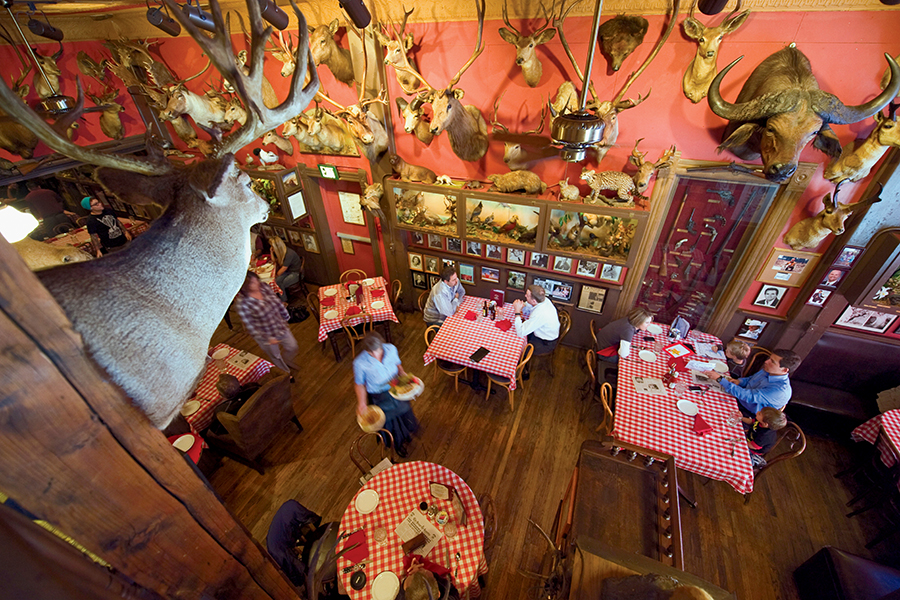 The Buckhorn Exchange restaurant, established in 1893, is Denver's oldest restaurant and proudly displays Colorado Liquor License Number One. It is a bona fide Old West saloon, complete with swinging doors on the bathrooms, lots of dark wood, and high pressed-tin ceilings. © Alamy Stock Photo/Robert Harding
In the 1988 cult comedy Funny Farm, as Chevy Chase unwittingly dives into a plate of "lamb fries," the impressed and surprised waitress tells him, "Most folks just don't seem to have a taste for testicles no more."
I found myself in a similar position to Chase's character shortly after walking through the door of Denver's oldest restaurant, the Buckhorn Exchange—except that I knew what I was about to eat: the fabled Rocky Mountain Oysters, batter-fried slices of bull testicles. Few places still serve the dish; Buckhorn Exchange is a noteworthy exception. It was tough building up courage to take the first bite, but it's hard to go wrong with anything breaded and deep fried. They tasted like fried calamari, and further disguised by the trio of dipping sauces: spicy mustard, horseradish peppercorn and cocktail.
Most guests go to the restaurant for its history and unusual offerings, and I thoroughly enjoyed both when I visited with three ski buddies on the tail end of a trip to Breckenridge. We sampled heartily, starting with the "oysters"—hardly the oddest thing on the menu. Next came hunks of fried alligator tail (just so-so; tastes like chicken); the surprisingly flavorful queso dip with rattlesnake; the sweet, lean, and clean-tasting elk; and the juicy, flavorful quail—better than chicken. But the winner was the buffalo prime rib, the restaurant's signature dish, which will not disappoint even the most demanding red-meat fan. It's less juicy and fatty than its better-known beef counterpart, but also more concentrated, very rich, and delicious.
"There aren't too many places where you can order buffalo prime rib," Bill Dutton, the general manager, told me. "Our customers came here for the buffalo in 1893, and they still come for it today."
Buckhorn Exchange is a bona fide Old West saloon—complete with swinging doors on the bathrooms, lots of dark wood, and high pressed-tin ceilings. Colorado Liquor License Number One is proudly displayed, along with more than 200 antique weapons in glass cases. Buffalo Bill Cody made it his regular watering hole. We sipped his signature drink, "Stone Fence"—half bourbon and half apple juice. Upstairs is a white oak bar hand-carved in Germany in the 1850s, complete with antique brass cash register, anchoring a lounge where live cowboy music is performed most nights. There's even an open-air roof garden.
Read and share this article online at AAA.com/diamonddining.