Peachy keen
Acres of rich farmland twinkled in the evening light of August as I turned off I-70 into Palisade, just east of Grand Junction. This small town, with its vineyards and orchards, charming inns, and a percolating restaurant scene, reminded me of Napa Valley before its Northern California vineyards became a bumper-to-bumper destination.
Despite the tens of thousands of people who arrived for the annual Palisade Peach Festival, I never felt crowded, never got caught in heinous traffic, never encountered anyone burdened with a sense of harried entitlement. Everything is open and accessible. In fact, you can still leisurely drive or bicycle along any of the three routes of the Palisade Fruit and Wine Byway without stress or wasted time. Along this route, you'll find miles of fruit orchards, and wineries, and myriad little farm stands, their shelves stocked with fresh and preserved foods.
Juicy History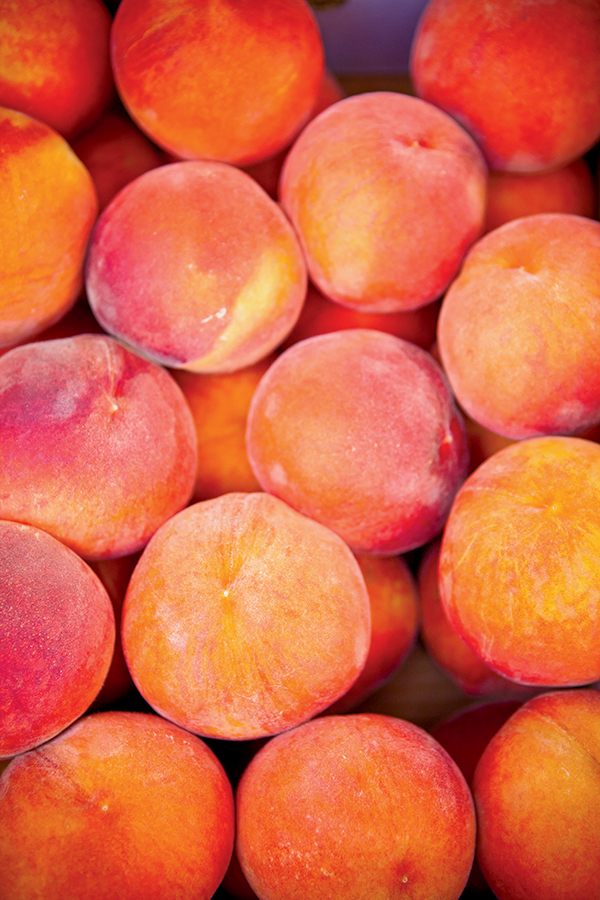 Palisade peaches gained a reputation early on, with shipping orders arriving from across the nation, including the White House, in the 1920s. © Matt Janson
Of course, it's peaches that draw the crowds here. 2018 will mark the 50th anniversary of the festival, and as anyone in town will tell you, the Palisade peach became a big attraction more than a half century ago. Search through the Colorado Historic Newspapers Collection (an online wonder) and you'll read an account by William McCallum, from a mercantile company in Leadville, who visited Palisade in 1908 and reported back home that the town had "the largest crop [in the region] of all kinds of fruit including apples, peaches, plums, pears, and cherries."
Both the Oak Creek Times and the Salida Record reported in September 1910 that Palisade shipped 900 rail cars of peaches. By 1912, that number nearly doubled. On Aug. 31, 1923, the local growers' association reported in the Palisade Tribune that they'd received an order to ship 14 boxes of Palisade peaches to White House—with two boxes delivered to President Calvin Coolidge and two to future president Herbert Hoover.
Community Spirit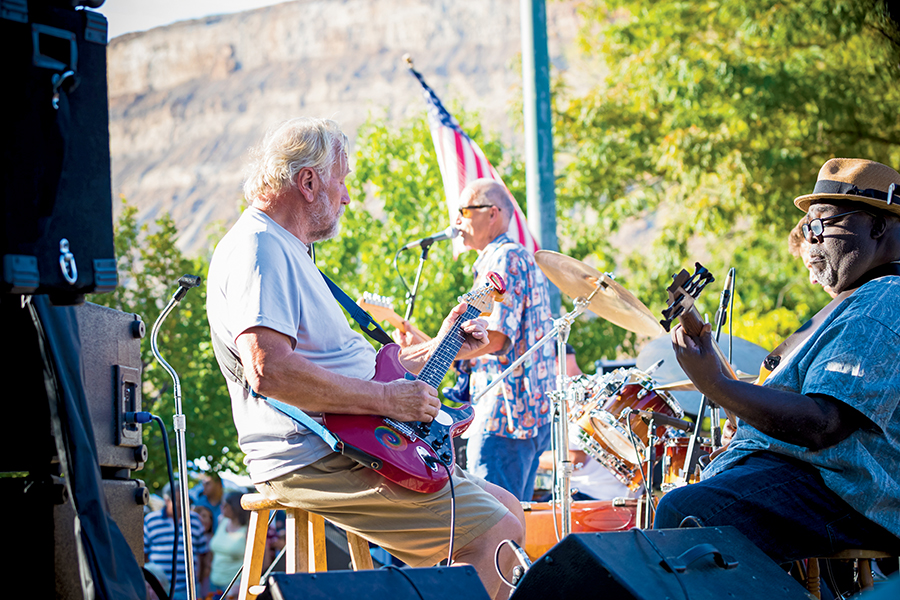 Live music at the Palisade Peach Festival resounds through the Grand Valley and its cliffs, entertaining thousands. © Matt Janson
The Peach Festival kicks off Thursday, where you'll find Juliann Adams, head of the Palisade Chamber of Commerce and Organizer-in-Chief of the Peach Festival, along with the Mayor and other officials, scooping ice cream downtown and topping it with fresh peaches. People of all ages display their dance moves to live music, burning off a few ice cream calories before going back for seconds.
Community is a major theme. From the crowning of the Peach Queen to the 100-plus volunteers, there is an infectious sense of coming together—a union that began when, in 1924, W.H. Lloyd donated three bushels of peaches to the Palisade school band. When I visited, the Lion's Club and Methodist Church sold the pies they baked to raise money for school scholarships, and the high school marching band sold their baked goods toward the purchase of equipment. As far as I could tell, the band's goods sold out just as quickly as did the Lion's pies and ice cream—the embodiment of a sweet community.
The festival goes into full swing Friday evening and for the entire day on Saturday. Riverbend Park, on the banks of the Colorado River, turns into the Market of Vendors. This is where you'll get your fill of peaches in every form—peach bread, peach scones, peach salsa, peach sorbet, peach fudge, peach jelly beans, peach syrup, peach butter, peach jam, peach mimosa cheesecake, peach ice cream, and of course, peach pie and peach cobbler. If you find yourself in the "bar" area of the park, you'll find peach beer, peach schnapps, and peach vodka. The peach lemonade had me swooning.
In addition to tasting a bunch of food, I sat in for a peach gazpacho lesson, a recipe I hadn't realized was a possibility that turned out to be a delicacy.
Humble Pie
The Festival wasn't just about me and my adult appetites. It's an event for the whole family. My kids had their fill of food, too, but they especially enjoyed the games, the coloring contest, and the face painting. They also got a taste of humble pie by participating in the kids' peach-eating contest. The speed with which some of these local kids could eat a peach—with no hands, mind you, in just 27 seconds—astonished us.
Perhaps the coup de grâce is the Feast in the Field—four courses of food and wine under string lights and a vast night sky, in the middle of an orchard. It's a bit of an indulgence, at a little over $100 per person (adult only), but well worth it.
I won't go into detail about the pancake breakfast on Saturday morning or the Farmers' Market on Sunday, so you'll have to discover those for yourself. And 2018 will be an ideal time to do it, with the 50th anniversary. Fireworks, more peach history, and a few flashbacks to festivals of yore will be among the added attractions.
Courtney Messenbaugh is a freelance writer in Lafayette who has spent more than three decades traipsing through the many magical nooks and crannies of the state. In recent years, she has found herself visiting and revisiting the Western Slope to soak up the painted landscapes and farm-fresh food.
Read and share this article online at AAA.com/peachykeen.
Where We Stayed
The Wine Country Inn, about a mile from the center of town, sits on the edge of an orchard and offers a delicious breakfast included with your room every morning. It's got a central courtyard with a lovely pool where guests happily socialize in the late afternoons. AAA members receive a special rate.
Ask the Expert
Avoid surprises – don't neglect your battery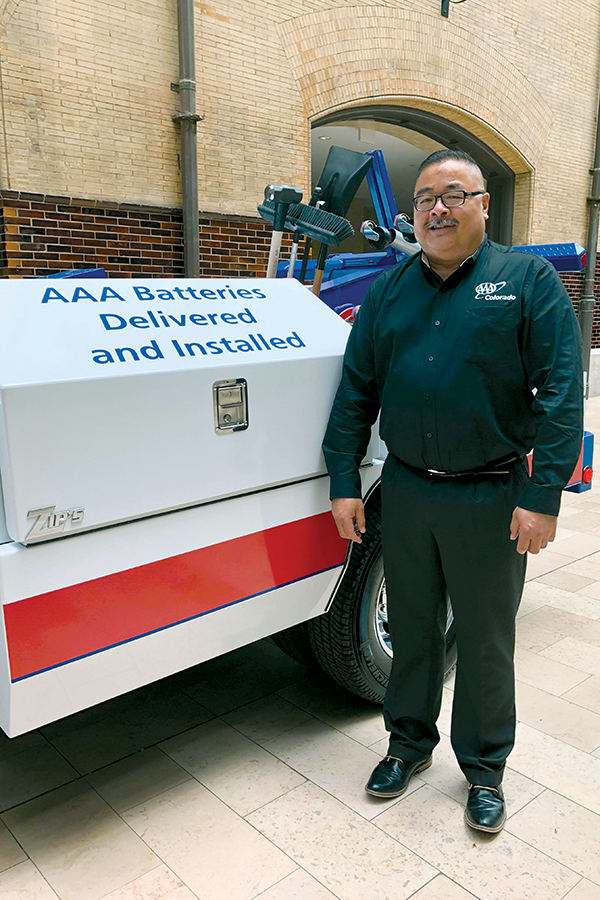 Gerald Dong, Director, Approved Auto Repair Programs
Batteries can fail at the most inconvenient time—such as on a long, hot summer road trip. EnCompass interviewed Gerald, a battery expert, while he attended a national automotive conference.
Q: My car battery didn't give me any trouble last winter, so it should survive my road trip to the Palisade Peach Festival, right?
Gerald: It depends. Summer heat—not winter cold—is the number one culprit behind battery failure. Whenever temperatures reach 90 degrees or higher for several consecutive days, AAA Colorado is flooded with requests for roadside assistance.
Q: How can I keep my battery running in the heat?
Gerald: Remember these key points:
Know the warning signs. Does your starter motor crank the engine more slowly than usual? Do you hear a grinding, clicking, or buzzing when you turn on the ignition? Do your headlights dim when idling, but brighten when you rev the engine? If in doubt, request Mobile Battery Service before you go (available along the Front Range, from Fort Collins to Pueblo and all cities in between).
Battery longevity can be extended considerably by routine maintenance. Ask your AAA Approved Auto Repair (AAR) technician to clean corrosion from your battery terminals, case, brackets, and tray. Search online for a AAA Approved Auto Repair shop; email your request to approvedautorepair@colorado.aaa.com; or direct dial 720-593-5044.
Consider purchasing an inexpensive battery insulation blanket.
Q: What should I do if my battery dies?
Gerald: That's an easy one: Call 800-AAA-HELP (222-4357). We'll come to you and test, charge, and even replace your battery, if necessary, and where available. As a AAA member, you'll save a minimum of $25 on the cost of a new battery.