Road Review: Electrifying competition
Nissan Leaf v. Chevy Bolt
When Nissan introduced the first mass-market all-electric vehicle (EV) in 2011, the carmaker's design decisions suggested that it believed tech- and eco-savvy enthusiasts would not notice the Leaf's cartoonishly sparse styling or that it drove like a tin can on wheels. When rival Chevy later introduced the Bolt, with its stylish pizzazz and longer range, the newcomer quickly began outselling the Leaf. Undaunted, Nissan stepped up, creating an all-new Leaf for 2018, giving consumers a real choice at a price point well below the luxurious Tesla.
I recently spent some time in both the 2017 Chevy Bolt and the 2018 Nissan Leaf to decide a winner in this grille-to-grille showdown.
2018 Nissan Leaf
The first thing I noticed about the all-new Leaf is that it's got more edge than the last one I drove, in 2011. The new model's angular front grille resembles a self-satisfied face, and the rest of the vehicle in available in eight spunky colors, such as a two-tone black and white, Jade Frost, and Deep Blue Pearl.
The next significant change is a hefty increase in range, from about 100 to 151 miles. An ePedal feature, switched on with the touch of a button between the front seats, maximizes your range, allowing the driver to speed up, slow down, and brake with just the accelerator pedal (take your foot off the accelerator and the car stops, ease it off and the car slows down).
While not fully autonomous, the Leaf offers ProPilot Assist, which keeps the Leaf in its own lane, maintains safe distances between you and other vehicles, and does some light steering should you lose your way.
A customizable digital display takes the place of the old Leaf's fixed gauges. Choose what information you want displayed. Options include battery range, power usage, and navigation. The cabin is more comfortable with the addition of a timer for preheating and precooling the cabin, heated front seats and steering wheel, and an eight-way power driver's seat.
Music and podcast lovers will also appreciate that the Leaf is available with seven Bose speakers throughout the cabin. Groovy.
Cargo space is surprisingly ample in the back—23.6-cubic feet with the seats up, and 30-cubic feet with the rear seats lowered. Seats down, you can fit an adult bicycle; seats up, you can fit four golf bags. I don't golf, but I do shop, and I can see that the back could accommodate my biggest grocery run.
The Leaf starts at $29,990, which is knocked down a bit after federal tax credit ($7,500 for eligible EV purchases). The Leaf I tested, with the top-level SL trim, starts at $36,200, but came in at $38,510 as tested thanks to the addition of the Technology Package, that adds a suite of active safety features.
2017 Chevy Bolt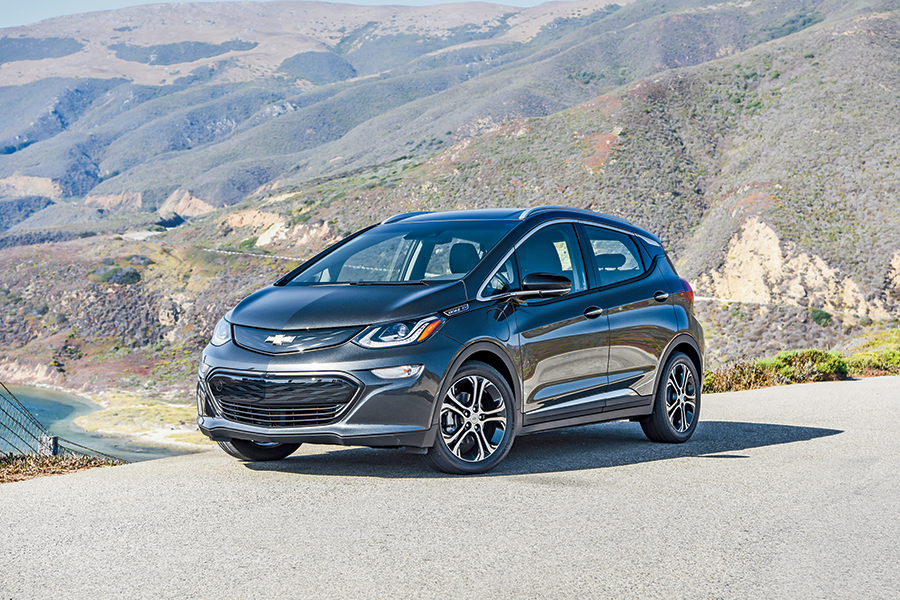 2017 Chevrolet Bolt EV. Courtesy of Chevrolet
At first glance, the Bolt bears a resemblance to the quirky yet charming BMW i3, another EV. This is a good thing. Where the Leaf sports more of an angular cool exterior, the Bolt is more curvy cool. There's a jaunty confidence in its compactness, and the lines are relaxed just enough on the car's exterior to give it an insouciance that begs you to take a closer look. Black contrast paint announces Bolt EV on either side of the hood without being too blatant. If you are into blatant though, one of the eight colors the Bolt is offered in is Orange Burst; it's certain to get you noticed.
The Bolt has swagger, and rightly so, because its range is 238 miles, 87 more miles than the Leaf and 53 more horsepower.
The Bolt offers one-pedal driving, with more aggressive brake regeneration, when you switch from normal Drive mode to Low. Pull the paddle on the steering wheel toward you to brake—a good idea in theory, but in practice felt a little disjointed, although one would likely get used to it driving it every day.
The entry-level Bolt runs $7,505 more than the Leaf. The Premier Bolt I tested is listed at $42,760, with the addition of a Driver Confidence Package that adds some active safety features and an upgraded infotainment system.
You'll pay extra for adjustable front seats. I never found my happy spot with the six-way manually adjustable seats that came in the Bolt I drove.
The cabin's appeal is not as great as the Bolt's exterior appeal and feels like a missed opportunity. The folks at Chevy did not miss the chance to provide ample cargo space in the rear: 16.9-cubic feet with all seats up, and a whopping 56.6-cubic feet, rivaling many small SUVs, with the seats down. As a bonus, a false floor in the rear cargo space gives you a place to stash valuables out of sight.
And the winner is …
I really like the Bolt's hipster looks and longer range, but the Leaf presents a far better value, with more standard features, a more comfortable cabin, and with its improved range of 151 miles, it can handle most people's daily driving needs without anxiety—all at a significantly lower price. Bottom line: The real winner is the consumer, who benefits from the competition between Chevy and Nissan.
Ask the Expert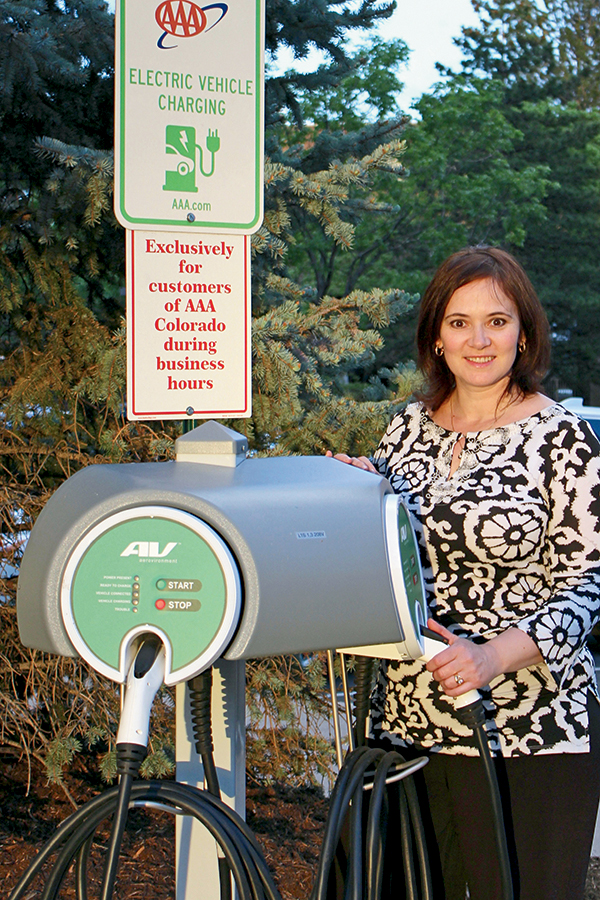 <
Insider's guide to electric vehicles
Kat Noskov, AAA Colorado AutoSource
Makers of electric vehicles (EVs), in their competition for a growing number of consumers, recently upgraded their automobiles, as the review on these pages—comparing the Chevy Bolt and Nissan Leaf—reminds us. Yet buyers who find high EV mileage and low maintenance cost appealing should also keep in mind their limitations, as Kat Noskov, auto buyer with AAA Colorado AutoSource, explains below:
Benefits
Electric vehicles tend to be ideal for those with modest commuting distances and relatively easy access to charging stations. Plus, EVs use far less energy than gasoline-powered cars, generally cost about a third as much as a gas-powered car to run, and have fewer moving parts in their powertrains; maintenance intervals are devoid of things like oil changes, spark plug replacement.
Lease or buy?
EV resale values generally drop faster than conventional counterparts; leasing an EV might reduce your losses. Purchasing an EV can seem more affordable when applying for a $7,500 one-time federal tax credit.
Range 'anxiety'
Fear that when the car arrives to the charging point it will not work.
Differences in chargers; some may not be entirely compatible with your EV.
Charging time
Charging an EV is a slow experience; a fill-up can take an hour or more, even at a commercial fast-charging station. Charging times will eventually shrink to little more than 10 minutes, but not for several years.
Insuring an EV
EVs require less service than their gas counterparts, but it can cost more to repair them after an accident because of their expensive battery systems and the need to use specially trained mechanics.
To contact AAA Colorado AutoSource Auto Buyer Katerina "Kat" Noskov, visit the AAA Colorado Denver Tech Center Store, 6061 S. Willow Drive, Greenwood Village; email knoskov@aaaautosource.com; or call 720-593-5041.