Cool, classic, and … weird?
When you think about it, the history of Colorado tracks closely to the history of transportation. We're a big state with widely varying landscapes, and so we've always needed good ways to get around. Cowboys needed horses. Pioneers needed wagon trains. Commerce needed the railroads.
That get-up-and-go spirit carries through to modern Colorado, where the car reigns supreme. So much so, that many Coloradans love their cars for the sake of loving cars. Hardly a day goes by when you won't see a cherry classic car hurtling down I-25, or a perfectly restored Willy's Overland CJ chugging up "Oh-My-God Road" in Clear Creek County. These folks pour their heart and soul into their cars, and it shows. Little wonder why, on any given weekend, you'll find an impromptu car show popping up in the parking lots of neighborhood banks and shopping centers.
If you ask me, the best way to experience a Colorado car show is to load up your own rig and travel to a corner of the state you haven't been to before, or at least, maybe not in a while. Here are three iconic car festivals you can fit into your summer road-trip itinerary.
Sept. 13–14, 2019, Trinidad
When I was growing up in Pueblo, I was always told that the closer you got to the New Mexico line, the weirder things get. Only as an adult have I been able to understand that "weird" is a very good thing. Look no further than Trinidad's ArtoCade Art Car Festival, a car show like no other.
In fact, calling it a car show doesn't really do it justice. Imagine if you sent your 1983 Toyota Celica off to Burning Man, only for it to return heavily tattooed with a newfound interest in metalworking and the greater works of Aldous Huxley. That's what ArtoCade is all about. It's a celebration of the weird, the wacky, the bizarre, and bizarrely, the profound.
Billed as one of the country's largest art car celebrations, ArtoCade is a testament to the inventiveness of man and the dynamism of the automobile. It's not just cars, either. You'll also see trucks, bikes, motorcycles, scooters, tractors, ATVs, and golf carts—basically, if you can drive it, you can turn it into a float.
Intricate, mesmerizing, psychedelic paintings adorn once-bland Ford Tauruses (or is it Taurii?). A giant, ornate, metal sculpture of Jimi Hendrix rocks atop an '81 Mercedes Benz bejeweled with gemstones, pearls, and old dominos. A 1958 BMW Isetta gets affixed with a rotating propeller and a tail fin, thus transforming it into "Wilbur the Whirlibird." A massive mechanical dragon soars down Trinidad's brick streets atop what was once a Chevy Astro Van, belching actual fire along the parade route. And who could forget the "Chewbaru," a '95 Subaru Legacy plastered with more than 140 pounds of dentures, dental impressions, and toothpaste tubes that long outlived their usefulness.
All told, Trinidad's ArtoCade is a sight to behold for all ages. After all, who doesn't love a spectacle? For those without a set bedtime, don't miss the Cardango, an adults-only celebration of outsider art featuring live music, performance art, and even a magician or two.
As gripping as all of this sounds, it's Trinidad, itself, that will capture your attention. It owes its quintessentially Old West main street to its heritage as a once-vibrant mining town. But this is no tourist trap. Trinidad, on the rise as a nationally revered art community, has forged a no-holds-barred authenticity by dint of surviving several booms and busts. It's that authenticity that translates so perfectly into a refreshing "weirdness" during ArtoCade, one of those exceedingly rare things you just need to see to believe.
Aug. 30–Sept. 1, 2019, Alamosa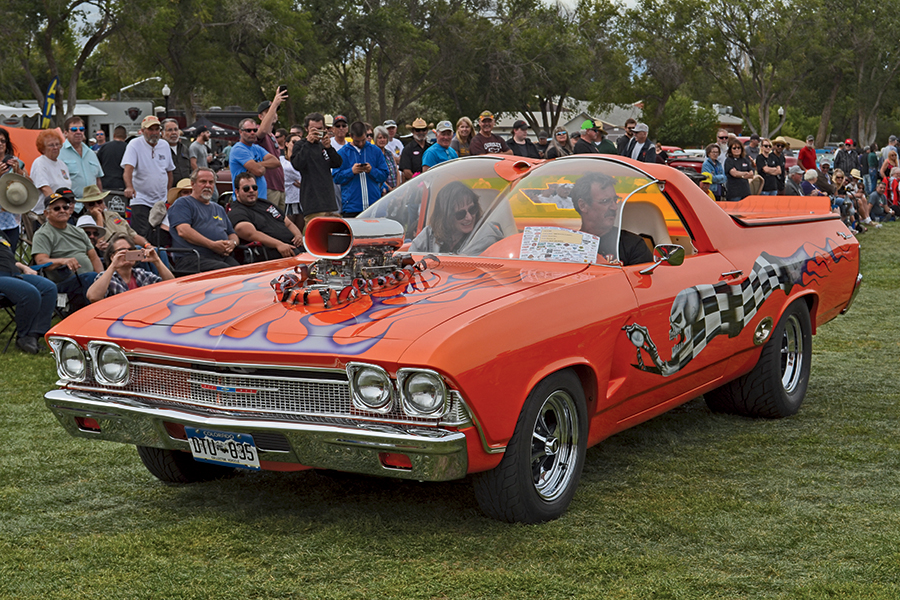 Darrell and Angela Yohn show off their 1968 El Camino 454 with its custom-blown bubble top at Alamosa's Early Iron Festival © Brandy Rodman
It's too easy to take our cars for granted, and not just for the freedom they give us. When you think about it, the automobile is a feat of engineering. These 3,000-pound machines are made up of hundreds of complex and interconnected systems, all working together perfectly to shuttle us down the road at speeds so fast, they fundamentally transformed society.
Now in its 39th year, Alamosa's Early Iron Festival is an ode to the sheer marvel of the automobile. Every one of the nearly 600 hot rods on display will catch your eye, with their pristine, pearlescent paint jobs and dazzling pinstriping. But you'll hear and smell them long before you see them. Their painstakingly rebuilt engines rumble in concert, sending small shockwaves across Alamosa's small, but vibrant, downtown. Vintage drag racers fire up, "lighting the candles" as flames leap out of their exhaust headers and the faint smell of nitromethane fills the air. Early Iron is visceral. It's immersive. It grabs you by your senses and forces you to appreciate the magnificence of the classic car.
That experience is part of why "rodders" from Colorado and across the country make the pilgrimage to Alamosa. They come not only to celebrate the car, but their cars, too. These vehicles are their prized possessions. They're the product of years, sometimes decades, of careful restoration work; of chasing down their dream car; of scouring junk yards for workable parts; of meticulous planning and hours on a mechanic's creeper and behind an acetylene torch.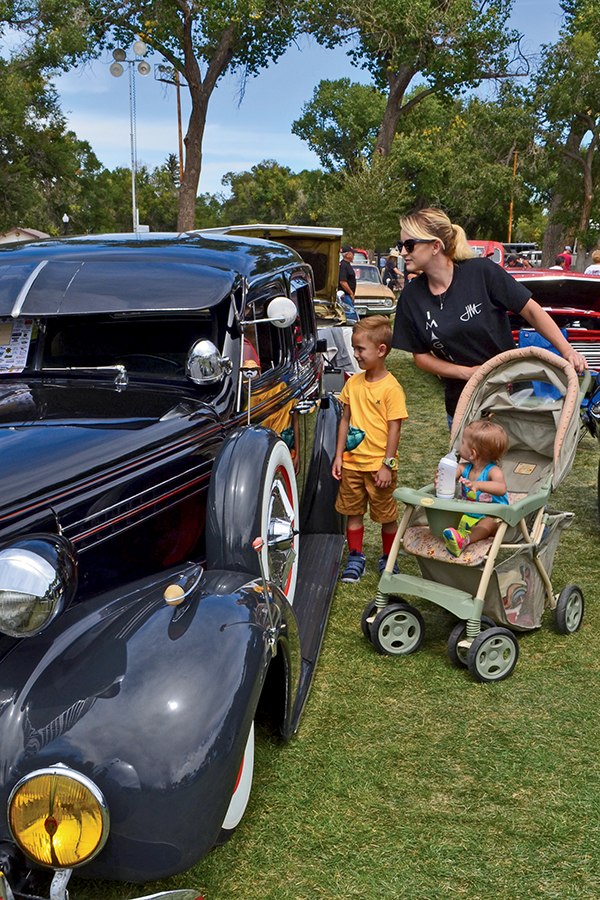 Amanda Erickson, and her children Aiden and Jaya Abeyta, check out a 1938 Chevrolet Master Deluxe at Early Iron. © Brandy Rodman
You don't have to be big into cars to get a whole lot out of the Early Iron Festival. Ask questions. Even if you know nothing about how, say, an engine works, any of the "rodders" will be happy to fill you in and walk you through the journeys they've gone through as they restored these works of art on wheels. Listen as they talk to each other, too. There is a competitive camaraderie at play. They're all exceptionally proud of their work, but not so proud that they can't marvel at all the other cool cars with, perhaps, a little envy.
As you walk through the festival grounds in Alamosa's Cole Park, or as the cars roll past you on their slow cruise through downtown Alamosa, you'll find yourself saying the same thing over and over again, "Wow, how cool!" And, because only cars older than 1979 are allowed in, Early Iron will remind you that "cool" isn't a modern invention.
Sept. 21, 2019, Grand Junction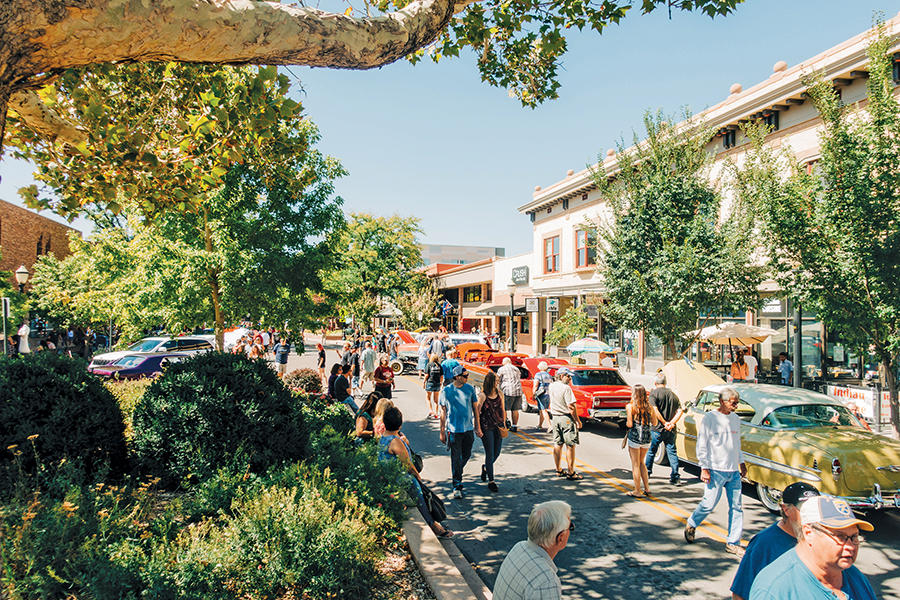 Weave your way through an array of antique, muscle, classic, and modern cars, trucks, and motorcycles lined up along Main Street in historic Downtown Grand Junction. Courtesy of Visit Grand Junction
Admit it, you've really been meaning to make it to Grand Junction. Nestled against the Colorado National Monument, Grand Junction is a gateway city to spectacular camping, hiking, mountain biking, and rafting—and the epicenter of Colorado's burgeoning wine country. It's also home to the Fuoco Motor Company Downtown Car Show, now in its 18th year.
What I most love about Fuoco is how perfectly it showcases Grand Junction. Weave through an array of antique, muscle, classic, and modern cars, trucks, and motorcycles as they line up along Main Street—closed to traffic for the day. As you navigate this sea of metal, stop and grab a bite to eat at any of the charming restaurants, browse the wares at the shops and boutiques, or flip through vinyl at Triple Play Records. Then, pop back outside as you hear a 1972 Plymouth Duster rev its engine to the applause of onlookers. Main Street, redesigned in the early 1960s as a tree-lined, walkable shopping destination, is all too happy to bring cars and people together.
The Fuoco Downtown Car Show isn't pretentious. Car lovers come together in the heart of their community to catch up, trade notes, and show off their rides. There are rare, pristinely maintained collector cars, sure, but you'll also see some modern muscle relied on as daily drivers. Don't miss the awards ceremony, where this earnestness is on full display as participants vie for the "Most desired trade-in," "Most likely to get a speeding ticket," and "Rad Rubber" awards, among others.
While Fuoco draws cars from across the U.S. (there's even a "Car that travelled the most miles to attend the show" award) many entrants call Grand Junction and the Western Slope home. Strike up a conversation with any of them about their car, and then ask them about how to make the most of your visit. Locals know best. After you've had your fill, you'll still have plenty of time to hop in your own car and depart for Colorado National Monument and the 23-mile Rim Rock Drive—called "one of the grandest scenic drives in the American West" by the National Park Service. As you drink in the singularly stunning landscape, you'll instantly understand why so many Coloradans love their cars.