Cruise Edition 2018: Humpbacks, halibut and adrenaline
On an Alaskan cruise, there is no traffic congestion, no distracted drivers, just open spaces and fresh air. And as if by magic, the ship delivers you to a new destination before you awake in the morning. On my recent Holland America cruise, the ship docked for what would be a highlight of my trip—a halibut hunt.
I've always loved to fish, whether trout fishing in Colorado, where I live, or ice fishing on the lakes of Minnesota, where I grew up, but I can count on one hand the times I caught a real keeper. So, when the young local who prepared to drive the fishing boat on a four-hour excursion promised us—promised—we would reach our legal limit of one halibut, I was thrilled. My shipmates and I received everything we needed for success—rods that had been readied, protective gear from head to toe, and a can-do attitude.
We rode full speed (a thrill in itself) to a perfect spot. My bait hadn't yet hit the bottom when I felt the unmistakable jerk of the line. "Fish on!" I yelled, and began the tug of war, three fishermen standing over my shoulder with cameras in hand. As the fish surfaced, we could see that it wasn't a halibut. The guide announced that I had caught a small pollack—"bait for tomorrow's fishing trips," he said. Funny kid, that guide.
Everyone dropped their bait back in the water to settle in and wait. My bait bounced off the bottom, 180 feet down, when the rod yanked again. This time, I knew it was a halibut, because it had the familiar feel of lifting a car tire.
Because there was extra time left in the day, we each caught a Coho salmon, too. The crew cleaned our fish, packaged it, and shipped it to our homes.
Fulfilling a dream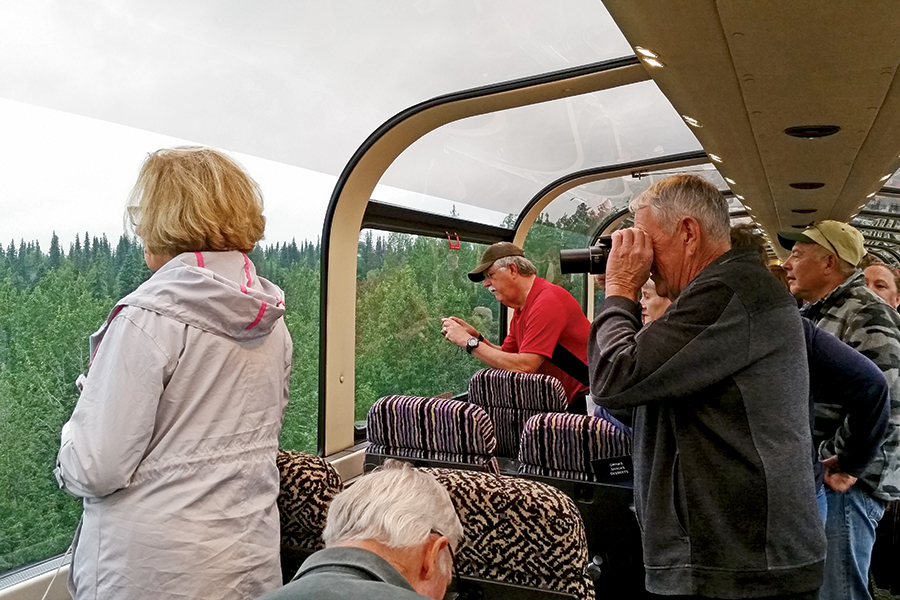 Passengers on the AAA Colorado Member Appreciation cruise take a train ride from Seward to Anchorage aboard the McKinley Explorer, which offers spectacular views of Hurricane Gulch, nearly 300 feet below. © Stephany Ojard
The next day, Juneau provided me the perfect setting to fulfill a childhood dream—getting close to one of the largest creatures in our oceans: the humpback whale. During the ride, we meandered through the islands of Auke Bay to view a large pod of Orcas swimming free and undisturbed. And when the captain spotted the spout of a humpback from afar, he positioned the boat and stopped the engine so we could drift in close. Everyone stood hushed as the large dark mass pushed through the water. When her back surfaced, she broke the silence with a forceful blast of air. Her enormous fluke arched out of the water, and as she sunk to the depths out of sight, I was overwhelmed with emotion.
Afterward, we visited Skagway. Many locals said they hadn't seen the sun in weeks and credited us for bringing it. I craved the adrenaline rush of a zipline tour 80 feet above the forest floor. From that height, we caught a rare sight—an unshrouded Chilkat Peak in all its glory. We had time left in the day for a "Ghost and Goodtime Girls" walking tour, escorted by a sassy and spicy girl named Stephanie. She shared the history of women in Skagway during the gold rush of the late 1800s. Though a bit risqué, it was a captivating and revealing way to learn about what women endured in the early days of this small town.
Fresh and famous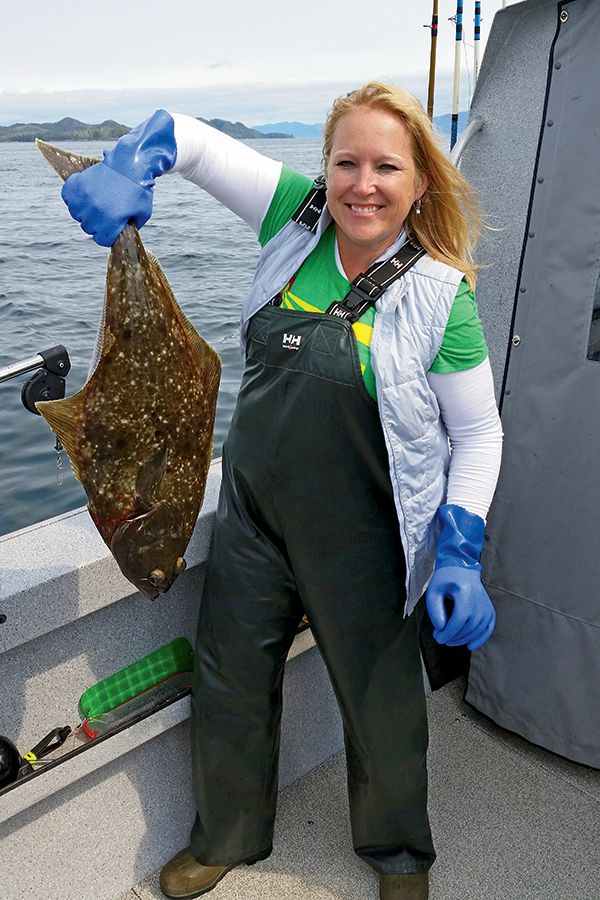 The author, Stephany Ojard, holds her prize halibut, which Holland America prepared for shipment to her home. She still hasn't eaten it; she's waiting for a special occasion. © Stephany Ojard
When our cruise came to an end, we began our journey through the land of the midnight sun, beginning with a scenic train ride from Seward to Anchorage, past glistening glaciers, fishermen, mud flats, 1964 earthquake damage, and towering mountain peaks.
Anchorage is a city packed with shops and restaurants featuring fresh seafood, salmon, and reindeer sausage. Terri and I and fellow AAA members chose a personal favorite, Humpy's Great Alaskan Alehouse, where they serve their fresh and famous Halibut Fish & Chips and mouthwatering Smoked Salmon and Scallop Fettuccini. Humpy's is within walking distance of a must-see farmer's market.
Back on the train, we searched the landscape for moose and bear while enjoying a narrative by the local guide. All along the way, the guide shared the inspiring story of Mary and Clyde Lovel, a couple with four small children that braved the wilderness in 1964 to fulfill their dream of homesteading the land and living sustainably. As we rounded a bend in the middle of nowhere and just south of Sherman, the guide asked us all to look out the right side of the train. The train whistle blew and as a small blue house emerged from the brush, Mary Lovel stood in her doorway waving to the tourists. She has done this every day since she and Clyde moved to Alaska in 1964.
Alaska is home to the top three largest national parks, and Denali is the third largest. We rode 60 miles into the park on the Tundra and Wilderness Tour, one of the only modes of transportation allowed, checking off our wild animal bucket list as we went along: moose foraging through the low brush; female grizzlies roaming with their yearlings; and Dall sheep atop cliffs.
Would a visit to Fairbanks match my other experiences on this trip? I was skeptical, until I took the Sternwheeler Riverboat Discovery Tour. It was full of hidden surprises, starting with a front-row seat to a bush float plane takeoff and landing. The final stop was at the Chena Indian Village, where members of the tribe demonstrated how they preserved food using the smoke from alder wood.
As my trip ended, I said goodbye with gratitude, and sadness. The journey had filled me with something I didn't know I longed for. It was exactly what I wanted it to be.
Ask the Expert
Adventurer? Foodie? It matters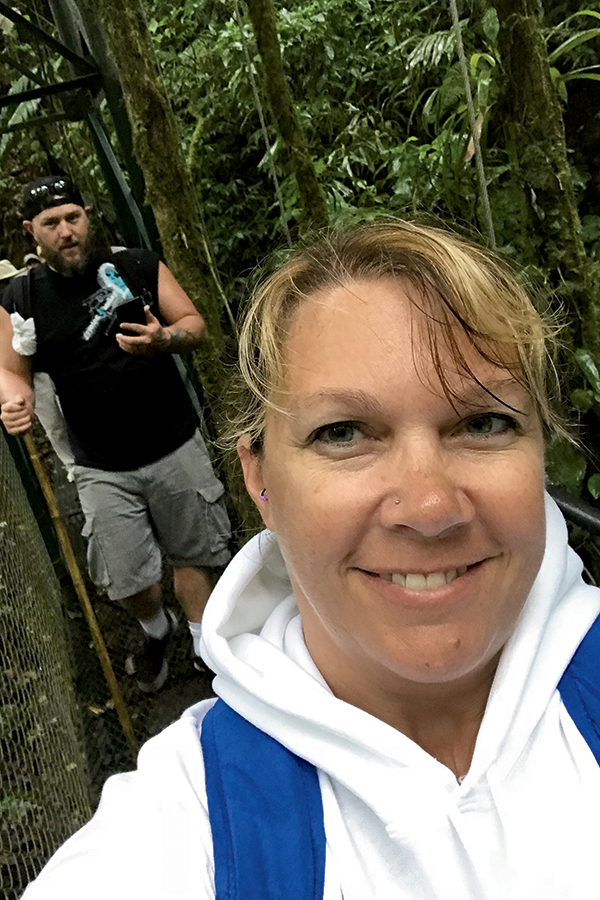 AAA Colorado Travel Agent, Gina Stevens, North Metro retail store. Courtesy of Gina Stevens
What you love will help decide what cruise to pick from with many and varied packages available. Gina Stevens, AAA Travel Agent in the North Metro retail store in Westminster, is an adventurer who's okay with a buffet line on the boat because she and her husband won't spend much time seated at a fine dining table. Instead, you'll likely find the couple in shorts and t-shirts, hiking through lush tropical forests, walking the rim of a steaming volcano, and riding ATV vehicles around the islands. That's just what they did on a recent cruise through the Panama Canal, aboard Princess Cruises.
"We hiked through the Cloud Forest in Costa Rica, walked around a crater in Nicaragua, and snorkeled in Aruba—things you can't do in Colorado," Stevens said. "We dressed formally just three times, because you have the option to dress up or not on a cruise."
Stevens is especially fascinated with the canal, which opened longer and wider locks in 2016 at a cost of $5 billion.
"I've been reading and watching documentaries on the canal for 20 years," Stevens said. "I'm fascinated by its history, and by the engineering—how the locks operate."
Foodies—travelers who prefer fine dining experiences in addition to other on-board amenities and choice of excursions—should consider more luxurious cruise lines, Stevens said.
"You pay more, but the luxury lines and packages include extravagant meals that will reward the foodie," she said.
For cruise travel expertise that fits your passion, visit with, email, or call your personal AAA Travel Agent.
To reach AAA Colorado Travel Agent Gina Stevens, visit the North Metro retail store, 5140 W. 120th Ave, Unit 300 in Westminster; email gstevens@colorado.aaa.com; or call 877-244-9790 ext. 8921.