Cruise Edition 2018: Roll on, mighty Empress, roll on
Mist swirled round Douglas firs and a bald eagle wheeled overhead and alighted atop the tallest among them. So began my favorite day on a journey aboard the American Empress paddle-wheeler in the heart of the Columbia River Gorge Scenic Area.
I spent summers as a kid in Washington and Oregon, where trips in the family car took us to Multnomah Falls and Bonneville Dam. But it wasn't until I'd grown up and traveled the world that I came back and experienced the full majesty of the Columbia River Gorge.
Seeing it by riverboat was a revelation.
Aboard American Empress, I savored Pacific Northwest food, wines, spirits, and scenery, from a new perspective. This time, I delved into the gorge's history—how it had long been a transportation corridor, figuring in the Oregon Trail, and the Lewis and Clark Expedition.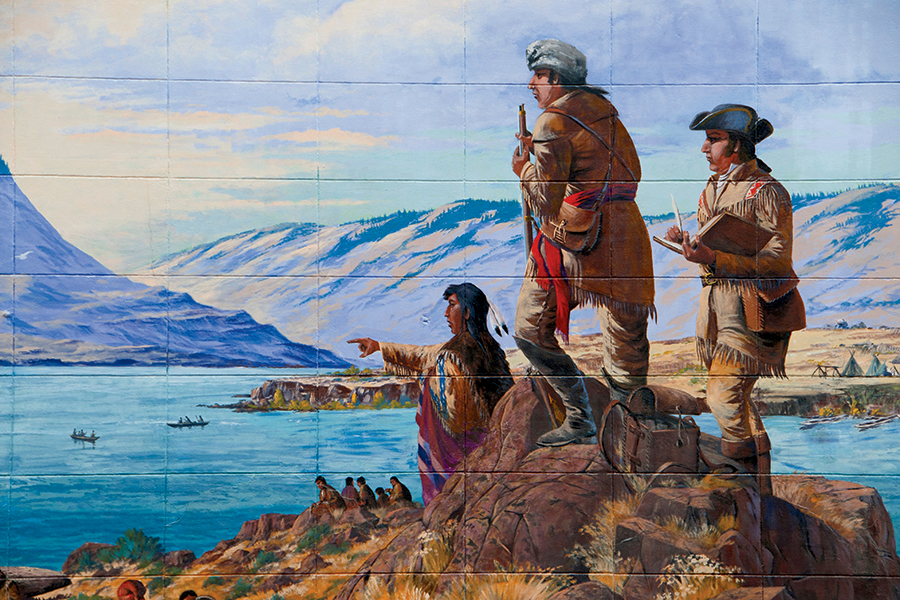 Sixteen murals in The Dalles, Ore., installed in 1993, commemorate the Lewis and Clark Expedition (1804-1806), which passed through the area where the town was founded in 1857. © Alamy/George Ostertag
President Roosevelt's New Deal helped pull the United States out of the Great Depression with rural electrification projects like the Bonneville and Grand Coulee dams. But these were controversial. In 1941, the Bonneville Power Administration hired Woody Guthrie to tout the economic benefits of dams. One of his ballads became a Pacific Northwest anthem, the official folk song of Washington. It begins:
Green Douglas firs where the waters cut through
Down her wild mountains and canyons she flew
Canadian Northwest to the oceans so blue
Roll on Columbia, roll on
Your power is turning our darkness to dawn
So roll on, Columbia, roll on
The Bonneville and Grand Coulee dams came on line just before Pearl Harbor, and powered aluminum plants, airplane factories, and shipyards for the war effort (as well as the secret nuclear reactor at Hanford, which made the plutonium for the bomb dropped on Nagasaki, Japan). Post-war, the dams greened the desert, transforming Washington into one of the world's most productive growing regions.
American Empress sails between Clarkston near Washington's Idaho border and Vancouver, an underappreciated city across the river from Portland, Ore. Seven-night cruises operate each way, with a pre-cruise hotel stay. I loved the AAA Four Diamond-rated Davenport Hotel, a century-old property in Spokane that's listed in the National Register of Historic Places.
There I connected with a pal who thinks the scenery in Columbia Gorge rivals Alaska, Norway and Montenegro's Kotor Fjord. We joined the other passengers on American Queen Steamboat Company's motor coaches for the transfer to Richland and our boat. (Lock repairs on the Snake River meant we couldn't embark at Clarkston, the usual place.)
Throwback propulsion
The cherry-red paddlewheel trailing the 360-foot, diesel-powered American Empress, styled after the Victorian-era steamboats that plied American rivers back in Mark Twain's day, isn't just for show; it helps propel 220 passengers and all-American crew upstream and down. Inside is a contemporary boutique hotel with touches like fluffy duvets and Godiva pillow chocolates that complement the flocked wallpaper, ornate ceilings, and cut-glass lamps.
The star of the cruise, though, is the river, which cuts a canyon 80 miles long and up to 4,000 feet deep through the Cascades, and the towns that grew up alongside it.
Company motor coaches trailing the American Empress made it easy to take hop-on, hop-off tours of places like The Dalles, a town of flowering trees, with a bookstore dating to 1864, and a 1929 theater said to have shown the first "talkie" west of the Mississippi.
"Lewis and Clark camped here three days to repair and dry out their goods before heading to the ocean," said a U.S. Forest Service guide.
My favorite day, though, began with the bald eagle, and continued with scenic lookouts, waterfalls, Washington wines, and one of the best meals I've eaten on a cruise. At Stevenson the hop-on, hop-off tour visited the Columbia Gorge Interpretive Center and Bonneville Dam.
"This was a dangerous part of the Columbia with rapids before the dam. Early steamers would stop to restock," said our guide. Back then, logs were floated down on flumes.
On an afternoon tour, we crossed the Bridge of the Gods to Oregon and skirted the river past Beacon Rock, shaped like a fedora, and Rooster Rock, topped with trees. Our motor coach climbed into the forest on a twisting road, the Historic Columbia River Highway, established in 1926.
There were spectacular lookouts at Chanticleer Point and Crown Point. Driving past emerald-moss-covered trees, we spotted six waterfalls in eight miles before reaching the ultimate: 620-foot Multnomah, second highest falls in the country.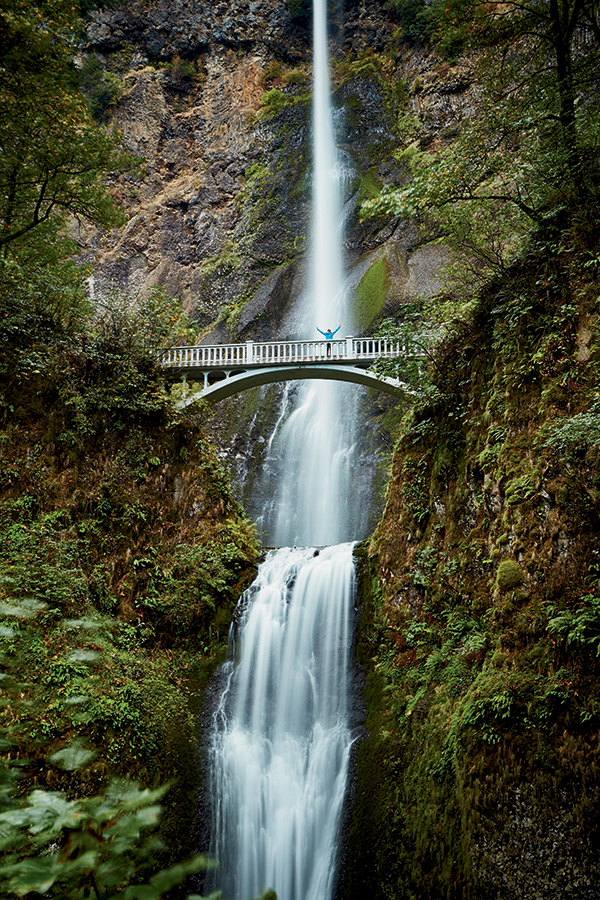 Multnomah Falls, in the Columbia River Gorge, is one of many excursions available through American Steamboat Company's Snake and Columbia river cruise. © Gallery Stock
Back on American Empress, we were in for another treat: a tasting of Washington wines. Feeling tipsy and joyful, I joined my friend on deck as we cast off in the glittering late-day sun. The captain lowered the stacks to go under the Bridge of the Gods. We got second glimpses of Beacon Rock and Multnomah Falls, and transited Bonneville Lock.
Later we dined in American Empress's River Grill & Bar, where chef Paul Wayland-Smith's menu started with Dungeness crab, smoked salmon with blinis, and a crisp pastry purse of local shiitake mushrooms with truffle cream sauce. Entrees were grilled lobster tail, filet mignon, a double lamb chop, and British Columbia king salmon with Oregon crayfish. Dessert was fresh berry cobbler.
Our other tasty meals were in the opulent Astoria Dining Room. Almost everything was grown or produced in the area—Idaho rainbow trout, oysters, Walla Walla onion soup, marionberry sorbet.
The cruise was winding down. It was drizzly in Astoria, where sea lions barked. We docked near the Columbia River Maritime Museum, blocks from coffee houses, a brew pub and Flavel House, a Queen Anne mansion built by the late George Flavel, a river pilot who was Astoria's richest man.
On our last morning, bridges swung open, ushering American Empress into Vancouver, the end of the trip. We explored interesting Fort Vancouver National Historic Site, art galleries, parks, brew pubs, and more wineries.
I stayed an extra day across the river in Portland, which I'd visited many times as a kid. And, like most things on this journey, I saw it with fresh eyes. Portland, as the world knows but I hadn't yet seen, is now cutting-edge, with stunning public art, gourmet bistros, and food trucks cooking exotic fare.
Pioneer Courthouse Square, called Portland's "living room," took me back to my childhood, but the towering Portlandia statue was new to me. It went up in 1985, after I was grown and gone. Those two monuments summed up the trip, a mix of memories and new discoveries.
Ask the Expert
Cruise insights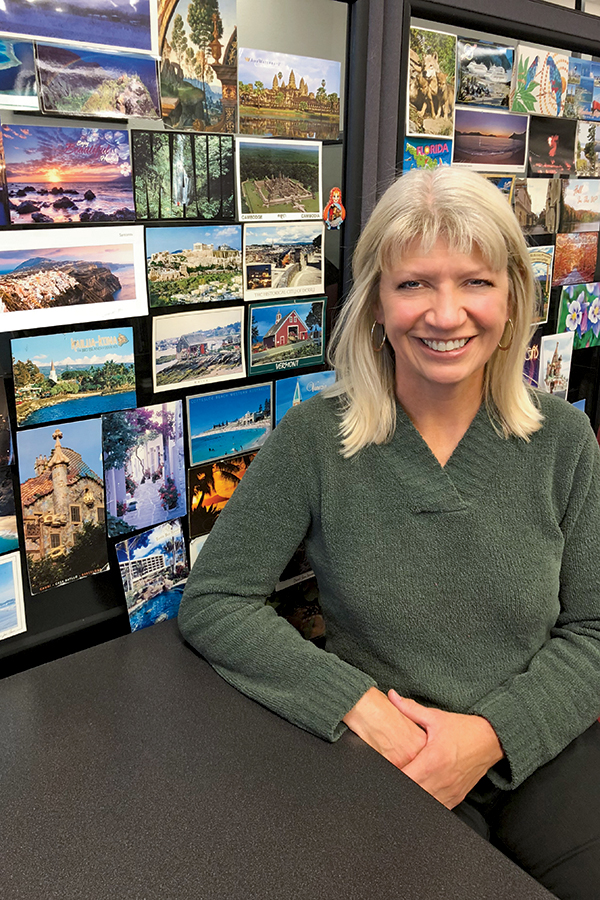 AAA Colorado Travel Agent, Barb Larsen, Fort Collins retail store. © AAA Colorado
What persuades a traveler to consider a cruise—ocean or river—for their next trip? EnCompass asked AAA Colorado Travel Agent Barb Larsen that question, and others, and she offered her expertise, built over 19 years helping AAA Colorado members with their travel plans:
Check, double-check I routinely re-price clients' cruises, sometimes multiple times, often resulting in savings. I did that recently for a family of eight, in four cabins, and saved them $850.
Fly early Arrive a day early for your cruise, in case bad weather or mechanical issues delay your flight.
Sampler People who do their own trip research online face a lot of choices: Which island, or city, should they choose? What if they make an expensive choice that they later regret but can't refund? All these worries can be resolved ahead of time by working with a travel agent.
Smoother ride People worried about seasickness may prefer low- and mid-ship cabins, with a balcony for fresh air. Often, seasickness is a non-issue, because modern cruise ships are equipped with state-of-the-art stabilizers.
Ready to help Last year, I helped a couple with a trip that included European rail. While they were traveling, rail workers went on strike, requiring a quick change of plans. With rail no longer an option, I knew flights would sell out quickly…got air booked immediately and kept their vacation on schedule.
For cruise travel expertise, visit with, email, or call your personal AAA Travel Agent.
To reach AAA Colorado Travel Agent Barb Larsen, visit the Fort Collins retail store, 3636 S. College Ave., Unit 2; email blarsen@colorado.aaa.com; or call 970-266-