Three Days In Southeast Colorado
For decades, Colorado's Southeast—namely, the expanse from Pueblo and the Spanish Peaks to La Junta and Lamar—had eluded me as I got to know the state's more mountainous (and better known) destinations. The overlooked region that stretches toward Kansas, Oklahoma, and New Mexico was unknown territory for me and my family. So when the opportunity arose to explore southeast Colorado with my wife and three daughters, we grabbed it, packing the car and mounting a 700-mile scenic drive to somewhere we'd never been.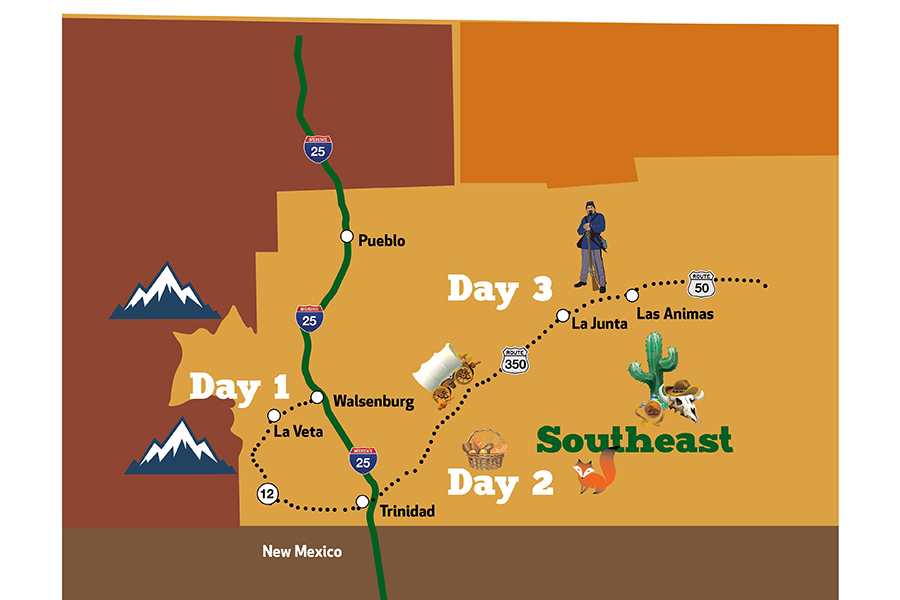 Day 1
Walsenburg, La Veta, Cuchara
The tumbleweeds started blowing somewhere south of Pueblo. Big, boulder-sized bushes blasted across the highway, alarming my wife and thrilling my three daughters, who gave a happy scream every time one barely missed us. We avoided any major car-shrub collisions, a good thing since someone at the last gas station had warned us about tumbleweeds getting trapped under our exhaust and catching fire. No thank you.
We flew through it all, riding in a tester 2019 Infiniti QX60, provided by AAA Colorado AutoSource. The car was as eager to surge ahead as I was, especially when the Spanish Peaks appeared on the horizon—two massive snow-capped mountains that the Ute called huajatolla, or "breasts of the Earth," and the Spanish called dos hermanos.
We exited the Interstate in Walsenburg, stopping for lunch at Tina's Family Cafe, a red checker-clothed, breakfast-all-day kind of place with a sign that said, "Life is too short not to have pie." We obliged, then turned onto Scenic Byway 12, "The Highway of Legends." I fired up the Highway 12 audio tour program I'd downloaded from TravelStorys, an app that uses your car's location to tell you about natural and historical features as you are driving past them. We listened intently as the Spanish Peaks grew larger, "a landmark for all the people who passed through here," read the deep-voiced narrator, "Native Americans, soldiers, trappers, traders, settlers, and gold seekers. The peaks are part of the gigantic Southern Colorado volcanic field, which began forming 40 million years ago."
Thus began our immersive crash course on Huerfano County. We drove past Lathrop State Park (too cold and windy to stop for a hike, as we'd planned), and made for La Veta (pronounced "la vee-dah"), where we took a breather in the public library while our youngest napped. At 3 p.m., we walked to Shalawalla Gallery and Gift Shop, located in a boxcar behind the art school. There we'd booked a family batik class and found Beth and Jonathan Evans waiting for us in their studio; they had blank white cloths on the tables for us, hot pans full of melted wax, and dishes of bright, primary colors. After a brief demo, they got everybody, even our still-groggy 5-year-old, painting with waxes and dyes, immersed in the work.
La Veta has roughly 850 year-round residents living at about 7,000-feet elevation. They are a friendly mix of Huerfano County natives and transplants from Denver, Texas, and other exotic faraway places. Some residents are artists who have set up galleries, workshops, and studios. There are also quilting workshops, jewelry making, and painting classes in town, and many visitors come to sign up for a few of these hands-on experiences during their visit.
Two doors down, we checked into our comfy, rustic rooms at La Veta Inn, a restored, wood-creaking affair on Ryus Ave., across from a park and railroad tracks. The 17 rooms have cozy, historic touches, like arched hallways, and rooms decorated and painted by local artists. For dinner, we cruised a few miles up Highway 12 to Cuchara for steak and wine at Timbers Restaurant (23 Cuchara Ave. East); returning to La Veta, the girls spotted a fox running across the road in the moonlight.
Day 2
Highway of Legends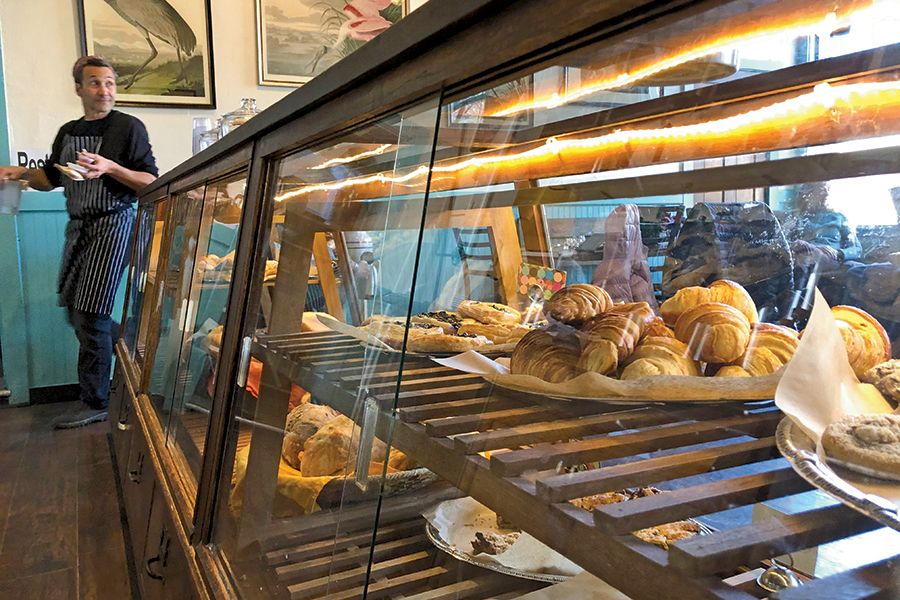 Ryus Ave. Bakery in La Veta is a lively gathering place for residents on Tuesdays, Thursdays, and Saturdays. They are closed for baking on Mondays, Wednesdays, and Sundays. © Joshua Berman
In the morning, my youngest and I moseyed to the Ryus Ave. Bakery, while the rest slept in. Antonio and Edward, the owners, bake all day Monday, Wednesday, and Sunday, and are open for business Tuesday, Thursday, and Saturday. On this Saturday morning, the place felt like the town's living room. I sipped my coffee and watched a flow of La Veta neighbors and friends greet each other and chat their croissants and coffees away.
Then we were off again, twisting higher into the forest, the road snaking around the famous igneous dikes that radiated outward from the mountains like giant fins. Our audio tour app picked up our location and continued our lesson about how this highway got its name: "In the early 20th century, yarn-spinning Louis Sporleder ... wrote long legends that he claimed to have heard from Native Americans. These were tales of mischievous demons, evil priests, talking panthers, and beautiful princesses."
We listened to them all as we gaped at the landscape, stopping for photos atop a cold, breezy Cuchara Pass at 9,995 feet. The slow descent took us past trailheads, lakes, campgrounds, and nearly empty towns. The snow disappeared and a tan, wide canyon—coal country—took form, leading us into Trinidad. The Café was a nice sandwich spot on Main Street, near a number of antique stores and historic buildings. The Baca House and Bloom Mansion in the Corazon de Trinidad National Historic District are both part of the Trinidad History Museum and give a glimpse of how folks here lived in the late 1800s. Our children, however, only had eyes for the fun public park next to the river. It was a good chance for them to run and spin around before the next leg—to La Junta.
Day 3
La Junta and Beyond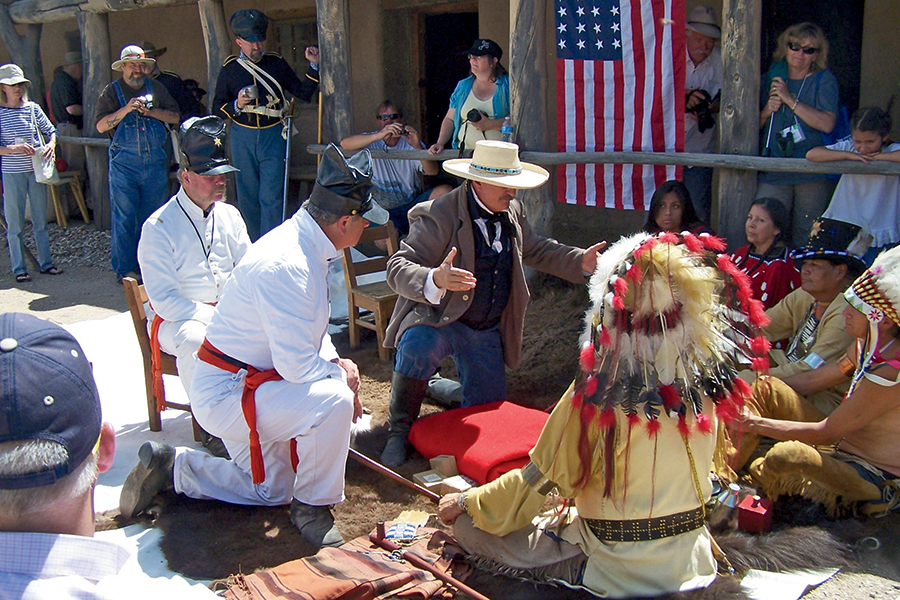 Bent's Old Fort National Historic Site, a restored 1840s-era adobe trading post on the Santa Fe Trail outside La Junta, puts on frequent historical reenactments. © NPS Photo
The Trinidad Welcome Center (309 Nevada Ave.) is exceptionally equipped and well kept. In addition to clean bathrooms, there's a coloring table and play area for kids, stacks of maps and brochures, and free coffee and WiFi. Then I innocently asked the folks behind the desk, "So, what do I need to know about the drive up Highway 350 to La Junta?"
The two exchanged glances and shook their heads slowly. "That is one desolate drive," said the gentlemen. "Be sure you have a full tank of gas." His colleague nodded her agreement and added her advice: "And watch out for wildlife."
Highway 350 was indeed straight and empty, a 72-miles stretch paralleling railroad tracks and an untold number of centuries-old wagon ruts. The Spanish Peaks were directly behind us and so was the late afternoon sun, which reflected off rear view mirrors into my eyes. Brown signs said we were now on the Santa Fe Trail Scenic and Historic Byway, one of the oldest cross-continental routes in the country. We drove past a prison, a military maneuver site, and several dust-colored ghost towns with names like Thatcher and Delhi.
Just as it got dark, we pulled onto U.S. Highway 50, aka "The Loneliest Road in America," connecting Sacramento, Calif. and Ocean City, Md. over some of the emptiest stretches of landscape in the country. We were glad for the low-level cheer of La Junta, where we made straight for the smothered chile rellenos at Mexico City Cafe (1617 Raton Ave), a four-generation family restaurant with a lively local crowd and rewarding margaritas—especially after that desolate drive. After all, this used to be Mexico—or, Old Spain anyway, when the Arkansas River, a few blocks north, served as the border through the early 19th century.
Properly fueled, we were ready for the most anticipated site of the trip: Bent's Old Fort National Historic Site. I'd been hearing about this restored 1840s adobe fur trading post for years. Six miles northeast of La Junta, Bent's Fort is considered one of the best restorations in the entire National Park System. In the mid-19th century, this anchor of the Santa Fe Trail attracted traders, trappers, and travelers from all over, including local Cheyenne and Arapaho populations. It was not a military fort, but its two-walled fortified design would be copied across the West. My girls climbed and explored it all, my eldest attacking her Junior Ranger booklet to earn her Bent's Fort badge.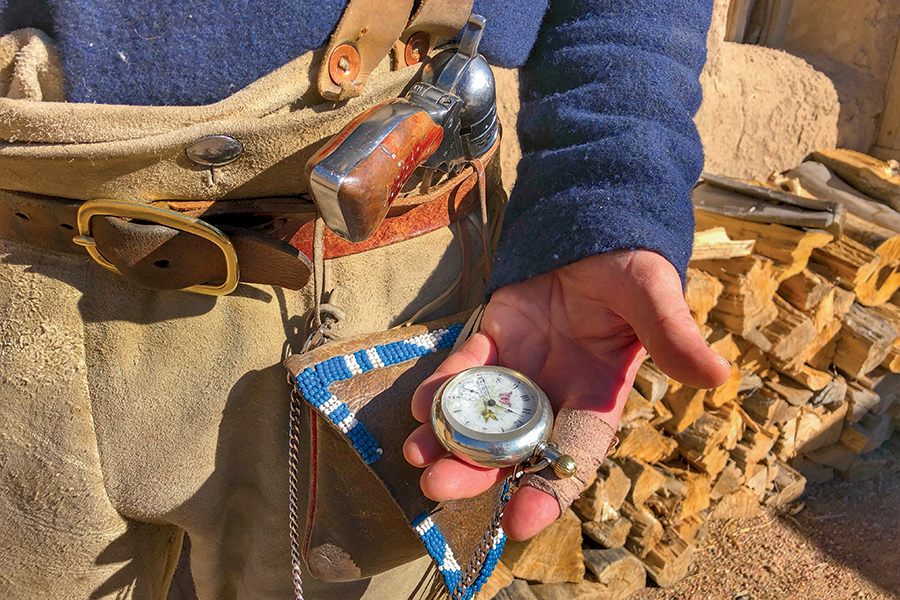 The park rangers at Bent's Old Fort dress the part, making for an immersive experience. © Joshua Berman
Today, period-costumed historian park rangers recreate the sights, sounds, and smells of the past. They offer guided tours, blacksmith and adobe making demonstrations, and special events throughout the season. On this morning, we had the place nearly to ourselves; the rangers lit a fire in the adobe fireplace in the entrance and another in the plaza outside. There, Jose, the adobero from Las Animas, offered me a cup of coffee and a massive buffalo skin to wrap myself up with two of my children.
"That skin would have sold for three dollars worth of traded goods," he said, as my girls and I snuggled together and squinted in the bright sun.
After several hours, my family was hungry for more. But alas, three days was all we had. Sure, by coming to the southeast, we'd filled some gaps in our family's exploration of the state, but we'd also discovered more places that we didn't have time to visit. With a promise to return, we turned our car onto the loneliest road, and pointed into the sunset.
More Three Days In
Watch your inbox for more things to do in Southeast Colorado in the next EnCompass Exclusive e-newsletter—a monthly email that provides exclusive content you won't find in the print edition. Plus, keep an eye out for the next series of "Three Days In" in the May-June 2019 edition of EnCompass.