My Colorado Photos
Editors' note: The Editors chose winning photos from dozens received online at AAA.com/photocontest and via email at photocontest@colorado.aaa.com.
Peace and tranquility ▲
Susan Justice of Grand Junction submitted this photo by email of Mesa Lakes Lodge, in the Mesa National Forest. "Every season, I take a drive along Highway 65, just outside of Grand Junction, stopping along the way, if something captures my eye to photograph—just as this scene did, while hiking along the trail around Beaver Lake," Justice tells EnCompass. Her camera: Sony Alpha 350. Member since: 2003
Wild at heart ▼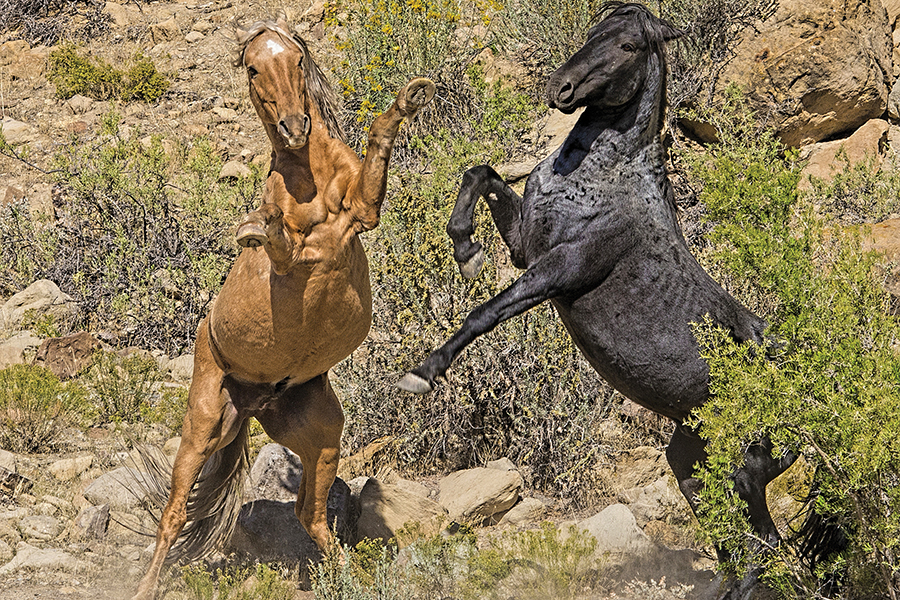 Christine Segelken of Grand Junction submitted this photo online of two of the stallions battling over their mares. "I have always had a passion for horses, especially ones wild and running free. My husband, Harry, and I first visited the Little Bookcliffs Wild Horse Area, near Grand Junction, about 25 years ago. It was the beginning of my new passion and hobby—wildlife photography," Segelken tells EnCompass. "There is always a rivalry among the wild stallions, and a competition for each band leader to keep his mares and add new ones. We were fortunate to capture this dramatic moment." Her camera: Pentax KP. Member since: 2011
Submit your photos and win!