Rolling again
Everybody loves a good comeback story. That's why, when Winter Park ski train service returned in January 2017, after eight seasons without it, you could feel Denver buzz with excitement. After all, this isn't an ordinary railroad—it's a cultural institution that, over the course of its checkered 70-year history, shaped and enriched Denver's identity.
That history began with a tunnel. The public first became aware of just how good mountain life could be after construction of the 6-mile Moffat Tunnel through the Continental Divide in 1928, sparing railroad engineers and passengers a scary ride up "Hell Hill"— 11,660-foot Rollins Pass.
The tunnel opened a new world. "Everybody realized what a winter playground it was up in Grand County," said Brad Swartzwelter, the Amtrak conductor who helped engineer the ski train's return.
Not long after the tunnel's completion, the Arlberg Ski Club purchased the building that housed its construction workers over the years. It became the ski group's warming hut and home base—a central meeting point from which dozens of incipient ski trails emanated. But those early trains were designed for freight, not people. And there wasn't a stop at the Alberg Club's hut. Conductors would slow, sure, but skiers would have to jump off, gear in hand, to hit the slopes. It was, surprisingly, a runaway hit.
"That's what convinced the City of Denver to build Winter Park Resort where it was built, next to the West Portal," said Gary DeFrange, the resort's immediate past president and chief executive officer, who also serves as chairman of AAA Colorado's board of directors.
When the ski area opened in January 1940, the Denver & Salt Lake Railroad already had a dedicated depot near the West Portal—complete with a ski-waxing room. And Winter Park made quick use of it, chartering rail service primarily to shuttle youngsters to and from its venerable Eskimo Ski Club.
"The original ski train was a ride to get the kids up to ski school," Swartzwelter said. "I was one of those kids. We'd go through tunnels in these rickety train cars, and the lights wouldn't work, and everybody would hoot and holler. It was the greatest thing in the world." No kidding: In one famous example from 1960, a particularly brash ski student pulled the emergency brake at 40 mph, damaging a locomotive in the process. Imagine having so much fun that you broke a train.
In 1987, billionaire entrepreneur Phillip Anschutz acquired the ski train as part of a railroad merger, and everything changed. Gone were the circa-1915 train cars with holes in the floor and rowdy ski students dangling from the luggage racks. In their place, Coloradans of all stripes nursed beers in the newly upholstered coaches rather than to fight traffic on Interstate 70.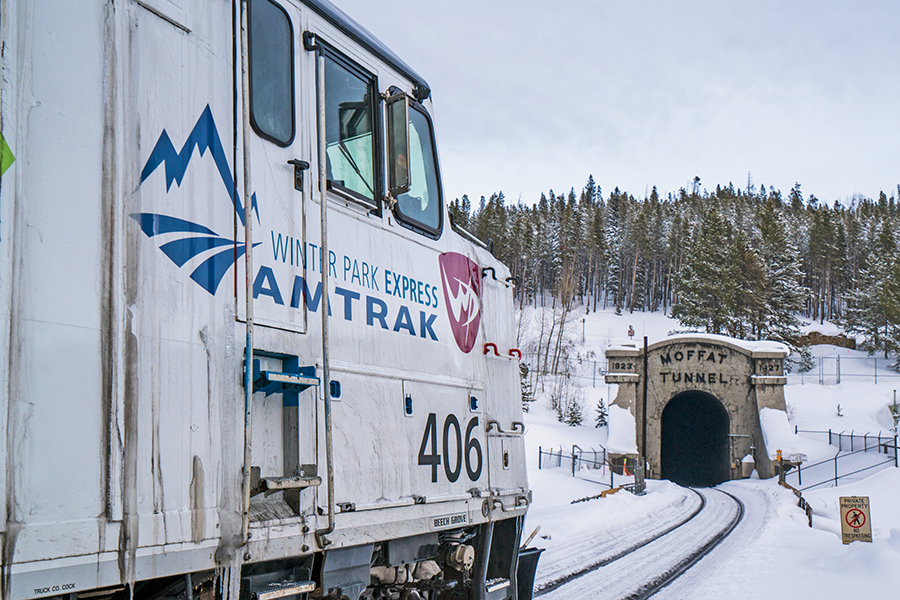 The Amtrak ski train departs Winter Park toward Moffat Tunnel. © Carl Frey/Winter Park Express
When most long-time Denver residents talk about the ski train, it's this iteration they remember. Yet no institution is impervious to change. Buffeted by dwindling profit margins, ballooning insurance costs and the closure of Union Station for redevelopment, Anschutz shuttered the ski train in 2009.
The loss devastated Swartzwelter. "It reminded me of the time I had my molars ripped out," he said.
Swartzwelter was the very first conductor on the very first train to shove back into newly renovated Union Station in July 2014. Gazing at the new canopy, and sensing the new energy, inspiration struck. "I knew we needed to bring back the ski train," he said.
Swartzwelter crunched the numbers and put together a business plan. "I didn't think we could lose," he said. "I knew we could fill that train up if we could just get it on the tracks."
He also knew he couldn't do it alone.
"Winter Park Resort needed to be all in on this for it to work," he said. "So I called their switchboard and said that I needed to talk to the most important person at Winter Park, and they said, 'That's gotta be Gary.' I was surprised—they transferred me straight to the CEO."
Over the course of several calls and meetings, Swartzwelter walked DeFrange through his proposal. And DeFrange, mindful of how the original ski train shaped Winter Park, told Brad "if Amtrak would look at doing this, Winter Park would do everything we could to help."
With support from the Colorado Rail Passenger Association, the group credited with saving Union Station from redevelopment in the late 1980s, Swartzwelter and DeFrange presented a plan to some of Amtrak's top brass—who in mid-2015 traveled to Colorado to discuss the proposal. Luck was on their side. After taking a train to Winter Park and poring over the numbers, the group rode to Denver on a bus, and sat in traffic on I-70 for three hours. Amtrak agreed that the ski train made sense, but only if its backers would raise money for construction of a new platform at Winter Park. On the old train, passengers stepped off the train right onto the snow-packed track bed. It was quite a leap, especially in ski boots. And it wasn't quite up to code. "That was a sketchy scene," Swartzwelter said.
An all-hands-on-deck effort began to raise the money. DeFrange, whose name became nearly synonymous with Winter Park, pulled out all the stops.
"When people saw Gary's name was on this, they could trust that it was a good idea—and they wanted their name on it too," Swartzwelter said.
The team reached its goal, and construction began in August 2016. Remarkably for a project of this size, it was completed by December. "People in Washington, D.C.—Amtrak vice presidents—called me," Swartzwelter said. "They said, 'We've never seen infrastructure get built that well, that fast.'"
After all, this is no ordinary train.
Train schedules and fares
The Amtrak Winter Park Express departs Union Station in downtown Denver each Saturday and Sunday, 7 a.m., from Jan. 5 through March 25, plus three new "First Friday" round-trips (Jan. 5, Feb. 2 and March 2). The train arrives in Winter at 9 a.m. Departure is 4:30 p.m., and pulls into Union Station at 6:40 p.m.
Tickets are priced at $39, $49 and $59. Pricing is subject to availability, and only a limited number of seats are available for each train and each price level. Up to two children ages 2–12 may accompany each adult at half fare. Passengers with disabilities should call 800-USA-RAIL to book the trip.
With more than 27 round-trip options and more than 500 seats on each train, the Winter Park Express allows riders to ski Winter Park Resort without renting or setting foot in a car. Got questions? Call Winter Park Resort at 888-923-7275, or visit amtrak.com/winterparkexpress.