Pacific holidays
This season, bundle up for the early morning Rose Parade, or the nighttime Newport Beach Christmas Boat Parade. Avoid the lines at Disneyland, and in Knott's Berry Farm, line up for a …. water ride? Our expert is your guide.
When most people think about a Southern California vacation, they might conjure images of palm trees and sandy beaches, glitzy Hollywood parties, or refined wine country. During the holiday season, theme parks, tourist attractions, and local neighborhoods take on a larger-than-life persona. Here are four festive ways to usher in the good cheer in the Golden State.
1313 Disneyland Drive, Anaheim, Calif., 714-781-4636
Mid-November through the first week of January; ticket starts at $97
With a wave of "Bibbidi-bobbidi-boo" and a sprinkling of pixie dust, the Disneyland Resorts in Anaheim transforms each November from an already enchanted place to a fairy-tale winter wonderland with thousands­­ more twinkling lights, more elaborate fireworks, and whimsical holiday charm. I love Disneyland at Christmastime—the subtle yuletide tunes, the aroma of gingerbread wafting by, and the peppermint-flavored mochas. Of course, I'm not alone. Millions of folks share my fondness for the Happiest Place on Earth at this time of the year, so visitors should expect crowds.
As a result, this year, my friend Matt and I decided to bypass most of the rides—who wants to spend hours waiting in lines?—and fully embrace the park's joyous holiday spirit in other ways. We meandered by the 60-foot Christmas tree decorated to the brim with nearly 1,800 ornaments and strolled through Main Street USA, where we passed by the harmonized barbershop quartet, dressed in candy-cane striped vests and straw hats, crooning, "It's the Most Wonderful Time of the Year."
I wanted to stay for a few more songs, but I knew time was of the essence if I wanted to fulfill my Christmas gift to myself: a silhouette of my profile. Since 1955, the artists at Silhouette Studio have been hand-cutting guests' likenesses onto black paper with refined accuracy and swiftness. I marveled at the uncanny resemblance when the artist handed me my silhouette.
Keeping to the old-timey theme, we crossed the street to the turn-of-the-century–inspired Gibson Girl Ice Cream Parlor for a root beer float with vanilla ice cream. I can't remember the last time I had the creamy treat, but I enjoyed it thoroughly. The sugar buzz from the float fueled my wait to get into the Haunted Mansion, which took a detour from ghoulish mayhem to Pumpkin King Jack Skellington's jolly interpretation of Christmas.
It was dusk by the time we exited the ride, the perfect time to head to It's a Small World. From afar, we could see the "Merriest Attraction on Earth," lit up by hundreds of thousands of delicate rainbow-colored lights adorning trees, topiaries, and façade. Sharing the slow-moving boat with visitors from Japan, Germany, and Australia, we treaded through seven continents and explored the imaginative world created by beloved Disney art director Mary Blair (who worked on Peter Pan, Alice in Wonderland, and Cinderella). "Jingle Bells" and "Deck the Halls" were intertwined with the uber-catchy "It's a Small World" tune, while woodsy pine and peppermint scents were piped through the ride. When the air bubbles floated past the boat around the South Sea scene, even the most austere-faced German tourist broke into a smile.
Although Matt and I were tired from an afternoon of navigating the crowds through Disneyland, we couldn't leave without watching the "Believe … in Holiday Magic" fireworks, which illuminated the sky above the Sleeping Beauty Castle. At the finale, when the "snow" gently landed on our hair and sweaters, we were once again enthralled by Disney magic.
DID YOU KNOW?
AAA members can purchase Disneyland tickets at AAA Colorado retail stores and save up to $17 off the gate price.
Orange Grove & Colorado Blvds, Pasadena, Calif., 626-795-4171
Reserved grandstand tickets, $55–$100; curbside, free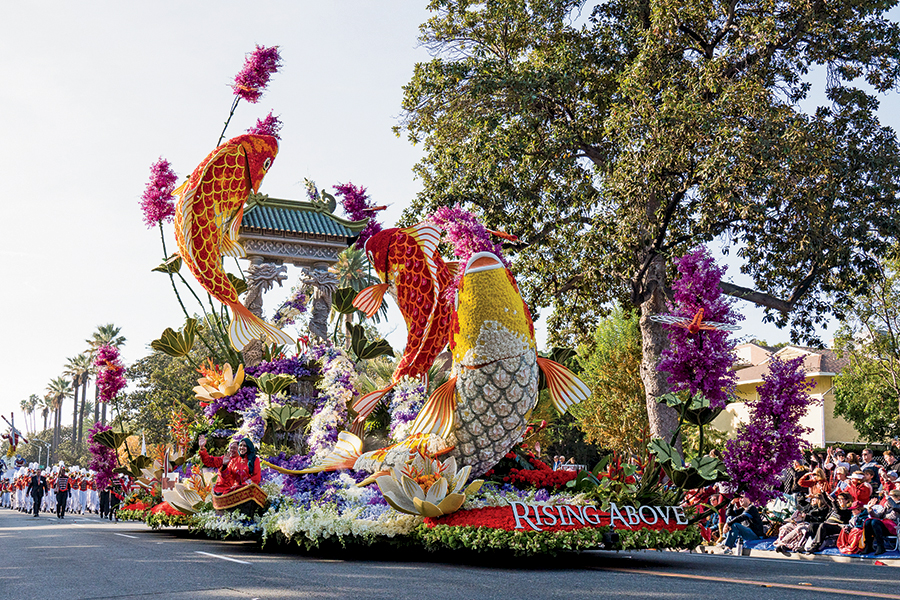 The "Rising Above" float from Singpoli American BD Investment Group won the 2018 Tournament of Roses Parade's Sweepstakes Award, which honors the "most beautiful entry, encompassing float design, floral presentation, and entertainment." © Erik Burn
For many Southern Californians, trendy Pasadena becomes a popular camping site on New Year's Eve. Forgoing the celebratory Champagne and countdown parties, these folks instead opt to secure a prime spot to witness the grand Tournament of Roses Parade. Bundled in blankets and scarves, they patiently await the arrival of mammoth floats covered head-to-platform with millions of tulips, carnations, azaleas, orchids, and roses.
Ever since the first Rose Parade in 1890, this beloved annual event has enthralled millions of people who watched on TV all over the world. For many years, I woke up bleary-eyed on New Year's Day to the cheery announcements of Bob Eubanks and Stephanie Edwards, hosts on local Los Angeles news station KTLA. This year, I decided to brave the cold and crowd, and took the Metro train to Pasadena to admire the parade in person. I had reserved a seat on the grandstand bleachers, which meant that I could arrive only an hour before the start of the parade. The seats were snug, but I had an unobstructed view when Grand Marshal Gary Sinise kicked off the event in a 1919 Dodge Brothers Touring Car—the same vehicle driven by George Bailey (Jimmy Stewart) in 1946's It's a Wonderful Life. A couple of F-35 Lightning II fighters and a B-2 stealth bomber flew overhead, jolting the crowd.
Watching the Tournament of the Roses in person is a surreal experience. I could see up close the painstaking details of these colossal floral floats in shapes of dragons, a patriotic American eagle, koala bears, trains, and sports arenas as they maneuvered down the thoroughfare. Every inch of the structures was glued with flowers, leaves, moss, bark, seeds, and other natural materials. The dedication of the hundreds of volunteers who help put these floats together was evident.
There was an audible gasp when a float of three creamsicle-colored fish adorned with 250,000 white roses, orchids, and carnations, glided past us—that masterpiece by real estate investment company Singpoli American BD turned out to be the winner of the parade's most beautiful float award.
Another crowd favorite was the historic Mission Inn-inspired float by the City of Riverside, celebrating the 116-year-old Mission Revival Style building. In between floats, cultural dancers twirled, regal horses trotted, and nearly two dozen U.S. and international bands marched down Colorado Boulevard.
The highlight was the red-uniformed Salvation Army Band, which made its 99th appearance in 2018. During the two-hour event, I made fast friends with the people I shared tight quarters with, and I felt a sense of comradery and community. We were all ready to tackle the new year with a sense of hope and a dash of whimsy—and the understanding that it's okay to slow down and smell the roses.
8039 Beach Blvd., Buena Park, Calif., 714-220-5200
Mid-November through the first week of January; tickets, $45–$75.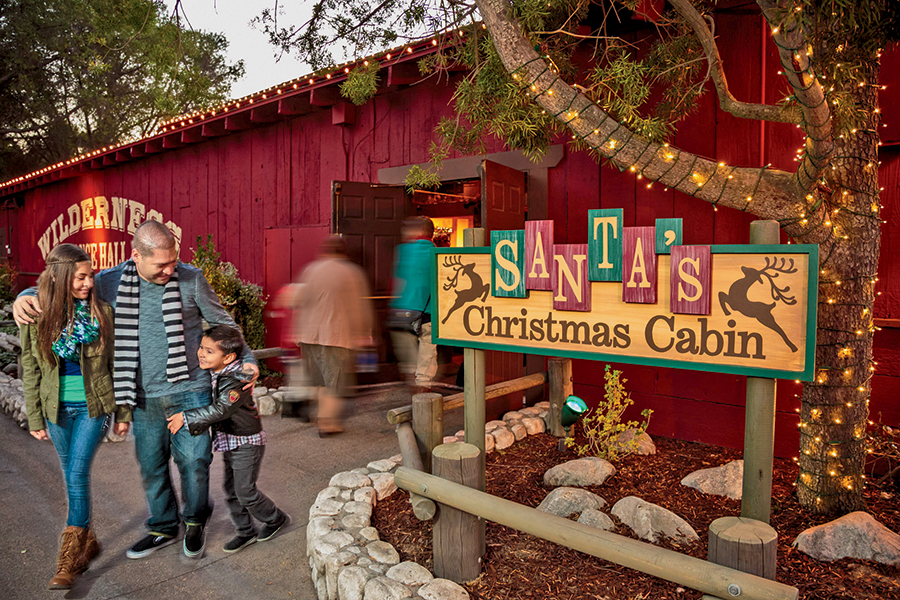 Knott's Berry Farm attracts families of every kind year round with its scary Halloween mazes, boysenberries, fried chicken, and, of course, Christmas. Courtesy of Knotts Berry Farm/SeanTeegarden
A quartet of jovial carolers dressed in Victorian garb strolled down the dusty Calico Ghost Town, serenading the crowd that was momentarily distracted from last-minute Christmas shopping. Wooden Old West storefronts were lined with cream and red poinsettias and draped with pine garlands heavy with ornaments. It's hard to imagine that just a couple weeks earlier, this very same street was crawling with menacing demons and chainsaw-wielding serial killers.
Knott's Berry Farm in Buena Park is known for four things: scary Halloween mazes, boysenberries, fried chicken, and, of course, Christmas. My college friends and I have an annual tradition of visiting Knott's during the holiday season, but with kids and busy jobs, those outings have subsided. Feeling nostalgic, I invited my friend Esther and her family to join me for a festive day at the park.
Our first stop was the Christmas Crafts Village to pick up last-minute gifts, then we headed to Santa's Christmas Cabin for a snack of chocolate-dipped cheesecake on a stick, and hot chocolate. I was enjoying the leisurely pace, but the kids were anxious to go on the rides. Jacob, my friend's 11-year-old, had no qualms suggesting the Bigfoot Rapids. Yes, a water ride in the middle of winter. Luckily, Southern California winter days hover between 60 F and 80 F, but I was still reluctant. However, any attempts at reasoning were futile. On the white-water river raft ride, we swirled through waterfalls and dipped over boulders—and got soaked to the bone. Jacob and his 9-year-old sister, Bella, roared with laughter every time an adult got wet.
"We should go on the Timber Mountain Log Ride next," Jacob declared triumphantly. Another water ride? I thought. "Let's try the GhostRider instead," I suggested, hoping that a ride on the tallest and longest wooden roller coaster on the West Coast would help speed the drying of my pants. Jacob was easily persuaded, and we went on the iconic Knott's ride, which was smoother and faster after a recent renovation. Jacob loved the thrill, but Bella, who was nervous about going, the more intimidating roller coasters, wanted to catch a show instead. We deliberated between a retelling of Charles Dickens' A Christmas Carol and the sing-along It's the Merriest Christmas Show Ever, Charlie Brown, but finally settled on Merry Christmas, Snoopy!
In all my years visiting Knott's, I've never made time for a show, figuring it was something just for "kids." So, I was genuinely surprised at the quality of the professional ice skaters and the Peanuts Gang, who glided, leapt, and pirouetted around the stage, while crooning familiar Christmas tunes. Jacob and Bella had shown me a different perspective of Knott's, and I came away with a newfound appreciation for the park's all-ages appeal.
Marina Park, 1600 W. Balboa Blvd., Newport Beach, Calif.
Dec. 19–23, 6:30 p.m.; free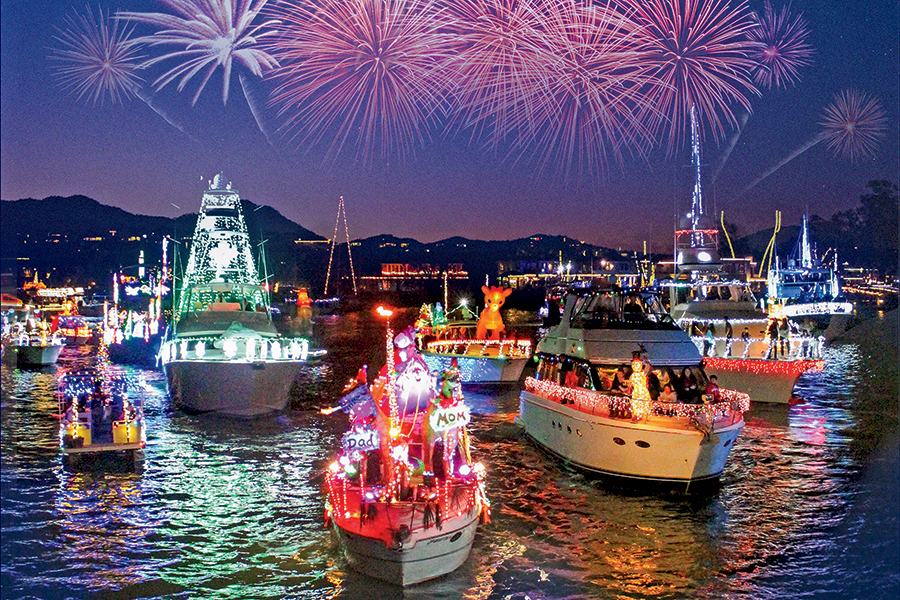 The Christmas Boat Parade in Newport Beach, Calif. features hundreds of decorated vessels of all sizes competing for top awards is several categories. This year's event on Dec. 19–23 marks its 110th year. Courtesy of the Newport Beach Christmas Boat Parade
Burying my feet in the sand, I wrapped my fuzzy blanket a little tighter when in the cool breeze. Fireworks exploded above my head, while families cheered. For the past couple of hours, visitors at Newport Beach's nautical-themed Marina Park listened to live music, noshed on cookies, and snapped pictures with Rudolf and Frosty the Snowman. But we were anxiously awaiting the main attraction: the Newport Beach Christmas Boat Parade, an annual, thoroughly Southern Californian tradition.
Started in 1908, with eight canoes and a gondola illuminated by Japanese lanterns, the event has since evolved into a carnivalsque parade, along 14 miles around the Balboa Peninsula.
An 85-foot Ocean Alexander with a giant glowing snowman kicked off the procession, followed by more than 100 boats, yachts, kayaks, and canoes. Powerful speakers mounted on these water crafts blasted everything from Michael Jackson's Thriller to The Beach Boys' Little Saint Nick. Some boats were strung simply with white twinkling lights, while others featured shooting flames and oversized inflatable reindeers and Santas.
Small-yet-ornately decorated dinghies drew as much cheer as the over-the-top mega-yachts (one illustrated a colorful train rolling through red, green, and white pine trees). I marveled at the ingenuity of these Newport Beach boat owners who invested their own time and money to participate in one of the longest-running holiday traditions in Southern California, which draws more than a million people each year. It reminded me of Disney's Electrical Parade, but with boats gliding down the calm bay waters instead of down Main Street USA.
2017 was the first year the parade started at the 10.5-acre Marina Park, which turned out to be a fantastic viewing spot. Some folks preferred to watch from a handful of restaurants and hotels around the peninsula, while others strolled along the harbor.
It took about 25 minutes for all the boats to float past. Anyone yearning for more holiday lights can sign up for the Newport Landing's Holiday Lights Cruise. The 75-minute tour gets you unimpeded views of waterfront mansions and regal estates decorated with icicles, giant red bows, and lights.
Like this article? Share it online at AAA.com/socalholiday.
DID YOU KNOW?
If you're driving to, or in, southern California, renting a vehicle from Hertz comes with exclusive AAA member discounts and benefits.