Hallmark Holiday Hotels
Many Colorado resorts go all out for the holidays with festive decorations, hot cocoa, and plenty of holiday spirit.
These hotels provide the perfect backdrop for anyone wanting to create their own extra-special holiday memories with friends and family. And while many people may travel to distant homes for the holidays, here are three hotels that deliver that cozy Hallmark experience.
1 Lake Ave., Colorado Springs, 855-634-7711
What could be more magical than holidays at Colorado's most famous hotel? Spending a weekend at the AAA Five Diamond-rated The Broadmoor during the holiday season will put any Scrooge in the Christmas spirit. As soon as you arrive, you'll notice virtually every inch of the massive hotel property has been decorated. It truly feels like you just walked onto the set of a Hallmark movie, with Christmas trees in every corner, bows and bells over the doorways, miles of garland decorating the rails inside and out, and more than a million LED lights twinkling across the entire grounds.
The Broadmoor knows how to help you craft the perfect family Christmas. We started the morning off with a cup of good cheer, while having breakfast with Santa and Mrs. Claus alongside a festive holiday smorgasbord. Seeing our 3-year-old sit on Santa's lap as she described the gifts she wanted, while we ate omelets and drank coffee, sure beat waiting in a massive line at the mall. A few hours later, we joined The Broadmoor elves for free sessions creating holiday crafts and decorating Christmas cookies (which we happily consumed). After lunch, we joined Mrs. Claus for an interactive holiday story and songs by the fireside in the main lobby. You'll know you're in the right spot when you see the enormous, 20-foot tall gingerbread house.
For meals, The Broadmoor has many restaurants to choose from, but during the holidays one of the most enjoyable is Restaurant 1858 at Seven Falls. The Rocky Mountain food is delicious, but it's the magic of the pine trees decorated in sparkling white lights adorning the drive up to Seven Falls that make it truly spectacular on crisp December nights. After dinner, take the elevator up to see Seven Falls itself—fully lit up at night in festive holiday colors.
Music lovers will want to cap off the weekend by taking in The Broadmoor's Christmas Spectacular show with special guest singer, Grammy Award-winning Debby Boone. The orchestra will be sure to set your heart alight with classic holiday music and a delicious Christmas feast.
Perhaps what really makes The Broadmoor so special during the holidays are those simple moments we casually strolled the grounds while bundled up, Christmas carols floating through the air, gazing at the lights while holding my young daughter's hand. Or maybe it was hearing the joy in my wife's laughter, as we drank wassail tea and hot chocolate by an elegant Christmas tree in the parlor. It may sound like that staged scene in a Hallmark movie, but at The Broadmoor in December, it's also reality.
321 17th St., Denver, 303-297-3111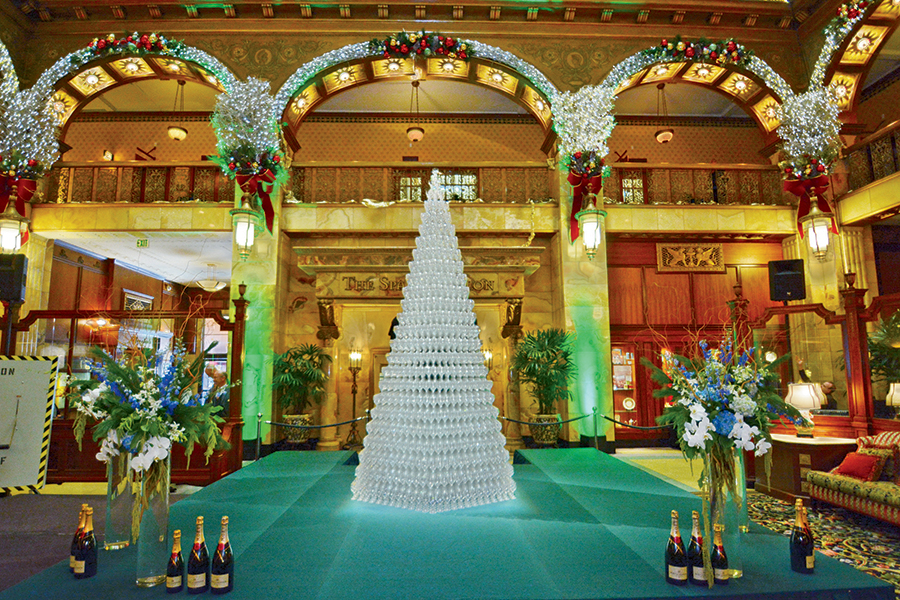 The Brown Palace makes the perfect home base for a romantic Christmas in downtown Denver. Courtesy of The Brown Palace Hotel & Spa
For a more romantic experience, look no further than the AAA Four Diamond-rated The Brown Palace Hotel & Spa—Denver's crown jewel for holiday magic. Experience a luxury holiday retreat without ever leaving Colorado's capital city.
We started the day early at Ellyington's for Breakfast with Santa and enjoyed the plentiful food offerings as Santa and his helpful elves visited each table. While our daughter was a bit shy around Saint Nick, we got many Instagram-worthy pictures of her laughing and dancing with his friendly elves, as a jazz pianist kept the party lively with rocking holiday ballads from a grand piano. Later, my wife and I got to sit back with our morning coffee and hot chocolate (complete with peppermint sticks), as our kids and other little ones decorated their own holiday cookies to be eaten as post-breakfast snacks.
In the afternoon, we excitedly partook in The Brown Palace's famous holiday tea (reservations highly recommended), where we slowly sipped on some of the world's finest teas and table snacks in this traditional British-style tea session. It's an elegant way to immerse yourself in The Brown Palace's more than 60,000 holiday lights.
Come evening, the sounds of classic holiday carols began to gently echo off the walls in the cavernous atrium as Dickens singers strolled through the festively decorated lobby. You couldn't ask for a more Christmassy place to unwind with a cocktail than under the massive Christmas chandelier adorned with more than 250,000 crystal beads and holiday lights.
The Brown Palace also makes the perfect home base for a romantic Christmas in the city, so venture out along the festive streets of the 16th Street Mall, aglow with holiday lights. We took the girls and hopped on the free 16th Street MallRide bus to the Denver Christkindl Market (Nov. 22–Dec. 23, 2019) at Arapahoe Street, to peruse the traditional European-style Christmas market. After purchasing some pastries for the girls, and some cups of hot gluhwein (a traditional German mulled wine beverage that is perfect for the holidays) for my wife and me, we slowly browsed the booths full of collections of hand-crafted ornaments, nutcrackers, clothes, and more from the artisanal vendors.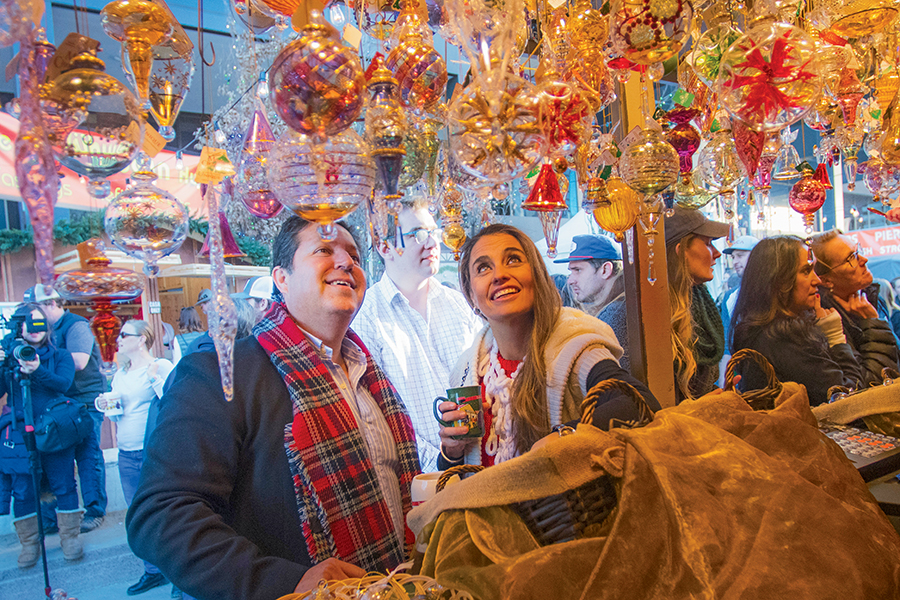 The Denver Christkindl Market is traditional European-style Christmas market where visitors can browse booths full of collections of hand-crafted ornaments, nutcrackers, clothes, and more. Courtesy of Visit Denver
Another option that's an easy walk is to catch a holiday show at the Denver Performing Arts Center. Many weekends in December, theatergoers can see the classic Christmas ballet, The Nutcracker. If ballet isn't your cup of tea, check show times for Dr. Seuss' How The Grinch Stole Christmas! The Musical.
The Brown Palace offers the perfect city getaway for Coloradans to enjoy all that Denver has to offer around the holidays. It's a magical place to experience your romantic getaway, but also great for families that want their kids to experience some holiday magic without having to brave icy mountain passes.
6700 N. Gaylord Rockies Blvd., Aurora, 720-452-6900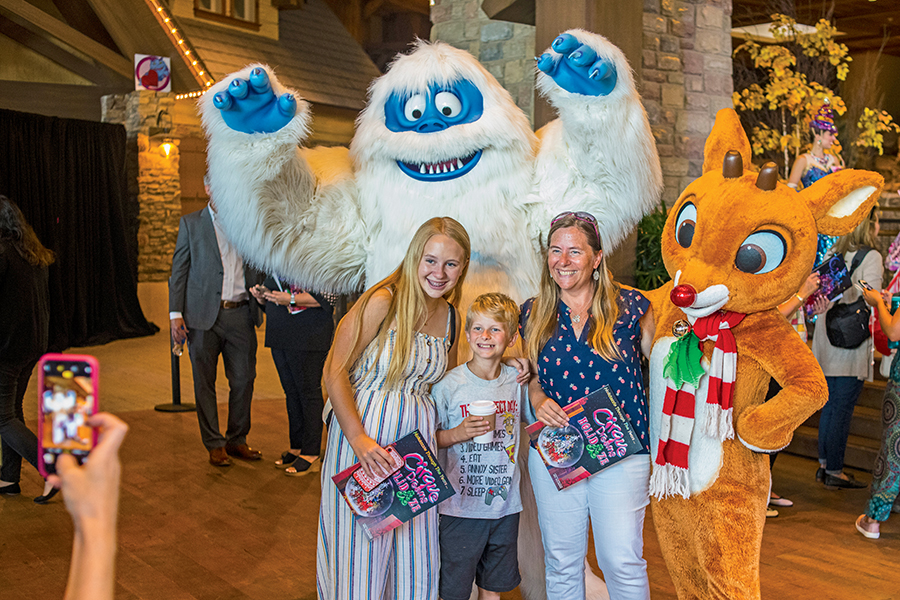 Create unforgettable holiday memories at the Gaylord Rockies Resort. Courtesy of Gaylord Rockies Resort/Evan Semón
One of Colorado's newest hotels also offers one of its biggest holiday celebrations. Every year, each Gaylord resort offers excitement for all ages with over-the-top holiday celebrations featuring millions of holiday lights, breathtaking indoor gardens and waterfalls accented with towering Christmas trees, fantastic decorations, live entertainment, and one-of-a-kind attractions. Gaylord Rockies Resort & Conference Center is no exception.
The Gaylord Rockies Resort opened its doors Dec. 18, 2018, so it didn't have the full holiday extravaganza that most Gaylord resorts host for the holidays. Now with a full year of operation under its belt, Coloradans can finally experience all the magic and wonder of ICE!—a signature event of the Gaylord Hotels brand—from Nov. 22, 2019 to Jan. 5, 2020.
ICE! featuring Rudolph the Red-Nosed Reindeer is a walk-though winter wonderland where families can explore a variety of holiday scenes from the famous Rankin/Bass Christmas television special. These sculptures, kept at a chilling 9 degrees, are brought to life by master artisans who have carved the scenes, characters, and two-story ice slides out of more than two million pounds of colorful ice.
Mistletoe Village will be the central hub for holiday happenings and features various holiday attractions, shows, and seasonal food and beverage offerings. Children can listen to the reading of classic holiday stories and sing Christmas carols with Mrs. Claus, visit Father Christmas' Library, and meet the big guy (Santa) himself. A sweet treat for kids of all ages is the Gingerbread Decorating Corner where guests can decorate to their heart's content and meet The Gingerbread Man for a heartwarming hug.
In the resort's Grand Lodge, Christmas magic is centered around the resort's 30-foot Christmas tree and the family-friendly Naughty & Nice Escape Room, where guests can work together to solve festive holiday puzzles. Just outside, guests can have fun taking a yuletide glide on the outdoor ice skating rink or snow tubing down one of four slides that will send them hurdling toward the Denver skyline.
The Gaylord Rockies' bubly theater will be home to 60 performances of Cirque Dreams Holidaze—an electrifying family holiday spectacular that blends a Broadway musical and cirque adventure wrapped into one. You'll be dazzled by astonishing aerialists, singers, and dancers as they help your family bring in the holidays in a way you've never seen before.
Be among the first to enjoy the Gaylord Rockies Resort's first year of ICE! this holiday season. It's a holiday event like no other, with more than 1.5 million lights, more than 20,000 feet of garland, 5,000-plus poinsettias, and more than 500,000 pounds of real snow inside the resort.
Colorado offers what many consider the quintessential white Christmas experience: a blanket of snow on the ground, mountains in the distance, and a wave of crisp, evergreen trees dotting the landscape. So, create your own holiday experience at one of these magical hotel destinations.