Road Review: Evoque-ative results
I recently spent some time in the completely redesigned 2020 Range Rover Evoque. Clad in a sparkly storm of Nolita Grey exterior paint, the Evoque I tested was the First Edition trim and clocked in at a final price of $59,215. This is a luxury compact SUV, after all. The entry-level Evoque, however, starts at just above $42,000 and even at that level, is full of many upscale standard features. But on to the good stuff…how did the Evoque perform out and about in Colorado?
The standard 4-cylinder, 246-horesepower turbocharged engine provided plenty of verve around town. Its peppy acceleration and responsive steering made buzzing around town enjoyable and barreling down I-25 (when traffic wasn't at a full stop) a breeze.
For the outdoor enthusiast, the Evoque has some serious off-road chops. It's at the top of the luxury compact SUV class when it comes to going off the beaten path, thanks to standard all-wheel drive (AWD) and Land Rover's updated Terrain Response System that adjusts the vehicle's performance according to the terrain at hand—be it snow, mud, rocks, or sand. The System can be employed manually or automatically, and is a game changer when it comes to seeking adventure in the car.
The enlarged cargo space is useful for hauling around all of the gear any Coloradan might have.
The Land Rover infotainment system, Touch Pro, while somewhat persnickety in practice, can provide critical information like parking options at your destination, which comes in handy if you're heading to a Broncos or Nuggets game.
In short, the 2020 Range Rover Evoque is a very versatile compact SUV that one can effortlessly take from dropping the kids off at school to a night on the town to camping in the back country.
Range Rover Sport SVR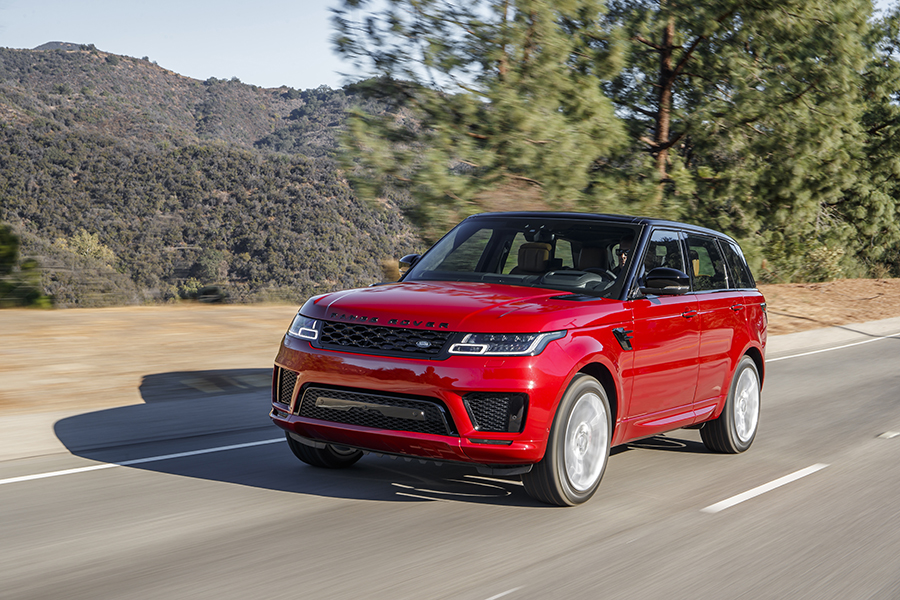 2019 Range Rover SVR. Courtesy of Range Rover
The 2019 Range Rover Sport SVR is billed as "the fastest Land Rover vehicle ever." Thrillingly, my body was pushed back against the sport performance seats every time I accelerated on the highway, I believe! With a supercharged 5-litre V8 engine that produces 575 hp, the SVR goes from 0-60 mph in a stunning 4.3 seconds. Of course, it's still a Range Rover, so it's also well-appointed and commands attention. After dinner out one evening, I returned to find a small crowd of young men gathered around the SVR, and ogling it. Perfection. The downside? It starts at $114,500. As tested, the final price was $131,520—and truth be told, it might be worth it.