My Colorado Photos
Editors' note: The Editors chose these winning photos from dozens received online at AAA.com/photocontest and via email at photocontest@colorado.aaa.com.
Braving a blizzard ▲
Julie Wille of Basalt submitted this photo online of a group of adventurous boaters navigating the Shoshone rapids on the Colorado River outside of Glenwood Springs. "My daughter and her friend were visiting for the holidays and wanted to participate in the annual New Year's Day float down Shoshone," Wille tells EnCompass. "There was a blizzard and I had serious doubts the event would even take place. But much to my surprise, we saw about one hundred intrepid boaters, in their brightly colored gear, waiting to plunge into the water. I walked up and down the banks photographing these brave souls." Her camera: iPhone 7. Member since: 2004
Peaceful walk ▼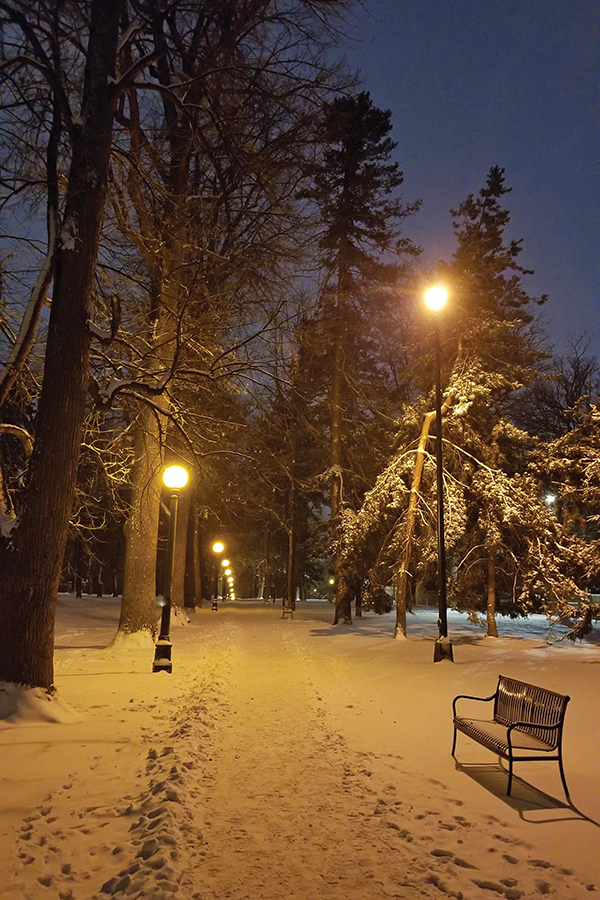 Roy Johnston of Denver submitted this photo by email of an evening walk around Cheeseman Park in Denver. "I was so impressed by the geometry of the streetlamps, path, and benches, as well as the peacefulness of the soft light on the snow," Johnston tells Encompass. "And it was all mine in the middle of the city. It was like Narnia." His camera: Samsung Galaxy S8. Member since: 1978
Submit your photos and win!
AAA Colorado accepts photography of Colorado destinations from AAA Colorado members only. No professionals please (that includes photographers who have sold their work online, in galleries, or by any other means, or whose photos appear on professional media websites). EnCompass magazine selects two winners per edition. Each winner receives a $60 check. Entries are accepted online at AAA.com/photocontest or by email at photocontest@colorado.aaa.com. Images must be in a .jpg or .tif format and at least 300 dpi. Only high-resolution images are eligible to win. AAA Colorado will hold seasonal images for consideration in seasonally appropriate future editions. AAA Colorado reserves the right not to select any photo for any reason, without notification. AAA Colorado reserves the right to use all entries in its marketing materials (in print, online and social media) without compensation.