Colorado First: Enchanting Colorado castles
Colorado is home to a surprising number of romantic castles set in idyllic locations. With the idea that everyone loves a good castle, I enticed friends to explore a few of the best on four distinct day trips. We set out expecting mildly pleasant afternoons at interesting buildings; to the one, we were awed by remarkable examples of visionary gumption, gutsy determination, and elegant Old-World craftsmanship.
6113 Daniels Park Rd., Sedalia, 303-688-5555
Credit the vision of one gutsy, forward-thinking woman—a powerful grand dame nicknamed Tweet—for a 3,400-acre wonderland northwest of Castle Rock.
Tweet Kimball bought her first parcel of Cherokee Ranch in 1954, where decades earlier the owners had built a romanticized 1400s-era Scottish castle, complete with a Great Hall that required the services of 30 Cornish stonemasons. Tweet added adjoining homesteads to expand her property.
The legend of Tweet's investment is that the husband she'd recently divorced (she had four husbands) was afraid she'd go back to their native Chattanooga and speak ill of him, so he offered to buy her anything west of the Mississippi if she'd stay there.
O, did she find something. Tweet filled the home with art—such as paintings by Flemish Baroque artist Peter Paul Rubens (1577-1640), and the Italian Renaissance artist Titian (1490-1576)—and antiques, such as Greek vases; an ancient suit of armor; Civil War memorabilia; first-edition classic writings, and more. She hosted royals, politicians, and Hollywood stars. She shook up the Colorado cattle industry with the introduction of Santa Gertrudis cattle and later became the first woman on the board of directors of the National Western Stock Show. She created a foundation to preserve the ranch's natural surroundings, abundant wildlife, and the historic structures, which stand now as they did in her reign. She is buried on the grounds in an elaborate memorial garden, joined by her beloved cat.
Descendants of her cattle roam the property, a prized breeding operation that donates two calves a year to Douglas County 4H members. Last November, Wyatt Sandell, 13, received a Santa Gertrudis—a hybrid of Brahman and Short Horn breeds; Cheyanne Arnt, 18, received a Red Angus. Cheyanne is often told by those who knew Tweet, people who still work at the castle, that Cheyanne is much like her.
You must have a reservation for an event to enter the property, but that's easily accomplished. Throughout the year there are numerous public events—lunches on the terrace, teas, concerts, artist events, elk bugling viewings, guided hikes, geology lectures, and more.
The two miles up the Cherokee Ranch driveway is populated by elk, cattle, or the wild turkeys we spied on the day I went with a group of friends. Our visit included a fall tea followed by a one-hour tour. During the holidays, the castle hosts a variety of seasonal events. And the 2019 calendar of events will be available online after Sept. 1.
To the person, we were gob smacked with the history, art, architecture, and natural wonder. Sure, we'd heard about it, but no one really knew about Cherokee Ranch. Count this as a note to yourself: just go.
3820 N. 30th St., Colorado Springs, 800-944-4536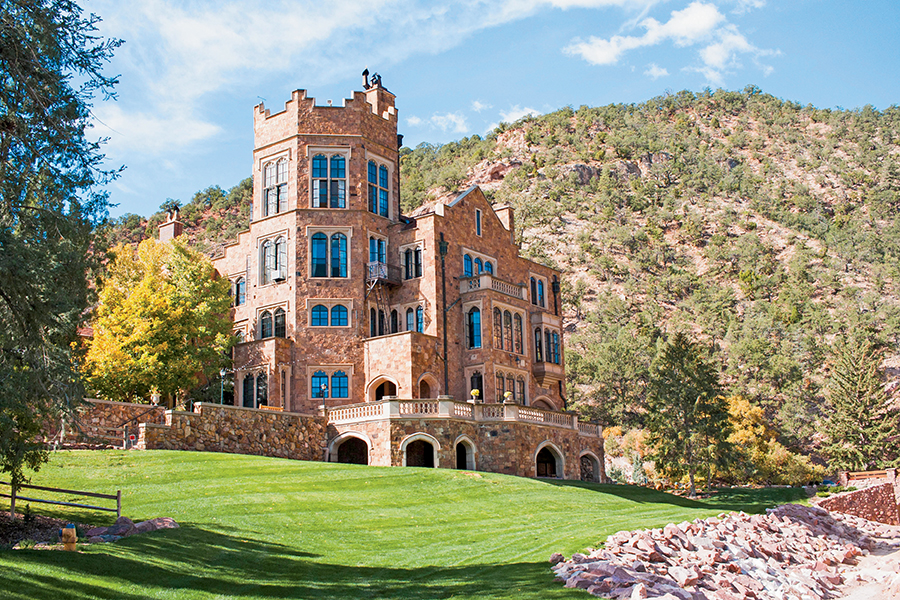 Glen Eyrie Castle, set in the canyons west of Colorado Springs, offers visitors a breathtaking first view. © Marty Banks
You can live near a landmark for decades and not know just how unexpected and extraordinary a local treasure can be. That was my experience visiting a homestead built over 35 years, beginning in 1871, at the base of what's now called Queen's Canyon. The land is just north of Colorado Springs' famed Garden of the Gods, with the same type of dramatic rock formations found in the park, but also a hidden valley full of bighorn sheep.
The builder of Glen Eyrie, William Jackson Palmer, tucked his castle deep into the bends of the canyon. Although surrounded by a wild landscape, the castle offered surprising comforts and innovations for its time: a central heating and vacuum system, an elevator, hidden fire hoses on every floor, and double-paned windows throughout. Palmer also had the foresight to buy the canyon's water rights, worth as much today as the castle and its grounds.
Glen Eyrie delights visitors with eccentric twists, such as a secret tunnel, sculpted dragons (found on the Great Hall's fireplace), and secret compartments used as safes in the bedrooms. The finishes are exquisite: original plaster ceiling moldings done by Italian craftsmen, more than 24 fireplaces (20 from Europe), paper maché detailing on plaster walls, roof tiles taken from a 700-year-old condemned church, and stone from southern Colorado's Bear Creek Canyon.
The public may enjoy the grounds through many events: tours, seasonal teas, a madrigal dinner during the holidays, and private events. A friend and I enjoyed a delightful lunch in the bookstore and café prior to a tour. You must have a reservation for an event to enter through the front gate of the property.
9 Capitol Hill Ave., Manitou Springs, 719-685-1011
Located in the entertaining, quirky town of Manitou Springs, Miramont Castle Museum features an eclectic mix of historical, social, civic, architectural, and artistic endeavors.
The castle originates from 1895, built as the personal residence of Father Jean Baptiste Francolon and his mother. As exhibit signage puts so succinctly, the good father didn't quite seem to grasp the vow of poverty. No matter, his indulgence is our gain. After the Father and his mother went back to their native France, Miramont Castle changed hands a number of times until 1976. Since then, it's been owned, saved from condemnation, restored, and lovingly cared for by the Manitou Springs Historical Society.
As restoration work continues, the focus within this castle is history. The exhibits that hit our crew most profoundly were those detailing the building itself: a showcase of antique construction tools used in the late 1800s, original wallpaper set in arsenic compound (safely behind glass), an inviting solarium, Moorish- and Tudor–style windows, some original furniture and flooring, and the steep servants' stairway. Many of the rooms are typical of the Victorian-era penchant of unusual dimensions, such as an eight-sided bedroom, and the local green sandstone was hand cut for the castle.
Tours of the castle are self-guided.
Prior to our tour, we enjoyed a scrumptious lunch in the Queen's Parlour Tea Room (719-884-4109), which can be enjoyed as a standalone visit. For those who prefer a traditional tea menu, there's a few to choose from, including high tea and children's tea menus. Don't miss the wide selection of flouncy hats available for those who want to infuse a little Victorian pizzazz into their tea experience.
Mount Falcon West Trailhead, 21074 Mount Falcon Rd., Indian Hills
Mount Falcon East Trailhead, 3852 Vine St., Morrison
303-271-5925
This last castle, the ruins of the John Brisben Walker home, requires a bit more imagination than the previous castles. Set within a 2,248-acre park, on a bluff overlooking Red Rocks, Denver, and the Plains to the horizon, the mansion burnt in 1918. Its ruins give evidence of the size and scope of what was once a magnificent mansion. Stonemasons from Italy reportedly built the Craftsman-style chalet with eight fireplaces, many still evident.
Today's guests can't go in the home, as the ruins are unstable and fenced off. But you can stand in the courtyard to consider what life was like in this isolated castle at the turn of the 19th century. A sign near what would have been the entrance details the history of the house, the family who lived there, and a few of the highlights of John B. Walker's career, an especially progressive story. To wit: his vision was the foundation for Denver Mountain Parks, Jefferson County Open Space, and Red Rocks Amphitheatre; he was the original developer of Riverfront Park in Denver; and he was at one time the owner and editor of Cosmopolitan magazine.
Intrepid hikers can approach the ruins on an uphill hike from a parking lot on the east side of Mount Falcon Park, near Morrison. My group chose a more civilized approach, from the west. At the Mount Falcon Park parking lot, a wide, well-maintained trail slopes down, enters a broad meadow, and gives first sight of the ruins on a knoll in a dense copse of trees just ahead. The impressive view is only a half mile from the parking lot. We were joined by mountain bikers, families with strollers, and other walkers.
Hikes of additional distances can be cobbled together from the many rolling trails. We discovered a lovely two-plus miles trail that included the ruins, an historic cabin, and a tower that gives a 360-degree view of Denver to the east, foothills to the north and south, and the Rockies to the west. Truly, it's a spectacular view fit for a king.
Situated so close to the Denver metro area, Mount Falcon Park can be busy. Do as we did and go on a crisp, fall weekday morning to enjoy the area as it was intended by Walker—ripe with the chirping of birds, grasses that sway, overall solitude, and the castle's fireplaces poking through the green forest canopy.
Marty Banks found a love for art and architecture through University of Colorado-Boulder's study-abroad program, where she focused on India's and Nepal's buildings, arts, and social structures. Banks graduated from CU-Boulder with a degree in Journalism.