Cottonwoods: The Tree That Gets No Respect
It's easy to feel sorry for the poor cottonwood tree. The soft wood is almost useless for construction. It doesn't burn well and rots easily. Its roots break plumbing lines, and in spring, its white seeds clog and destroy air conditioners, and set people sneezing all along the Front Range.
No one writes poems about "under the spreading cottonwood tree" because it can actually be dangerous to sit under a cottonwood in high winds due to breaking branches. There are famous towns in Colorado named "Aspen," "Conifer," and "Evergreen," but there was only one town named "Cottonwood," and it disappeared after the 2010 Census.
And yet, if people stop and think about it, they have probably spent some of their happiest Colorado moments in the company of cottonwoods. For one thing, it's the fastest growing tree in America, spurting as much as six feet a year. It doesn't mind being flooded or surviving droughts, it can live through harsh snowfalls and early frosts, and does just fine in the sun blinding heat of summer. All of which makes it a true Colorado native.
Cottonwoods provide shade. It was the only shade tree on the Great Plains as the early pioneers came west, offering food and shelter for animals and the welcome sound of songbirds. If you've walked along a river and heard that pleasant rustle of leaves overhead, calling to you to slow down…that was a cottonwood. Their heart-shaped leaf is similar to an aspen (they are both members of the Poplar Tree family) and is in near constant motion. While cottonwoods only grow to 6,500 feet in elevation, they are the green canopy that surrounds rivers, ponds, and streams from Fort Collins to Alamosa, from Limon to Durango.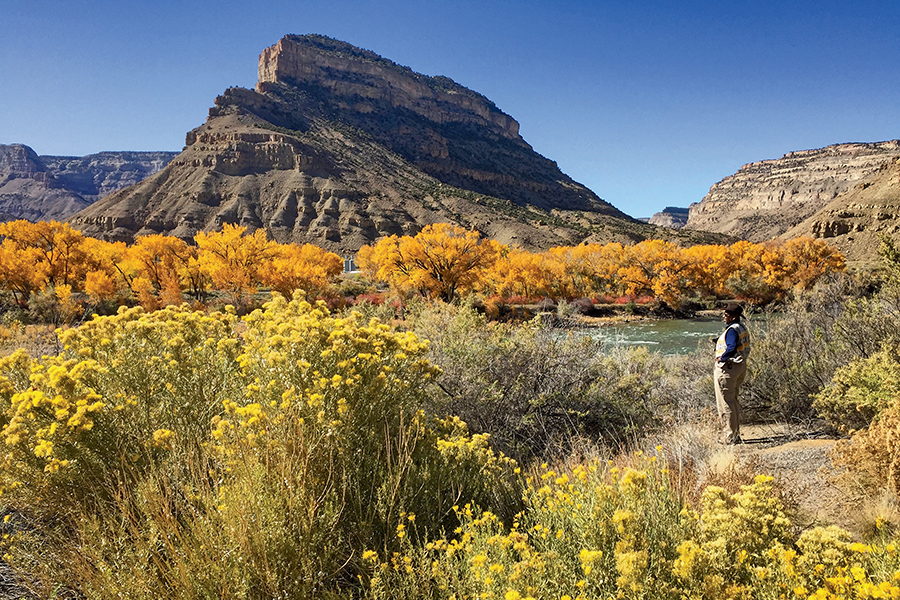 Cottonwoods along the banks of the Colorado River near Grand Junction. © Rich Grant
Although they are content to remain in the background for most of the year, from mid-October through November, just after the last golden aspen leaf has fallen to the ground, this poor, unrespected cottonwood comes alive to make a bold statement, turning an absolute brilliant, iridescent yellow against a Colorado blue sky. The truth, if it be known, is that many people who are thrilled traveling to the Colorado mountains in the fall to see aspens, are just as taken by the beauty of the cottonwood. They just don't realize it.
Thousands of fall "aspen" photos displayed on Instagram are actually of yellow cottonwoods, which line picturesque river valleys from Vail to Grand Junction. If there's a Colorado fall photo taken along a Front Range lake or canyon, there's a good chance it's a cottonwood. The same for photos taken along the Colorado River, from Rifle to Grand Junction. And, of course, one of the great things about cottonwoods is they extend fall in Colorado. The high-altitude aspens start turning in mid-September and are gone in a month—cottonwoods can still have color as late as Thanksgiving.
So, while nobody says in the fall, "I'm going out to see the turning of the cottonwoods this weekend," the truth is, they will be.