Three Days In: Utah's Other Mighty Five
More than a few people have set their sights on Utah's "Mighty Five" national parks—Arches, Bryce Canyon, Canyonlands, Capitol Reef, and Zion. But, what about Utah's other Mighty Five? Here's where to spend three days exploring five less-crowded, but equally spectacular, natural wonders.
I was deliriously excited to explore the stunning landscapes of Southern Utah. This had been on my go list for some time, and I was intent on seeing all I could in just a few days. My kids and husband were back at home on the east coast, and I was in the area to run the Zion Half Marathon, so the time was now.
While I was eager to maximize my experience, I didn't want to bump elbows with everybody else coming to see Utah's national parks. I wanted to spend more time with the state's overlooked gems.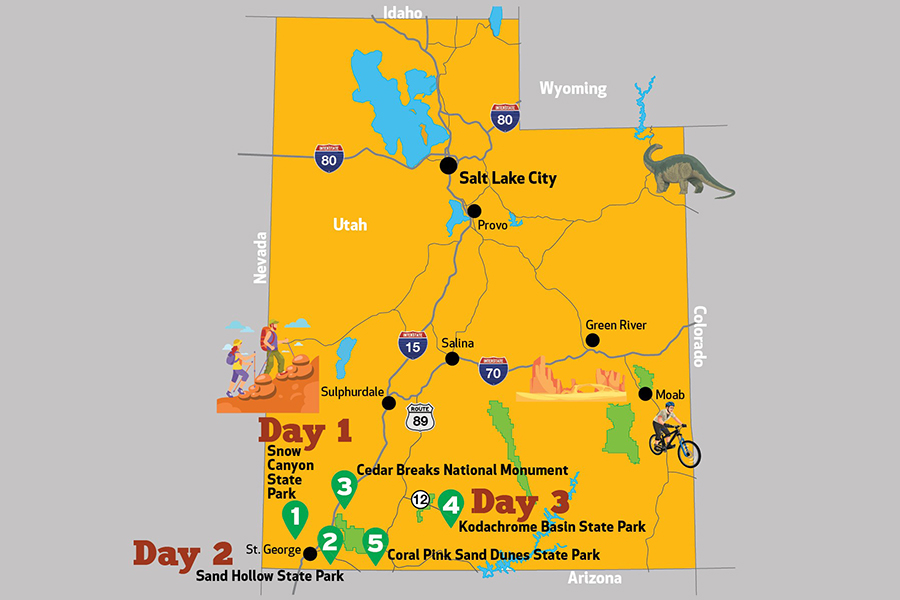 Click to enlarge
Day One
Set in the high desert of Ivins, about 15 minutes outside St. George, Snow Canyon State Park is postcard-perfect from the moment you arrive in the park. Although Snow Canyon has a similar look to Zion, with its stunning red rocks and towering sandstone cliffs, I was shocked by how quiet the park was despite its 16 miles of rugged, yet inviting, hiking, biking, and horseback riding trails. There were no lines, parking was plentiful, and I had the spectacular views mostly to myself. The best part, it's just $6 per car to enter Snow Canyon—compared to $35 at Zion. Ouch!
I set out on the Butterfly Trail, a reasonable out-and-back hike that winds across this mystical landscape along petrified dunes, over open lava tubes, and past scrubby lowland brush. Scrambling to the top of the Lava Flow Overlook for 360-degree views of the black lava fields was a real treat. On this immaculate blue-sky day, I wanted to soak up every ounce of this gorgeous canyon in the Red Mountains, carved from white and red Navajo sandstone.
It was just me and a handful of others hiking that day, so I could have perched atop the dramatic overlook for hours. It was so peaceful, and provided a much-needed break from grocery shopping, laundry, and carpool pick-ups back home. After you're done exploring, I recommend staying the night in nearby St. George. There are of plenty of AAA-rated hotel options designed to suit every budget.
Day Two
A short 25-minute drive east of St. George lies Sand Hollow State Park. As you enter, you'll quickly become entranced by the striking visual juxtaposition of the sparkling turquoise waters and red sandstone landscape. At this 20,000-acre state park, the stunning rock formations and red sand beaches beg visitors to drink in the vast and majestic landscape.
There were plenty of families reveling in the good weather, with only a few passing clouds in the sky. They had set up RVs and tents for the weekend, and were chatting at picnic tables on the beach, as well as enjoying all kinds of device-free fun—splashing, swimming, and stand-up paddleboarding. Even my own gadget-dependent kids would have loved it!
Wanting to join the excitement, I rented a bright yellow kayak from The Beach at Sand Hollow, secured my life jacket, and made my way into the water. Paddling on the reservoir's crystal-clear waters was satisfyingly serene. The further I paddled from shore, the more restorative the experience. I could no longer hear the playful giggles and gossip of families reveling on the beach. Only calm breezes and gently lapping waves.
While a laid-back morning on the water fit squarely into my wheelhouse, there's much to satisfy thrill seekers too—like 6,000 acres of sand dunes. The Beach at Sand Hollow, where I rented my kayak, also rents ATVs and UTVs for four-wheeled adventures.
With my spirit replenished, it was off to Cedar Breaks National Monument. It's one of the lesser-known parks in Southern Utah—technically a national monument, as it's under the jurisdiction of the National Park Service—but that may be because it's closed more months of the year than it's open.
At an elevation of 10,000 feet, the average yearly snowfall tops 250 inches, closing trails and State Route 148 (aka Cedar Breaks Scenic Drive), the sole avenue through the park. Similar to some parks in Colorado this year, the visitors center, ranger programs, and even the restrooms didn't open until early-June—well after my visit. Even then, a few feet of snow remained on the hiking trails. The park typically closes for the season by mid-October.
For iconic spires and hoodoos that rival those at nearby Bryce Canyon National Park (an hour drive east), Cedar Breaks National Monument is a magnificent alternative, particularly for those who value easy parking and light crowds.
A favorite hike is the 2-mile Sunset Trail for beautiful views of geologic formations from the rim of the Cedar Breaks amphitheater. Unfortunately, Cedar Breaks was not meant to be during my visit in April (not yet open for the season), so I proceeded on to Bryce Canyon.
I flashed my America the Beautiful Pass to the ranger at the park entrance and was descending on the popular Queens Garden Trail into the canyon by 3:30 p.m. At this hour, visitors were few, enabling a more intimate experience with varied rock formations and vegetation, like bristlecone pines, that enveloped me on the trails.
Day Three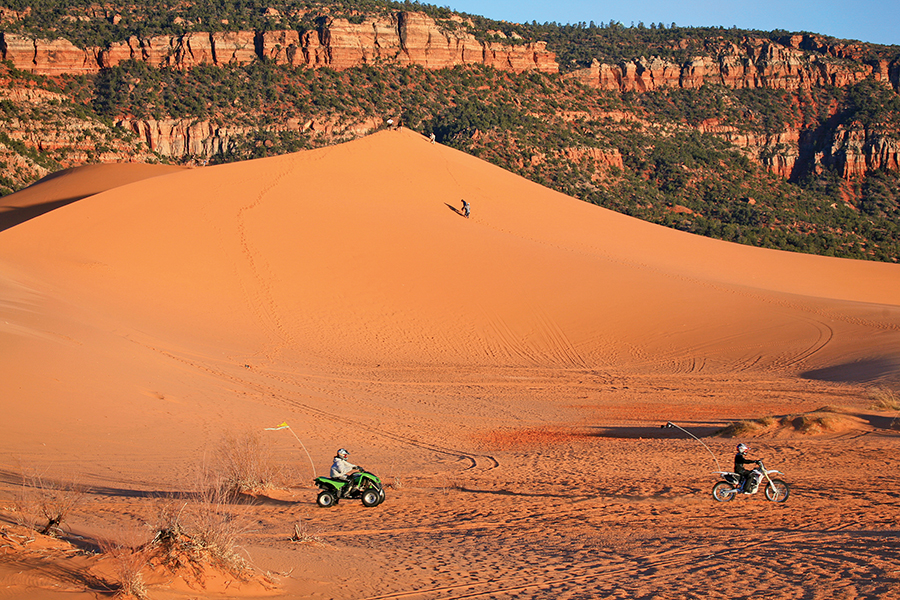 Coral Pink Sand Dunes State Park, near Kanab, Utah, is a popular spot for off-road enthusiasts, as well as those eager to get a rush flying down the dunes on sandboards and sleds. Courtesy of Visit Utah
I woke early to continue on to Kodachrome Basin State Park, a colorful state park named by the National Geographic Society following a photography expedition for the society's magazine in 1948 (originally named Kodachrome Flat). Yes, Kodachrome is a reference to the popular color film products made by Kodak.
Dominated by 67 monolithic stone spires and multi-hued sandstone layers that date back 180 million years, this remote oasis lies 90 minutes east of Cedar Breaks (or 40 minutes from Bryce Canyon), and is well-worth the drive for its peculiar lunar-like landscape.
I came to hike and was charmed by the panoramas across this small state park—home to just 12 miles of hiking trails. The Angel's Palace Trail is short and sweet (less than two miles), exposing the colors of the small canyon. Expansive views allow you to see miles in every direction.
After a morning filled with hiking, it was on to Coral Pink Sand Dunes State Park, filled with dramatic red sand dunes created by eroding Navajo sandstone cliffs. This park is a popular spot for off-road enthusiasts, as well as those eager to get a rush flying down the dunes on sandboards and sleds.
Like most Utah parks, hiking is a popular activity here, but there are no marked formal trails. Just 1,200 acres of sand dunes eager to be explored, or as many, like me, choose to do, climb up the dunes, then run back down. As an adult—and one who had just run the Zion Half Marathon the day before—I couldn't manage quite as many up-and-downs as the kids I saw who were visiting for the day.
My mind, body, and soul were full from this breathtaking section of the country. I yearned for more people to become captivated by Utah's awe-inspiring state parks, just as I had. The "Mighty Five" are magnificent, but there's so much more to see. Until we meet again, Utah.
More "Three Days In"
Watch your inbox for more to do around Utah's lesser-known parks in the next EnCompass Exclusive e-newsletter—a monthly email that provides exclusive content you won't find in the print edition. Plus, keep an eye out for the next series of "Three Days In" in the November-December 2019 edition of EnCompass.