My Colorado Photos
Editors' note: The Editors chose these winning photos from dozens received online at AAA.com/photocontest and via email at photocontest@colorado.aaa.com.
Distant array ▲
Tom Andersen of Denver submitted this photo by email of the Last Chance Module Array in Last Chance, Colo. (about 35 miles north of Limon). "I had seen pictures of the sculpture a few years ago and thought it would be interesting to see and photograph," Andersen tells EnCompass. "With COVID 19, my wife and I have been searching for day-trip travel options with social distancing, and I remembered the Module Array. So, we kept an eye on the weather for a day with good lighting conditions. It rained on the way, but when we arrived there was a break in the weather, and we were rewarded with awesome dusk lighting." His camera: Sony a6000. Member since: 1990
Here's looking at you ▼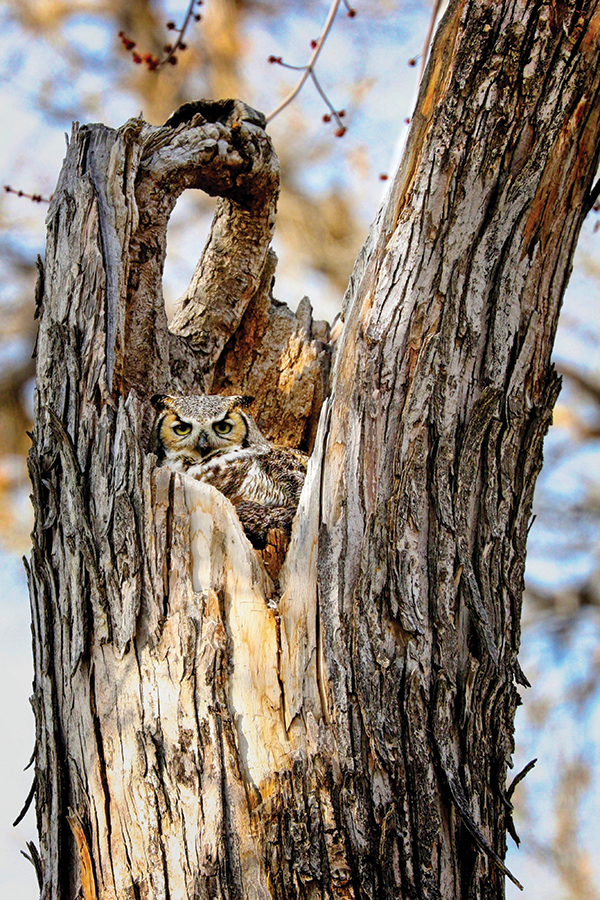 Jane Ann Griffin of Boulder submitted this photo by email of a Great Horned Owl nesting in a tree in Boulder County. "I have enjoyed searching for owls for several years, and love observing and photographing these powerful predators," Griffin tells Encompass. "The position of this tree, along a church driveway, allowed me to follow COVID-19 safety restrictions by sitting in my car to photograph this owl raising two owlets." Her camera: Canon 80D. Member since: 2011
Submit your photos and win!