Road-tripping during a pandemic
Taking any kind of trip has its challenges—even for seasoned travelers. But doing so during a pandemic was even more complicated.
We were on our way to Deerfield, Ill., outside of Chicago. To pass the time as we drove east on I-80, my husband, Jeff, and I played a game: If you came into a million bucks what would you buy? It was May 3, 2020, and our travels during the COVID-19 lockdown were driven by necessity, as our youngest daughter had her third boy on April 20.
For miles we'd seen few cars and even fewer long-haul trucks—which I'd hoped would deliver disinfectant and toilet paper to glaringly empty aisles. For weeks, I'd rushed with hopeful expectation each time I heard items were in stock—only to walk in just as the last cartful walked out.
So, I figured I might as well dream big. I went through my list: One hundred rolls of Charmin. Boxes of disposable masks that sellers were price gouging on Amazon. Hand sanitizer, which was going for more per gallon than imported Scotch whiskey. "Have I shot my wad?" I asked.
My husband laughed. "The Charmin, alone, nearly put you over."
Noticeable differences
I'd had the car packed for nearly two weeks so we'd be ready to go the second my daughter's family finished their quarantine. Planning our route was complex. Some convenience stores had closed their bathrooms since they didn't have the staff to maintain the mandated standards. Many hotels were shuttered, except to house essential workers. And on top of that, pet boarding facilities hadn't yet reopened, so we needed to find dog-friendly lodgings.
We booked our only overnight stay (each way) at one of our favorite stopovers in Omaha, Neb., the Magnolia, a AAA Three Diamond-designated property located in the historic Old Market near downtown. This area is normally filled with lively shops and restaurants; however, the streets and sidewalks were almost as empty as the interstate.
We also noticed a difference at the hotel. The signature bedtime milk and cookies station was absent from the lobby. A skeleton crew wore masks and leapt to wipe down surfaces as guests came and went. After checking in, we toted in our designated "COVID bags"—one filled with disinfectant wipes, masks made from tri-folded bandanas with rubber-band ear loops, a thermometer, and immune boosters. Another canvas bag held our personal pillows and blankets.
After three glorious weeks of holding our newborn grandson, we headed back to Colorado. By that time, many states had adjusted their orders to "Safer at Home." Although, the Magnolia still wasn't able to offer bedtime milk and cookies, Old Market restaurants and shops were open at limited capacities, and there were markedly more cars and trucks that zipped around us. My husband quipped, "I never thought I'd be so happy to see traffic."
Staying flexible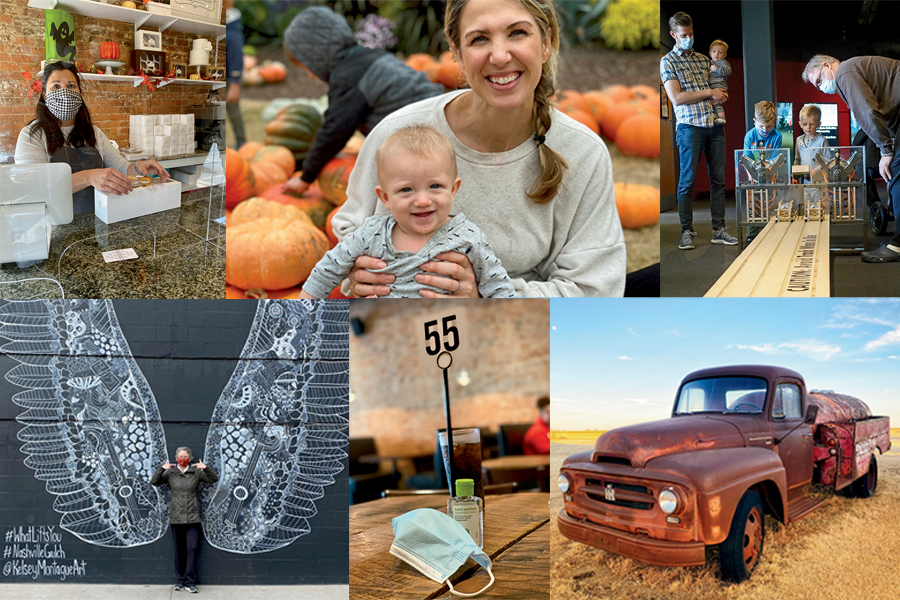 Clockwise from top left: Owner Shanon Camille O'Banion of Cakes by Camille in Campbellsville, Ky., is doing her part to keep customers safe.; The author's daughter and her "pandemic" baby at Cheekwood Estate & Gardens in Nashville, Tenn..; Masks don't spoil the fun at the Adventure Science Center in Nashville, Tenn. ; Well, howdy, Mater! Gorham, Kan.; Realities of dining at Brothers BBQ in Campbellsville, Ky.; The author at the "What Lifts You" mural in Nashville, Tenn. © Shelly Steig/Jeff Steig
Because of family needs in Illinois, Kentucky, Missouri, and Tennessee, we crisscrossed the country during all stages of alerts. Our byword became "flexibility." With information on COVID-19 constantly changing, and states shifting as numbers shifted, then various regions responding differently, we often had to pivot on a moment's notice.
We learned that hotels offered more lenient cancellation policies than vacation rental properties and guaranteed consistent cleaning standards. For most of our travels, I wasn't comfortable dining indoors. That meant being prepared for the worst weather and eating outside even when it was snowing. This pandemic has been brutal for restaurants, so we budgeted extra money for generous tips.
To survive, the hospitality industry has also learned to be limber. Airports went high-tech to provide touchless check-ins and live customer service through cell phones. Denver International Airport even has robots that deliver food from concessions to customers at their gates. Most airlines eliminated change fees, and hotels, cruise lines, and tour operators invested in technology—such as electrostatic sprayers—to ensure the healthiest environments. Jack Damioli, President/CEO at The Broadmoor in Colorado Springs said, "We've learned how nimble we are and that we can adjust to market conditions in ways we never imagined." The Grand Dame of Colorado has seen increased interest in its year-round outdoor programs and Wilderness Experiences.
On the horizon
Butch Spyridon, President and CEO of the Nashville Convention & Visitors Corp., said, "We believe there's a great deal of pent-up demand, and leisure recovery should happen quickly once the vaccine has hit the majority of the country." I know that pent-up feeling. We cancelled an overseas vacation planned for September 2020, and my desire to ramble afar itched like a poison ivy rash. Our road trips to towns and landscapes I'd not seen, soothed like Caladryl. I love new experiences, meeting new people, and seeing what makes them tick. Plus, I thrive on finding the soul of a place. However, I've found joy in small discoveries—like a Mater look-alike on the wind-swept plains of Kansas or a mega-pack of Charmin in small-town Kentucky. I've been forced to expand my horizons by focusing on what's near or dear. For now, I've shifted my desire for different locales to appreciating local—my home state and also the regions my children call home —St. Louis, Mo., Glasgow, Ky., and Nashville, Tenn.
Things will get better. The Magnolia will offer milk and cookies again. Restaurants will fully reopen. Traveling overseas will carry less risk. The last time my husband and I played our game, it had morphed from, "What would you buy?" to "Where would you go?" I created a list: A river boat tour through Russia, a drive across Spain and Portugal, an Alaskan cruise. Instead of a bucket list, it's my post-COVID dream destination list…written on the back of a gas station receipt.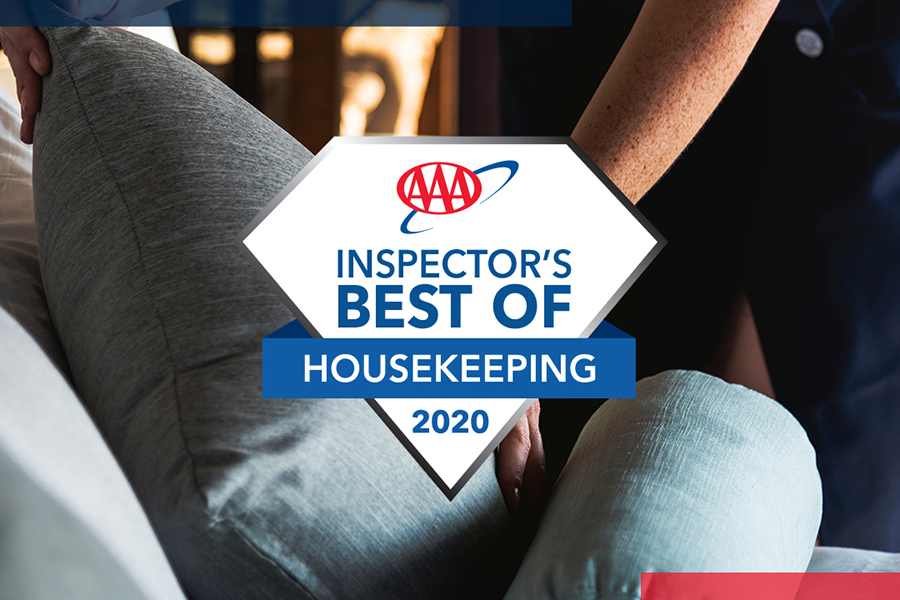 Looking for a nice, clean hotel for an upcoming trip? AAA's Best of Housekeeping program highlights our Diamond-designated properties that are top tier in housekeeping. Ranging from small inns and motels to all-inclusive resorts, these make up the top 25 percent of AAA Diamond-designated properties that go above and beyond in housekeeping services.
While all AAA-designated accommodations undergo regular, unannounced inspections and are checked for cleanliness and physical conditions, properties that earn a Best of Housekeeping badge must receive excellent scores for two consecutive inspections and have no member complaints for the previous 12 months. So, you can always feel safe and confident booking one of AAA's Best of Housekeeping properties, even during these unprecedented times.