All Things Automotive with Gerald
Winter Vehicle Survival Advice
I want to let you know about an automotive safety measure I take very seriously. I always keep an emergency kit in my vehicle. Always! When I lived in California, I kept an earthquake kit in my vehicle, and then in Montana, and now Colorado, my kit is all about winter survival.
While I've never actually had to break out my entire kit for a winter emergency, I certainly have used several items from time to time. I also added a rechargeable LED light, which I've used so many times, I can't imagine ever being without it.
Even our own director of public affairs, Skyler McKinley, found out the hard way that having even a few simple items on-hand can literally save your life. Skyler was once forced to spend the night on an off-road trail near Palisade. He stayed warm by using two mylar emergency blankets and some extra winter clothes from his emergency kit.
We live in a state where not having some basic supplies in your vehicle can put you at great risk. And being prepared is quite easy and inexpensive.
You can create your own, or you can purchase a pre-made kit from any of our AAA stores, or NAPA Auto Parts locations using your AAA member discount. If you do want to make your own winter emergency kit to keep in your vehicle, here is a list of recommended supplies:
DIY Winter Emergency Kit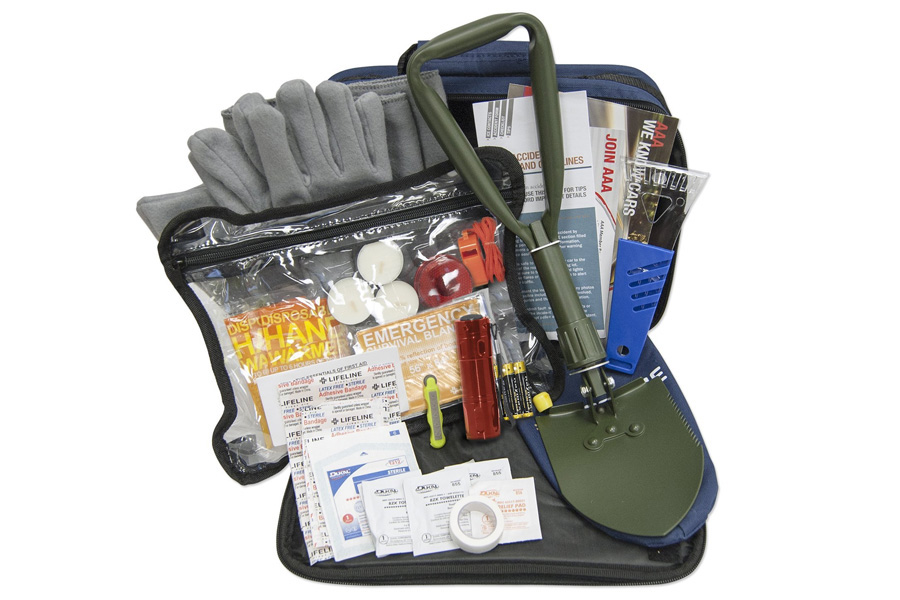 Extra winter clothes
Fleece hat and gloves
Hand warmers
First-aid kit
Emergency blanket (mylar is good and lightweight)
Flashlight (with fresh batteries)
Folding shovel
Candles/empty coffee can and kitchen matches (to melt snow for water)
Kitty litter or sand (for traction)
Strobe light
Signal whistle
Several days' worth of food (i.e., protein bars, trail mix, granola)
Cable ties
Ice scraper
Global satellite tracker and messenger