Cruising Comeback
Scenic Rivers and Private Islands
As travelers look forward to setting sail once again, cruise lines are taking steps to make sure that every voyage is as safe and enjoyable as possible. Where and how you cruise can also make a difference. Two types of cruises are sure to be trending as ships ply the world's waters again—and, lucky for you, they're among the most scenic and thrilling. Discover how river cruises and private islands are helping cruising make a comeback.
Rolling on the River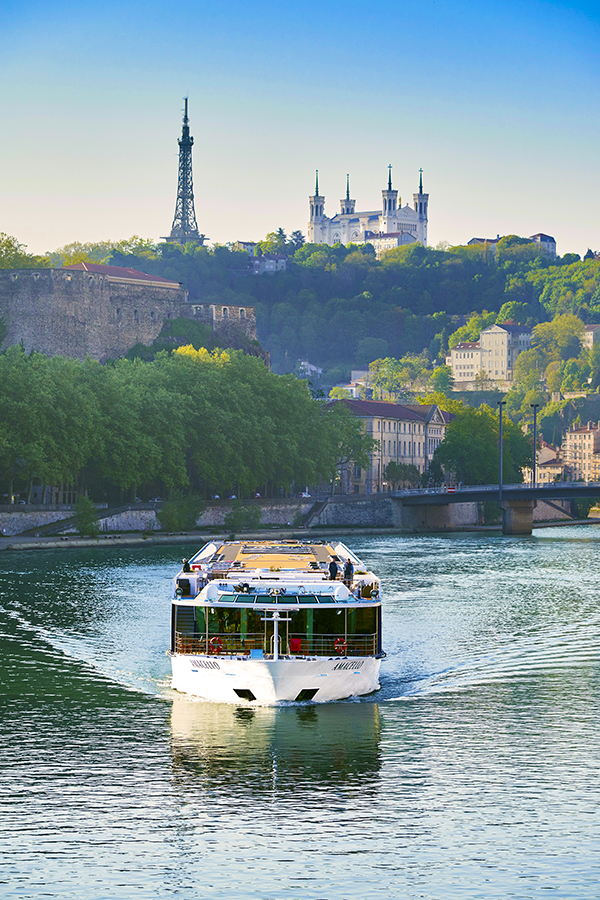 Cruising the River Saône through Lyon, France. Courtesy of AmaWaterways
River cruises are favorites of travelers who want a laid-back journey full of culture and history—and they fit neatly into today's safety-conscious travel mindset. You unpack once, ships carry fewer passengers, and most cabins have balconies or windows that open to let in fresh air. Plus, the ship is always close to land and onshore resources. Here are four rivers that'll have you longing to set sail.
The Danube
From Germany's Black Forest to the opulent city of Vienna, and then through Hungary, Croatia, and beyond, the Danube flows all the way to the Black Sea. River cruises may focus on just a portion of the waterway or its entire length. Among the highlights: bike rides amid the vineyards of Austria's lush Wachau Valley, a stroll through Vienna's Imperial Palace, a hike up Castle Hill for panoramic views of Budapest—the "Queen of the Danube"—and a cruise through the Iron Gates, a series of gorges between the Carpathian and Balkan mountains.
The Seine
This storied waterway flows through the heart of Paris and into France's bucolic Normandy region. A river cruise on the Seine shows off the glittering capital with walking tours that can include the charming Latin Quarter, the 400-year-old Luxembourg Gardens, and icons like the Arc de Triomphe and Eiffel Tower. As the ship glides through the French countryside, stops include Claude Monet's former home and magnificent gardens in Giverny, and castle-filled Rouen, where travelers can see the square where Joan of Arc was martyred.
The Mississippi
Stretching some 2,350 miles from Minnesota to the Gulf of Mexico, this mighty river carves a path through the center of the United States. New cruises can cover just one section or the whole river. Highlights include meeting majestic birds at the National Eagle Center in Wabasha, Minn.; gazing up at the iconic Gateway Arch in St. Louis, Mo.; strolling along Beale Street and sampling Tennessee barbecue in Memphis; exploring Civil War history in Vicksburg, Miss.; and learning about Cajun culture in Baton Rouge, La.
The Rhine
This legendary river flows past some of Europe's oldest and grandest cities, from its origins in the Swiss Alps to its endpoint at the North Sea. A cruise along this captivating waterway takes travelers past fairytale castles and vineyard-draped hills in Germany, through the charming French city of Strasbourg, and into Basel, Switzerland's third-largest metropolis. Stops in between include gems such as the German town of Heidelberg, with its iconic red sandstone castle, and the French town of Riquewihr, which dates to the 16th century.
Private Island Paradise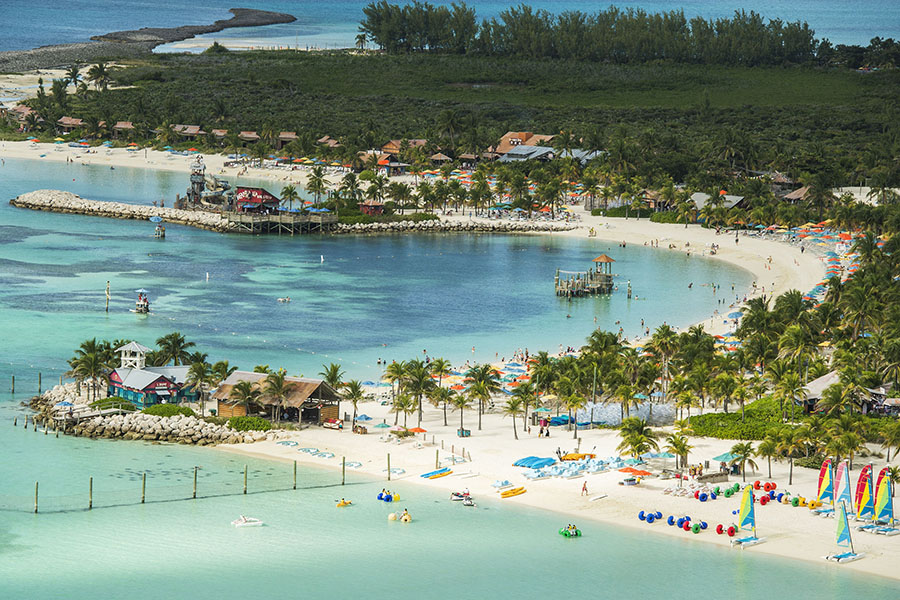 Castaway Cay is Disney Cruise Line's private island paradise in the Bahamas, featuring turquoise waters, white-sand beaches, lush landscapes, and activities for every member of the family. Courtesy of Disney Cruise Line/Matt Stroshane
Popular stops on Caribbean cruises, these swaths of island real estate are owned by cruise lines, so travelers get exclusive access to beachfront bliss. Because these ports of call are private property, the cruise lines can better ensure that health and safety protocols are being followed. Here are four private island getaways you won't want to pass up.
Perfect Day at CocoCay
Royal Caribbean's 140-acre oasis sits between Freeport and Nassau in the Bahamas. Choose a cruise itinerary that includes a stop here, and you can spend the day splashing in the wave pool, whooshing along towering waterslides, braving the zip line, or simply chilling surfside in a comfortable lounge chair. There's even a helium balloon ride that takes you 450 feet above land and sea.
Castaway Cay
Owned by The Walt Disney Company, this 1,000-acre gem in the northern Bahamas welcomes travelers aboard Disney Cruise Line sailings. Spend the day lounging on white-sand beaches, go snorkeling in the sparkling lagoon, or run or walk the Castaway Cay 5K trail that circles the island. There are water play areas just for kids, a teen lounge, and a secluded adults-only beach. When you get hungry, open-air barbecue restaurants offer complimentary fare.
Half Moon Cay
Holland America Line's 2,400-acre Bahamian island lets you be as relaxed or as adventurous as you want. Thrill-seekers can go horseback riding in the surf, explore the lagoon in a kayak, or hike to the island's ridge for panoramic views. Just looking to chill? Reserve a spot in one of the island's private two-story villas or beachside cabanas. Restaurants serve up barbecue and freshly grilled lobster, and there's even an on-site chapel for weddings and vow renewals.
Princess Cays
More than a half-mile of white-sand shoreline greets travelers onboard Princess Cruises at this 40-acre resort on the southern tip of the island of Eleuthera in the Bahamas. Guests can snorkel in crystal-clear water, fish in the surf, paddleboard, and more. Climb the observation tower for stunning views, savor a complimentary beach barbecue, browse the local craft market, or just laze the day away in a private beach bungalow.
AAA is ready when you are.
Your AAA Travel Expert can help you make informed travel decisions—from reserving a trip to selecting travel insurance—so you can explore safely and confidently. Start planning by visiting AAA.com/TravelAgent or calling 866-235-7070. And get the latest information on COVID-19 travel restrictions at AAA.com/Travel.